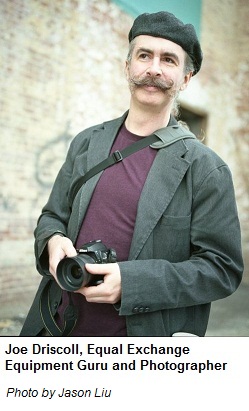 The inside scoop on being a photographer for an expedition to Mexico
By Ashley Symons, Creative Writer
This was Equipment Guru Joe Driscoll's second trip to Chiapas, Mexico with Equal Exchange, but his first time traveling with Todd Caspersen, our head of purchasing, and his first time traveling with the primary goal of capturing the experience with his digital camera. It was not your standard visit to a coffee farm, by any means. The trip involved going to El Triunfo biosphere, where only six groups of visitors are allowed each year.
It was a slowgoing journey from the base of El Triunfo to the camp. During one leg, we rode in the back of a truck. It was brief, but terrifying. My feet were hanging off the back of the edge and I was trying so hard not to go flying with all my camera equipment off the side of the mountain.
That wasn't the only close encounter with losing his camera gear.
"The air is thinner 7,000 feet up and there are steep slopes. I was feeling tired as we crossed over a river. I slipped on a rock and went right into the river. But the camera was safe - I held it overhead!"
The journey to the peak of the mountain was by foot. "You're walking in a thick, dense rainforest, and then you go around a bend and see an open expanse and suddenly realize how high up you are. You're greeted with a view like this."
Besides the stunning views, Joe was also struck by the living things found in El Triunfo. "These mountains used to be islands, when the water level was higher. There are plants and animals here that don't exist anywhere else in the world."
Things we grow as houseplants in the U.S., like begonias or orchids, were everywhere. Everything has it's own ecosystem. A branch isn't just a branch, it's full of all these living things.
With some powerful zoom and a steady lens, Joe was able to get a close look at things the naked eye might miss. "Before I left, I debated; do I bring my tripod? I did bring it and carried it all the way up the mountain, but it was worth it to get the shots."
Beyond weird-looking bugs and plants, Joe was able to experience a little of Todd's world as head coffee purchaser. "I got a more in-depth look at Todd's job and his life on trips like these. Every six weeks or so he's traveling up and down a mountain."
Todd and Joe also attended a conference on climate change that was organized by three of our producer partners in Mexico. "I don't speak Spanish, so during parts of the conference I walked around the town. It can feel isolating when you're in a country and don't speak the language. But I kind of liked it; it suits my personality. I like to go off and wander around, taking photos."
We're certainly glad he did.