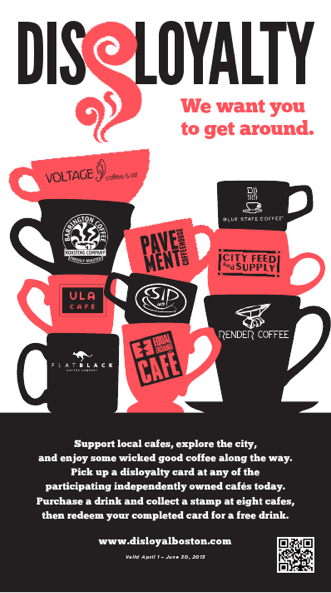 Specialty coffee slingers of Boston are coming together this spring for a second round of Disloyal Boston, a shared disloyalty card program. The card is based on customer loyalty cards used by businesses to reward repeat customers. The difference is that participating cafés are actually encouraging their customers to visit other businesses. The idea is to build support for local, independent coffee shops in a city dominated by national coffee chains.
The
cafés
involved in the program are excited to once again come together and unite around a passion for coffee and to connect with other small businesses as allies. "We wanted to participate in the program, because we felt it was a good way to celebrate the coffee community in Boston in a friendly, supportive way," said
Korinn
Koslofsky
of
Ula
Café
in Jamaica Plain.
Here's how it works. Starting on April 1, the 10 participating
cafés
(with 12 total locations) will begin distributing disloyalty cards to their customers. Customers will have until June 30 to collect eight unique logo stamps by purchasing a coffee, tea, or espresso drink at any of the participating
cafés
. Once they've collected eight stamps and they can redeem their card at one of the
cafés
they've already been to for a free drink. Anyone interested in participating can pick up a disloyalty card in one of the
cafés
or visit the website/app at:
www.disloyalboston.com
Disloyal Boston started in 2011 with eight participating
cafés
and its popularity quickly exceeded expectations. "We had to order more disloyalty cards twice throughout the program's three-month run," said Leif
Rawson-Ahern
, manager of the Equal Exchange
Café
on Causeway Street in Boston, and lead organizer of Disloyal Boston.
The program is bigger and better this round, with some helpful tools to help folks get around the city. "We've added a map to the back of the cards to help folks get to each location," said
Rawson-Ahern
. "We also enhanced the website and the smartphone app."
The Disloyal Boston program was inspired by the disloyalty concept first launched in London by the 2009 Barista World Champion,
Gwilym
Davies. Similar programs have popped up in the U.S., in Seattle, San Francisco, and other major cities dominated by national coffee chains.
"National coffee chains have the benefit of brand recognition," said Ryan Ludwig, manager of Blue State Coffee on Commonwealth Ave. in Boston. "One location functions as an advertisement for the others. Small specialty shops don't have that resource, but Disloyal Boston is the next best thing. By banding together, we are all championing the specialty coffee community and small businesses here in Boston."
Café
employees have heard stories about customers frequenting the independent shops they discovered through participating last year. "One customer told me that she used to go to a national chain every Tuesday morning before a meeting in Kendall Square," said
Rawson-Ahern
. "Now she goes to Voltage. Stories like that tell me that we've accomplished our goal."
Many folks,
Rawson-Ahern
said, decided not to redeem their cards for a free drink because they wanted to keep it as a souvenir. "The program is kind of like a scavenger hunt, people really enjoyed the adventure of exploring the city and getting to each
café
to collect a stamp,"
Rawson-Ahern
said. And some are even a bit obsessive about getting those stamps.
"We had a group of our regular customers complete the program in a single day," said Chris
Dadey
, owner of Render Coffeehouse on Columbus Ave. in Boston. "They rode their bikes all over the city and made it to every shop. I can only image how caffeinated they must have been by the end of the day."
Pick up a Disloyalty card at one of the participating caf

és

:
226 Causeway St.
Nearest T stop: North Station
Pavement Coffeehouse
1096 Boylston St.
Nearest T stop: Hynes
&
286 Newbury St.
Nearest T stop: Hynes
&
Nearest T stop: Symphony
Barrington Coffee Roasting Co.
346 Congress St.
Nearest T stop: South Station
Nearest T stop: Stony Brook
City Feed & Supply
672 Centre St.
Nearest T stop: Green St.
&
Nearest T stop: Stony Brook
Voltage Coffee & Art
Nearest T stop: Kendall
Sq
.
Render Coffee
563 Columbus Ave
Nearest T stop: Mass Ave
Nearest T stop: State St.
Blue State Coffee
957 Commonwealth Ave
Nearest T stop: Pleasant St.
Flat Black Coffee Co.
1906 Dorchester Ave