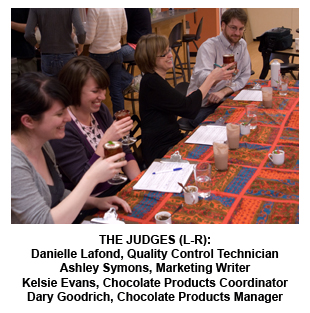 We held a contest here at Equal Exchange in West Bridgewater, Mass., to answer the question, "Who can come up with the best chocolate cocktail?" The judging panel consisted of me (Ashley Symons, nice to meet you), as well as Chocolate Products Coordinator Kelsie Evans, and Chocolate Products Manager Dary Goodrich.
We judged the entries on a variety of elements, including the creativity of the drink, the texture, the flavor and balance, and the overall execution. Here are the top three entries. The judges unanimously agree - they're really good.
FIRST PLACE:
Cool Orange Delight, created by Beth Ann Caspersen, Quality Control Manager
Makes one drink.
Ingredients:
3.5-oz.Organic Orange Dark Chocolate bar
2 cups whole milk
1-oz. cooled Organic Mind, Body and Soul coffee (we suggest using the French press method of brewing)
1/2-oz.

Amaretto

1/2-oz. Triple sec
1 square of Organic Panama Extra Dark Chocolate bar
Sprinkling of finely ground Organic Espresso
2-3 ice cubes
Directions:
Put two cups of whole milk in a medium sauce pan on low heat with the 3.5-oz. orange chocolate bar. Using a stainless steel spoon, constantly stir the whole milk with the orange chocolate until the entire bar has melted, then remove it from the heat and set aside to cool.
Once the coffee and the orange chocolate mixture have both reached room temperature, you are ready to make the drink. Pour the cooled coffee and orange chocolate mixture into a 6-ounce ceramic cup. Add Amaretto and Triple sec to the coffee and orange chocolate mixture and stir. Add the ice cubes and sprinkle the finely ground espresso over the cup and on the saucer. Place one square of Organic Panama Extra Dark Chocolate bar on the saucer. Bite half of the chocolate and let it melt in your mouth, then take a sip of your drink. Enjoy!
SECOND PLACE:
For Love & Chocolate, created by Lynsey Miller, Market Development Leader
Makes one drink.
Ingredients:
1-oz. Organic Love Buzz coffee-infused vodka*
1-oz. Creme de Cacao
Organic Hot Cocoa Mix
4 ice cubes
Directions: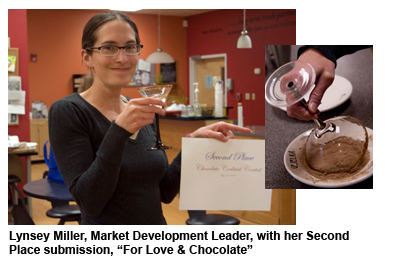 Step 1:
Rim a martini glass with the cocoa mix.
Invert your martini glass and dip it into a plate that has a thin layer of water. Let excess water drip off. Then dip the glass rim into a plate that has a thin layer of Equal Exchange cocoa mix.
Step 2: Chill the alcohol.
Place the four ice cubes into a martini shaker. Add the 1-oz. each of vodka and creme de cacao. Shake vigorously for 15 seconds.
Step 3: Strain the drink.
Using the shaker strainer, pour the drink into the martini glass.
Step 4: Enjoy!
* To infuse the vodka, drop eight Organic Love Buzz coffee beans into a 1.5L bottle of vodka. Let the bottle stand undisturbed for 10 days. Remove the coffee beans. (If you add more beans or let the infusion stand for more than 10 days, the infused vodka may start to become bitter.) Once the coffee beans are removed, store your vodka as usual, and it will keep well for several months.
THIRD PLACE:
Iced Espresso Mocha, created by Gladys Minaya, Finance Administrator
Non-Alcoholic. Makes two tall glasses.
Ingredients: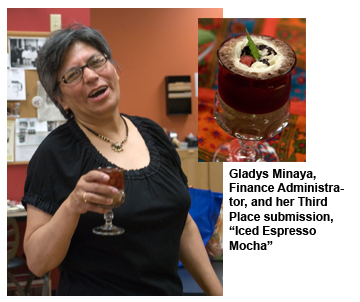 2 shots of Organic Espresso
2 cups of milk
4 tablespoons of drinking chocolate
1/4 cup of sugar or caramel syrup
Directions:
Pour the espresso into the ice cube tray (overnight). Combine the drinking chocolate with the milk in a bowl until well blended. In a blender, combine the espresso ice cubes with milk and chocolate. Blend until smooth. Pour into tall glass and garnish with whipped cream if desired and add caramel or chocolate syrup.
Tips:
- If it is too sweet, omit the sugar and just add a little at a time to taste.
-You can use caramel syrup instead of sugar (sugar does not dissolve completely and leaves granules).
-You can add regular ice cubes to help make it frostier.