Equal Exchange Quality Manager Beth Ann Caspersen took a coffee "Q Course" at the Coffee Quality Institute, then went through a two-year apprenticeship to become a Q Instructor so that she can teach the Q Course herself. She's one of 31 certified Q Instructors in the world.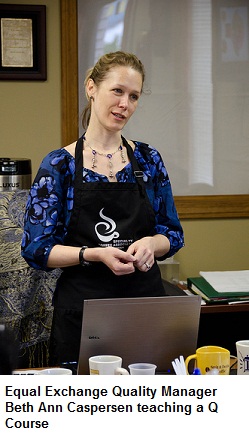 How did you get involved with the Coffee Quality Institute?
Beth Ann: In 2009, I took a class called the Q Course to become a licensed Q Grader for the Coffee Quality Institute (CQI). It was a very intense five-day seminar with 22 sensory and written tests that solely focused on coffee.
So what does it mean that you are now a Q Instructor?
Beth Ann: After I became a Q Grader I knew that I wanted to learn how to teach the course myself. I had worked with and trained cuppers for years and it seemed like a logical professional progression. I wanted to use all of the skills I learned in the Q Course and bring them to different groups of coffee farmers that may not have access to this kind of training or experience, in an economical way.
I knew that becoming an instructor would complement so much of the work I am already doing at Equal Exchange through our annual Cooperation in Quality Seminar and our daily work to source great coffee. There are elements of what I do in cupper calibrations and trainings that incorporate various parts of the Q program, and these have been really valuable for our producer partners. Many coffee tasters learn their craft by way of apprenticeship, but the Q Course provides a formal certification that is internationally recognized and valuable as part of a cupper's resume.
There are only 31 instructors worldwide. What was involved in becoming certified?
Beth Ann: Whew! To become an instructor you first have to find a mentor. I was lucky because my mentor and friend, Rob Stephen of Coffee Solutions, just happened to have a laboratory 30 minutes from Equal Exchange's headquarters. I was then part of the apprenticeship program, which was aimed to prepare me for anything and everything in giving the Q Course, which is taught all over the world.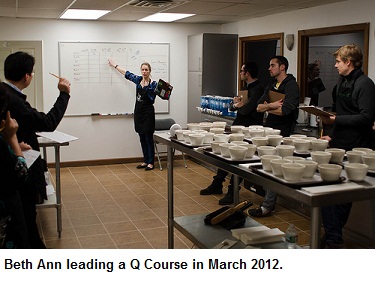 The first part of my apprenticeship took place here in the U.S. with Rob, and I focused on the logistics and flow of the class. I learned the ins and outs in preparing for a group of six to 20 people. Each test is timed and the behind-the-scenes work needs to be perfectly orchestrated to meet the demands of the schedule; I was measuring out and organizing cuppings, helping to keep the class moving, preparing tests; I did lots of cleaning and making sure everything was moving like clockwork.
I was later invited to go to Ethiopia with CQI for the second part of my apprenticeship to work with KC O'Keefe for a week, and there I was required to play a strong support role in the preparations for each test and to teach three of the classes on my own.
The third part, which was my final test as an apprentice, was to give the entire Q Course by myself while my mentor observed my teaching style and delivery of the course. I love to teach, so I was definitely ready to get in front of the class and lead them through a rigorous week of tests. It was both nerve-wracking and exhilarating to be the lead instructor! I loved working with the students and injecting my own style into the course- it was a fantastic week.
In order to become a Q Instructor, I had to do this three-part apprenticeship within a two year period and receive more than 80% on all of the tasks I was asked to perform. To be a Q Instructor you have to balance the timing of the course, logistics to prepare all of the tests and teaching all of the classes. It was an amazing experience. Overall, I clocked over 250 hours for my apprenticeship, and that's without travel hours!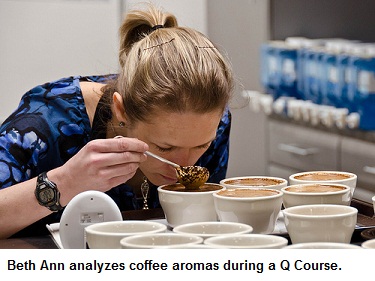 How will this certification impact your work with producers?
Beth Ann: I set out to become a Q Instructor to bring the Q Course to our producer partners. Some of the co-ops we buy coffee from already have certified Q Graders, but others don't have either economic or situational access to the Q program. I believe that I can provide an independent coffee service that can have a powerful impact on both individuals and the co-ops they represent.
The Q program also contributes to the wider specialty coffee movement through the ongoing construction of a universal coffee language and certification. This knowledge and set of skills leads to more knowledgeable and empowered cuppers that understand the value of their own coffee. I look forward to seeing how the next generation of cuppers will excel in ways that I could not have even imagined.
What's your approach to teaching this course?
Beth Ann: I always try to reflect on what I have learned from others. This, in combination with being a mom, has taught me to be a better and more patient teacher. I feel privileged to be part of a small group of teachers -- only 31 in the world -- that represent the Coffee Quality Institute. Teachers play such an important role in encouraging students and providing detailed course material for all of their classes. I hope to be a good teacher and I look forward to contributing to our movement in specialty coffee -- watching the industry move and change -- and being part of that evolution, too.