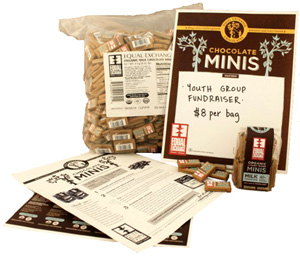 Package, seal, sell and give Equal Exchange's chocolate minis with our do-it-yourself Mini Packaging Kit - perfect for family treats and holiday gifts.
Each kit contains everything you need to create 35 gift bags of 25 minis each using a bulk case of minis.
What's in the kit?
1 bulk box of minis (8.82 lb box of 888 4.5-g bars)
35 clear cellophane bags
35 Equal Exchange stickers to seal your bags
1 enticing, full-color sign with space to add information about your sale (download pdf)
Instruction sheet with farmer information on the back to display at your table (download pdf)
*Note: This kit can only be ordered along with Dark Chocolate Minis or Milk Chocolate Minis, one kit per case. Cost for Minis with Packaging kit is $144.
How does it work?
Step by Step
Plan: Set your sale date and an assembly date. If you get some friends to help, it will be even easier!
Promote: Let the community know about the sale through email, newsletters, bulletins, event calendars, announcement boards and the included poster.
Order: Add to your usual order or Call Equal Exchange at 774.776.7366 to order your Chocolate Minis Kit – item code 45200 for Dark Chocolate and 45199 for Milk Chocolate. Be sure to take into account warm weather and the 10 day turn-around time.
Sell: On the day of your sale, make a pretty and fun display with a colorful tablecloth, boxes or baskets for products, brochures and posters. If your sale is more popular than expected, don't worry! You can always take orders or set up another sale day.

If folks want to know more about where the chocolate comes from, show them the farmer cooperative profiles on the back of the instruction sheet.
Creative ideas
Decorate the packages for special holidays like Chanukah, Easter, Valentine's Day or Christmas. Add a bow, holiday stickers or tags.
Add mini packages to gift baskets or put them inside travel mugs.
Perfect for teacher's gifts, stocking stuffers, office gifts, hostess gifts or any occasion.
Resources: