Cooperativa Norandino is an association of small-scale coffee producers in northern Peru. The 90 grassroots organizations with more than 6,600 producers, located on the western slopes of the Andes Mountains in Piura.
Cooperativa Norandino brings together three important coffee farmer groups with a long history in Peru. One such organization is the Central Piurana de Cafetaleros (CEPICAFE), which was was founded on March 26, 1995, with 18 primary-level co-op organizations and 200 members. CEPICAFE was founded after years of grassroots work by Arnaldo Neira, Segundo Guerrero and many others. After seeing the success achieved by implementing ecological technical farming systems and marketing quality coffee, more and more producers began to organize. "Together with our grassroots organizations we work permanently to promote sustainable and fair human development by broadening the capacities and ensuring respect for the rights of small-scale farmers and producers in the highlands of Piura," said Arnaldo Neira Camizán.
The second major group of growers who cooperated to create Cooperativa Norandino are from the area of Jaén and San Ignacio in the province of Cajamarca. A generation ago, these growers benefited from the services of the secondary cooperative CECOOAC-NOR, but that group collapsed during the economic chaos that engulfed Peru in the 1980s and 1990s. Small-scale farmers were subjected to the unfair buying practices of private corporations, but were able to organize themselves into new democratic organizations to build their own history. The third group of farmers are located around the San Martín area of northern Peru.
The region where Cooperativa Norandino members grow coffee is in the highlands of northwest Peru. All of Cooperativa Norandino's coffee is grown by family units. The average area farmed by members is 1.8 hectares (about four acres). The structure of small property allows them to dedicate all their efforts on the cultivation of coffee without damaging the aside forest and fruit species which serve as shade trees to the coffee and supply an important part of the families' diets. Geographically, the area is located on the western flanks of the Andes Mountains, at altitudes ranging from 900 to 1,400 meters above sea level, and lying very close to Ecuadorian border.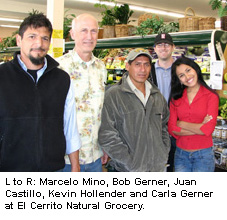 Equal Exchange and Cooperativa Norandino share a very close relationship. Equal Exchange was CEPICAFE's second international customer and the the first to offer pre-shipment credit. In 2001, Cooperativa Norandino's general manager, Santiago Paz, spent three months working from Equal Exchange's main office, studying English and marketing CEPICAFE's coffee to other importers. In 2003, five key Equal Exchange customers lived and worked with the Cooperativa Norandino farmers in Coyona. In November 2006, Beth Ann Caspersen conducted a quality control training for Cooperativa Norandino managers to prepare them for the opening of Cooperativa Norandino's own beneficio in 2007. In 2013, the same Equal Exchange customers will traveled to Coyona in 2003 will return for a 10th Anniversary visit.
Cooperativa Norandino farmers have garnered scores of awards for quality coffee and cacao. At the most recent national competition, Cooperativa Norandino farmers took home 4 of the 10 Gold Medals for cocoa quality.
Download the Cooperativa Norandino brochure: Fair Adventurers: Meet the Makers - A Different Form of Tourism: Alternative and Responsible (pdf)