Lost in Peru for Ten Years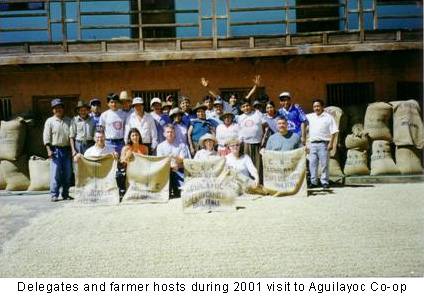 We didn't get lost physically, but 10 years ago our delegation of store managers from the Western U.S. spent a week with the farmer members of Aguilayoc, a village-level co-operatives that is part of COCLA. After two nights staying in the homes of our host families, harvesting coffee in the day and sharing meals at night, our groups was overwhelmed with hospitality and kindness.
We came back from that trip, but part of our hearts stayed lost in Peru. Even now when I go out each morning to feed the chickens, I call to them with the "tuk-tuk-tuk" that host Juana Pezo Suero used to call her birds. Sparrow Johnson, the manager of the
New Leaf Market
, in Santa Cruz, California, insists that "crema de licheroga", given to her by her hosts Emilio and Julia Huillca, is the best remedy for bug bites. "I'm actually a bit nervous about going back," explains Sparrow, "because the first trip was so magical that nothing could live up to it. I'm glad Emilio is doing well."
"Has it really been 10 years already?" asked Eric Stromberg, the General Manager of the
Davis Food Co-op
. Since travelling with the first delegation in 2001, Eric and the staff at the Davis Food Co-op have taken a leading role in building co-op to co-op relationships, including offering fair trade bananas at the store and becoming a founding member of P6 Co-operative Trade Movement. Eric's host on the first trip, Enrique Mellardo, is co-ordinating the anniversary visit in June 10th Anniversary Tour to the village level co-operative called Aguilayoc, which means Place of the Eagles.
Joining the delegation will be managers from
Marlene's Market & Deli
of Tacoma, Washington, and from
Lifesource Natural Foods
in Salem, Oregon.
We are looking forward to going and seeing how much has changed in the past 10 years.
How has your relationship with family farmers changed over the last decade? Share your experience here, and we'll send you some of the fabulous organic coffee we bring back from our trip.
Excitedly, nervously waiting to fly LAX-CUZ
We're waiting to board the LAN Peru flight from Los Angeles to Cuzco and I'll confess I have butterflies in my stomach for all that we could learn on this reunion tour. Five of our retail partners and two of us from Equal Exchange are leaving to spend a week with the farmer owners of COCLA. Kim and Francesca from
Marlene's Market & Deli
, Scott from
PCC Natural Markets
, Marnie from
LifeSource Natural Foods
, and Eric from
Davis Food Co-op
are joining Peter Mark and I to live and work with the farmer members of the Aguilayoc Co-op of COCLA in Cuzco.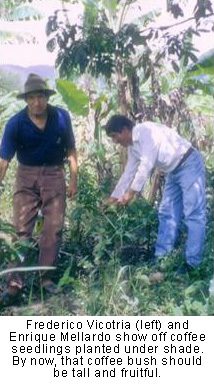 For Eric and me, this a reunion trip to a village we visited and worked exactly 10 years ago. There is a lot to discover.
Does Enrique Mellado (pictured in white shirt) still harvest 2800 pounds of coffee on his 5 acre farm, or has he increased yields and landholdings and diversified crops in the last decade?
Is Frederio Victoria, one of the 12 farmers who founded the co-op in 1978 and, before that, worked as a sharecropper on the same land since the 1950s, still alive? (Don Frederico is in the blue shirt in this photo from June 2001.)
Do Emilio and Julia Huillca still have 38 species of shade trees on their 8-acre farm?
Has Juana Pezo Suero passed ownership of her land to one of her children? Did her son Miguel, who will now be 27 years old, succeed in studying to be a professor as he was planning to do in 2001? Will Juana's granddaughter Isacoset, who was an adorable 2-year old when I last visited, be an insufferable teenager now?
This week, our coffee farmer partners in Peru face two very important decisions, one of which will affect their personal income and their co-operative's financial health, and the second of which will affect their country's future.
Each of the farmer owners of COCLA are members of a village-level co-operative. This co-op, often called the primary co-op, provides members an advance payment when members deliver coffee to the warehouse. For instance, after Enrique picks the days' harvest, he can take that to the warehouse of the Aguilayoc co-op and receive an advance in cash. Later in the year, after the coffee is sold, Enrique will receive a final payment based on the average price for which the co-op has sold the coffee to Equal Exchange or another importer. Typically, the primary co-operative would offer about 70% of the going world price upon delivery, and another final payment at the year's end.
This year, the high and wildly fluctuating world prices of coffee make determining the amount of the advance very tricky. If the co-op offers a generous advance to the farmer, but then must sell the coffee based on a falling world price, the farmer ends up owing the co-op. (Imagine buying canned beans at your local co-op store and then, three months later, have the co-op tell you that they undercharged you for the beans and you owe an extra 25 cents per can!) Alternatively, if the co-op offers too stingy of an advance, members might only bring some of their crop and sell the other part to the corporate coffee buyers roaming the countryside. So for the primary co-operative, this is an important time when they must decide what level of advance payment to offer members.
Our farmer partners also will make a choice of national importance this week. On June 5th, Peruvian voters will go to the polls to vote in the run-off election between two presidential candidates. Keiko Fujimori is the more centrist and technocratic candidate and is attractive to voters tired of the persistent corruption within the Peruvian political system. That her father had to resign the presidency due to corruption is not lost on the voters of Peru, but more speaks to how endemic the problem is and that government services improved during the first Fujimori presidency. The second candidate is Ollanta Humala, a populist military leader from Peru's highlands. Formerly an army officer involved in what may have been a failed coup attempt, he has distanced himself from leftist leaders such as Hugo Chaves and Evo Morales to attract more centrist voters without losing all of his fiery rhetoric on the need for dramatic political and economic change.
Peruvian voters have become savvy over the last few elections, and they have generally swept in a large number of new politicians with each election. However, they have typically rewarded the candidate who lost in the previous election and has, since losing, maintained consistency in his or her message and has become more serious in his or her approach to politics. In the humble opionion of this blogger, that will bring a June 5th election victory to Humala, with our farmer partners at COCLA and CECOVASA being among the voters most heavily voting in his favor.
As these important events in coffee growing country unfold, keep in mind that your coffee choices are fueling family farmers in the ability to deal with these events. The same democratic decision-making that farmers make in their co-ops to determine pricing and to make sound, transparent financial decisions ripple out to local, state, and federal governments. Democracy takes practice, and coffee growers in Peru can practice democracy everyday because YOU vote with your dollars to buy from them.
Tomorrow we'll have coffee at COCLA's coffee shop in the city of Cuzco, then take the drive through the harrowing Malaga Pass to Quillabamba, where the adventure begins. Stay tuned!
From the Bellybutton of the World to the Plains of the Moon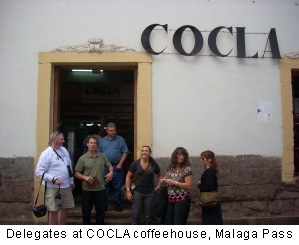 We arrived in Cuzco, known in Inca legends as the Bellybutton of the World and a city which sits at an elevation over two miles high. Suffering from the high altitude and gasping for oxygen in the thin air, we staggered our way to COCLA's coffeehouse for a great cup of joe.
COCLA's coffeehouse has become a well-visited place in this town, which receives more visitors each year than any other South American city. In the 1990's, the tiny storefront south of Plaza San Francisco, about four blocks from Cuzco's central plaza, offered little more than a few dusty bags of coffee and boxes of tea during the sporadic hours it was open. A decade ago, as COCLA began to win back members due to their strong farming training programs and their efficient operation, the co-op decided to invest in their Cuzco location.
At first, COCLA simply made the hours more regular and began to offer all the farmers' produce. Later, tables and chairs were set out to welcome guests and coffee and tea was brewed to order. Then, in 2003, a new micro-roasting operation was set up in the corner, and the delicious aroma of fresh-roasted coffee wafted out the door and brought in the visitors. Now on an average day, the storefront that used to sell just a few packages of food each day sells 200 of cups of coffee and dozens of pounds of coffee, tea, and cacao.
We won't get to savor our drinks too long today, however, because we need to get on the road to drive into the jungle. The road climbs out of the dizzying heights of Cuzco and drops into a valley to follow the mighty Urubamba River. We'll pass the 20,000-foot high Mount Salkatay and then climb through the super steep Malaga Pass. Last time our group suffered from some serious altitude and motion sickness on the white-knuckle switchbacks at the pass. Wish us luck this time!
Through the Malaga Pass we arrive at what locals call the Eyebrow of the Jungle, that easternmost ridge of the Andes that descends into the Amazon jungle. The town of Quillabamba (Quechua for Plains of the Moon) serves as the agricultural center for the valleys of Vares and La Concepcion, which are two of the most fertile and progressive farming regions in all of Peru.
It was in these valleys that some of the first sharecroppers organized themselves into unions against exploitative plantation owners. Those union activists were leading voices for land reform and became leaders of their co-operatives in the late 1960s and early 1970s. In this area, it is common to meet farmers who are known nationally for fighting for the rights of farm workers or for their work pioneering organic agriculture.
The co-operative movement in Peru dates back to the 1960s when the government passed an agrarian reform program allowing for the creation of co-operatives. Farm worker union members soon found themselves as the owners of coffee growing lands once belonging to their patrons. At the time, middle level traders were taking coffee on consignment, thereby leaving the farmers with no guarantee of receiving a fair price. Looking for a way to sell their crops without being subject to the caprice of these intermediaries, the workers began forming co-operatives.
Seven coffee co-operatives, consisting solely of producers in the two valleys of La Convención and Lares, decided to unite their efforts by establishing a "second level" or marketing cooperative. From this effort, the Agrarian Co-operativs of La Convención and Lares,Ltd. #281, was formed on July 26th, 1967. On September 3, 1991, the by-laws were altered and the name was changed to the Agrarian Coffee Co-operative, Ltd. #281, also known by the acronym COCLA. The new by-laws were established by the seven founding co-operatives, which later integrated other co-operatives.
Initially the co-operative provided warehousing services, processing, insurance, and accounting services. Later, a Coffee Sales and Financing service was added. Other services which followed soon afterward included business management training, agricultural extension services, and co-operative organizational development assistance.
Today, COCLA is an organization on the cutting edge of the national coffee industry and the co-operative movement, and is becoming stronger socially, economically, and technically. In its efforts to achieve social change, COCLA integrates 8000 small scale farming families in the valleys of La Convención and Yanatile. Sister co-operatives in the other areas of Ayacucho, Puno, Huánuco, and Cajamarca also use the services of COCLA.
My Favorite Salsa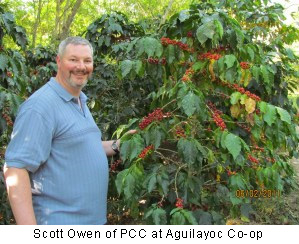 Eric Stromberg, like the rest of our group, was walking the last half-mile of the road to the Aguilayoc Co-operative in Cusco, Peru. During the 32-plus hours it took to travel from his home in Davis, California, to the same farmers' co-operative he visited in 2001, he told us the story about learning how to make his favorite salsa. The salsa had been such a hit at Eric's house that he's made it monthly for over 10 years now. In 1999, Juana Pezo Suero, a farmer member of Aguilayoc, , had visited him and his family in the U.S. and taught him this recipe:
1 cup fresh ground peanuts
1/2 cup cilantro, chopped finely
3 tablespoons water
2 aji (or any small hot pepper)
Remove seeds from hot peppers. Blend peanuts and water in blender until creamy, add cilantro and pepper. Serve as a condiment on boiled potatoes, chicken or salad.

Amazingly, as we're walking the last steps to the co-op, we hear a motorcycle and turn around to find Juana perched on the back of the motorcycle holding -- yep, you guessed it -- a container full of the magic peanut-cilantro-hot pepper salsa! What a happy, special delivery.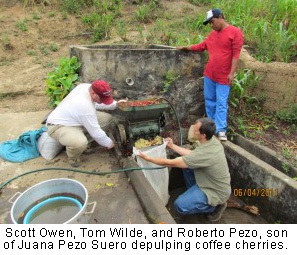 So we all hugged hello, introduced Juana to the other travelers, and caught up on the years gone by. Eric's girls are greatly grown up -- one now 10 years old and the other is fourteen. Juana's kids are doing great. Her eldest son Roberto, who was hoping to study to be a teacher when we visited 10 years ago, has been an elementary school teacher for the past 4 years. Heleh, her eldest daughter, has a great husband and three beautiful children. Her youngest daughter Vanessa also became a teacher, but is now working at a better paying job as a notary. And the little 7 year old boy Miguel we knew in 2001 was none other than the young man who drove the motorcycle that brought Juana to us.
We were welcomed to lunch at the house of Enrique Mellado, who was Eric's host ten years ago. "Where are the turkeys?" asked Eric right away, remembering that a decade ago someone had rustled Enrique's flock a few weeks before our arrival. "Right here," replied Enrique, throwing open the door of an immense turkey coop. "I keep them locked up at night now!" explained Enrique, stepping back to let out the 8 huge and beautiful birds that proceeded to parade across the patio.
After lunch we continued "Now a wheel barrrow is something I know how to use," said Scott Owen of
PCC
, wheeling the de-pulped and washed coffee out onto the drying patio. From there Peter Mark, who works for the co-operative Equal Exchange, and Sergio, who works for the co-operative Aguilayoc, spread the
pergamino
coffee into a half-inch thick layer of coffee to leave it to dry. "With the weather like this," continued Sergio, "this coffee will dry in 18-24 hours." The staff agronomist, Mario Aguirre, chimed in, "The optimum humidity for coffee to ship is 12%, so that's what we deliver to the warehouse for export. In contrast, those private buyers will take in coffee at up to 20% humidity, which ruins the quality because wet beans are susceptible to mold. These members only deliver quality coffee."
The quality of the coffee grown by Aguilayoc members was visible. In front of us stretched a soccer-field-sized spread of gold from the color of the husks on the perfectly uniform coffee beans. We were anxious to get into the field to work side-by-side with the farmers. But we had no fear of missing it. "Tomorrow, you'll harvest at my cousins field," Paulina Medina said as she handed out glasses of chicha, "and don't worry because he has LOTS of coffee on the trees and there aren't enough people to harvest it. You'll have to pick a full sack (about 200 pounds) of coffee cherries."
Drowning in the Land of the Eagles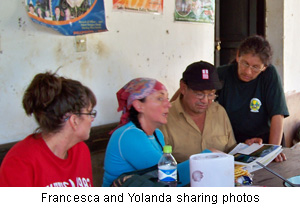 "
Tu cafe es muy bonito
(your coffee trees look beautiful)," said Francesca Siena of
Marlene's Market & Deli
to Yolanda Tapia Carasco of the Aguilayoc Coop as the two stood arm in arm on Yolanda's patio. Francesca and the rest of our group had returned from lunch after hours of harvesting from trees loaded with coffee cherries. Yolanda and Francesca got along like a house-on-fire, running to check out coffee trees, feeding the chickens together, trading tips on recipes using the vegetables and herbs growing in Yolanda's garden, and cooperating to roast coffee on Yolanda's open fire stove. Within an hour of meeting each other, the two were so close one would have thought they were sisters who hadn't seen each other in a long time.
Yolanda and her husband Elias Medina Canchaare 2nd generation members of the Co-op, and together they farm 6 acres of land overlooking the Vilcanota River in the Santa Ana district of Cusco. The coffee trees, almost all the arabica tipica variety, were so fruitful that our 7 person group and the 8 local folks who worked alongside us filled up sack after sack of coffee from trees in an area no bigger than a basketball court. "These tipica trees are incredible productive, what in God's name did you fertilize with?!" I said to Elias because while the tipicia productes the most complex and flavorful coffee, as an older variety it has less compact fruit clusters and is less disease resistant than more advanced hybrids. Elias responded, "Ah, you noticied. I got this area well with the organic compost, the guano de isla (seagull manure) and phosphorous rock. Now there's so much coffee. You guys can stay all week and harvest if you want, I need the help!"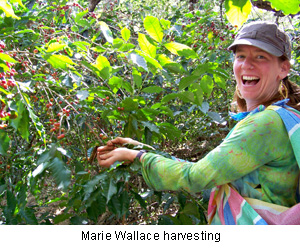 The change in this area has been dramatic, and everyone who has supported the Co-op by buying coffee from Equal Exchange or COCLA's other US roaster customers deserves to be rightly proud. A decade ago, farmer leaders explained to be that the Co-op was finally having some success forcing predatory private buyers from underpaying or cheating small-scale family farmers.
Now, the Co-op's ability to export strong quantities including lots of coffee to fair trade buyers like Equal Exchange is forcing those private buyers to overpay growers to just get some coffee. Ten years ago, farmers told stories about agents of private companies using force to be the only buyer for an area and then to use a fraudulent scale or lots of free alcohol to underpay growers. "We're selective to get high quality to the Co-op because we know we have a good price. Now the private buyers are coming by and pay high for whatever we pick," commented Porfirio Valenzuela.
Additionally, productivity is high and farmers are expanding landholdings. "Of the 320 members of Aguilayoc, I would say 120 have expanded their lands in the last few years. They'll pass their farm her to someone [bequeath to a relative or sell to another family] and then they'll homestead further inland," explained Aguilayoc Co-op staff agronomist Ada Morveli, continuing "They'll settle 50 acres or so there and grow coffee on 2-4 acres, keeping the rest as forest."
Those big changes in farming -- having a strong co-op to force private buyers to raise purchase prices and increased landholdings -- pale in comparison to the biggest change in the region. And what is that, you ask? Stay tuned!
Se Necesita Chica Urgente: Help Wanted Signs in Coffee Land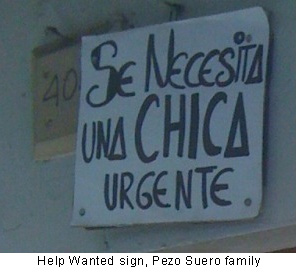 Q: What has been the extremely significant change in the last ten years for the farmers in Aguilayoc? A: The role of off-farm income.
All too often, small scale farmers in coffee areas had no other ways to generate meaningful income: outside jobs were nonexistent, while the prices of other crops were abysmally low. With coffee as the only source of monetary income, and that income fluctuating wildly, farmers needed to grow virtually all their own food. That reality, combined with growing populations and no realistic income opportunities for the extended family, often caused acute poverty.
In contrast, off-farm income has increased dramatically for the farmers of Santa Ana district in which the Aguilayoc Co-op is located. During our visit, farmers mentioned two main sources of off-farm income -- professional jobs their children have and local government public works projects -- and both of these are a result of the groundwork laid by the fair trade partnerships over the past 20 years.
In older reports on small scale farmers, we frequently mentioned their use of the increased incomes to invest in their children's education. For many of the farmer members, that education has been complete and their children now have full-time jobs. Juana Pezo Suero's oldest son, Robert and youngest daughter, Vanessa completed their post-secondary studies to become licensed teachers. Robert is in his third year as a teacher, choosing to serve a very remote and isolated village in Vilcabamba. Vanessa didn't apply to return to teach this term because after last school year, she landed an interesting and well paying job in a notary office. Enrique Mellado's two eldest sons work together in a construction and building supply store. Elias and Yolanda's 3 eldest children also finished their post-secondary studies (thanks in part to extra income from fair trade) and now all three work in the city of Cuzco. Many, like Carlos Huillca, are farming land inherited from their parents, but we met families where typically one child chose to farm and the other 1-3 kids moved into other kinds of work.
All of those farmers are proud to have raised children who are now pursuing their own professions. And when those same farmers need to travel to town, or need to buy farm equipment or building supplies, it's their adult children who pay for those things. So those off-farm salaries are lowering the percentage of household income that comes from coffee exports even at a time of higher coffee prices.
The second major phenomenon increasing off-farm income is due to the co-op's successful efforts to get local and provincial government agencies to provide services for coffee farmers. COCLA has pushed hard to get authorities to understand the importance of coffee farming and to have the public sector invest in agricultural extension services, road improvements, regional irrigation systems, and reforestation systems to benefit COCLA members and their neighbors. Those investments are now happening. One of the three staff agronomists for Aguilayoc is paid for by the municipal government, which is also building an irrigation system throughout the community. Whereas 10 years ago our travel to Aguilayoc was delayed by road washouts and mini landslides, this time the delay was due to new culverts and bridges being installed on the route. In the area of another co-op, Huadquina, the municipal government is paying farmers to re-forest a large section of land.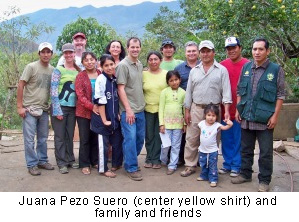 Farmer members of Aguilayoc complained that municipal government public works projects had driven up the cost of hiring day laborers. The going day labor rate in Aguilayoc was $2.50 per day in 2001, but had jumped to $9.25 now. "The municipal government is paying $9.25 a day, so we can't get anyone to work unless we pay that now" was a frequent lament we heard by growers. However, that sword cuts both ways. If a farmer or, for instance, his grown son, is looking to supplement his income, he can work on such projects during times when crops need less attention. Also, the vibrant agricultural sector combined with active government spending (fueled largely by taxes on mining activities) has increased employment in the cities and increased food prices. Higher food prices mean growers can get meaningful prices for the plantain, citrus, and livestock they keep integrated into their coffee crops.
Poverty is tenacious, and the rural areas around Quillabamba still report rates of child undernourishment, maternal and infant mortality, and low life expectancy that are alarming by U.S. standards Farmers organizing to improve life for their families, to gain better access to the consumer, and to advocate for public resources are, however, having a notable effect in Aguilayoc. Ten years ago the dominant theme was "good man needs work", but this year the theme is "help wanted."
Our Help Wanted sign is up too. We need you as a consumer, an advocate, an investor and a community leader in furthering support for small scale farm families. As the signs say, "Se Necesita Chico" (need a good man) and "Se Necesita Chica Urgente" (need a good woman, right away!)
Preserving Native Trees and Lasting Friendships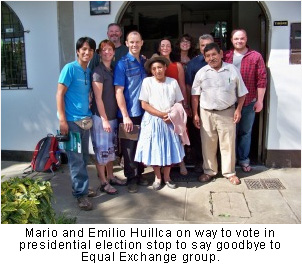 "Oh Papi! Where's Linda, did you bring her?" Emilio said as he greeted me with a big hug. We had dropped 300 meters down the side of the mountain to the home of Emilio and Maria Huillca. The couple had hosted Sparrow Linda Johnson for two nights in June 2001, and over the years both Emilio and Sparrow continually asked me for updates on the other.
The Huillca family has a 7 acre coffee farm just a half kilometer from the banks of the Vilcanota River in the Santa Ana district of Cuzco. When we toured the Huillca's farm in 2001, Emilio and COCLA Organic Program Director Juan del Mar pointed out 38 different varieties of native trees on their land. We met Emilio and Maria's son Carlos, who showed us around and pointed out the same towering tropical hardwoods we saw earlier. "That's called montealgodon because the seed pods, when ripe, shoot out seeds in what looks like cotton. That's the parahuilca, and there's a motoy, you know, all the same like the chamba, cedro, matapalo, and ajuhauho. Yep, they're all here."
I showed the Huillca's photos of Sparrow from last November, when she hosted a fair trade event at
New Leaf Markets
in Santa Cruz, which is the store she manages. And I went on to relate that she had been so sad to not make the trip but with a son starting college, it just wasn't possible. "Well you give her a strong hug, give her two for one from Maria. And how great her son is doing so well," Emilio said, and then turning to Eric Stromberg of the
Davis Food Co-op
, gave him a big hug and the two went on to talk about all that had passed since they had last seen each other ten years ago. "Now who are all our new friends?" Emilio asked, and I then introduced to the family Marie Wallace of
Lifesource Natural Foods
, Scott Owen of
PCC Natural Markets
, Kim Love and Francesca Siena of
Marlene's Market & Deli
, and Peter Mark Ingalls of Equal Exchange.
Later we met up with the neighbors working together in
ayni
, which is a Quechua word used to describe communal work sharing. Six farm families will organize, and then for one day each week, everyone from all six families will work on one farm. The next day, a second family's farm will benefit from the labor of all, and so on through the week. This system both makes work go faster, shares expertise, and builds community. The folks working today in
ayni
were working on Vircro Huilarca's farm, and in addition to the Huillcas and the Huilarcas, the families involved were from the farms of Javier Gavino, Glores Condori, Porfilio Valenzuela, and Carlos Huillca.
Our group delved into the most challenging questions on how co-operatives and fair trade work in times of high market prices. (In contrast, when world prices fall, co-operatives and fair trade preserve the market for small-scale farming families and crowd out large private plantations and corporate traders.)
"Listen, what do you think about how now the private buyers who come by will take lower quality, anything we pick really, at a good price; but the co-op wants us to deliver higher quality and we're not getting any more?" asked Porfilio.
"Usually the price offered by private buyers might be the same as the co-op, but when you deliver to your co-op you get the
reintegro
(a second payment at the end of the year based on the actual selling price the co-op got for the coffee), but last year you didn't get a
reintegro
, did you?" I asked back.
"No, and the co-op hasn't even set an advance price for this coffee we're delivering today," replied Porfilio.
"And I don't think they can because the market is so volatile. I haven't even set the price for two months from now for these guys," I added, pointing to our delegation. "Usually we give them a price and a schedule of promotions for the whole year, but with this market we don't know how much we'll pay you for the coffee, so they don't know what I'm going to charge them two months from now. Once your co-op has the coffee, then we can set an export price from which you'll get the advance. Then once I have the coffee, I'll tell them what they're going to pay. It's just where we are."
"However," I continued, "as co-op members - you of a farmers co-operative and their shoppers as owners of consumer co-ops - we have to act as both owners and managers. If Scott (from PCC) or Eric (from Davis) buy rice and put the price too high, the members might buy from another store. Then Scott or Eric have to decide to either sell less rice or give a better price to the members. Same for you, if now you can get a better price from private buyers, then as owners you can, there's nothing wrong with that. And acting as managers, because as members you're both the beneficiary and the manager of your co-op, you can instruct your staff to either figure out how to survive with less volume of coffee or provide a better price. The co-ops exist to serve the members, not the other way around, right?"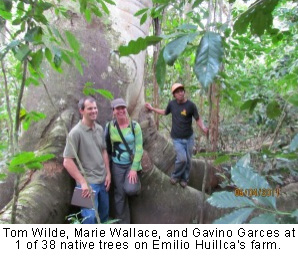 "Prices for lots of the food at our co-op have gone up," added Eric, "and the co-op does its best for members but they have to make their own choices."
Nods of agreements and comments of "this is complicated stuff" and "it's hard to manage, but at least prices are good and the harvest is good" followed for a few minutes until we all decided it was time to get back to work. We tromped down the path, with the Aguilayoc farmers shouting to their colleague to take us to the giant tapahuillca tree growing atop a nautral spring a few hundred meters away.
"It must be a tropical hardwood then," noted Marie Wallace as Gavino Garces described the many uses for the tapahuillca that soared above us. This majestic tree, likely hundreds of years old, is on the farm of Carlos Huillca. Carlos farms 6 acres of land that his parents Emilio and Maria bequethed to him a few years ago. The land contains over a dozen types of native tropical trees, including tapahuillca tree, that are being preserved on the coffee farm. The older native trees soar to 50-80 feet in high. Below that canopy, the limbs of the nitrogen fixing pakai and chamba trees that had been planted provided a canopy 15-30 feet above the ground. The coffee plants thrive under that perfect balance of shade and ventilation, fertilized by the abundant leaf litter, and stood 6-10 feet high and full of fruit.
Our 10 days in Peru deepened friendships and strengthened partnerships despite the many changes that have occurred since June 2001. We suspect that if we return again 10 years from now, the giant tapahuillca tree will be the only thing unchanged.