I often tell people that the easiest part of being a green coffee buyer is actually buying the coffee. The much more complicated and interesting part of my job is collaborating with our producer partners to work on the issues and threats that coffee-growing communities face. One of the big contemporary threats to coffee production is the aging of coffee farmers.
In the past 20-30 years, we have seen a trend of coffee farmers' children leaving their family farms to pursue education, find professional and salaried positions, and seek higher wages in urban areas. This migration is both internal and external. In Colombia, children of farmers from the coffee-centric town of Riosucio, Caldas, in the heart of the coffee axis ('eje cafetero') may migrate from the coffeelands into the large, regional capital of Manizales or perhaps all the way to Bogota or beyond. Either way, they are far from their family farms and taking over the day-to-day farm management and responsibilities from their aging parents can be difficult. This trend of out-migration has many causes and I am by no means an expert, however, it is a topic that comes up consistently in conversations with cooperative staff, farmers, and the children of coffee farmers.
On a recent trip to the department of Caldas, Colombia, I visited four communities where members of ASPROCAFE Ingruma live. We have worked with Ingruma for more than 20 years and they have identified the out-migration of young people as a top-level threat to the future of their organization. In conversations with the older farmer members of Ingruma who are in their 60s and 70s, I regularly hear a similar refrain: "I cannot tell my children what to do. They must choose their own path." One parent and farmer in particular comes to mind. Luis Restrepo has been a coffee farmer his whole life and he described raising his children to me like this: "No puede cortarse las alas o cerrar las puertas a sus hijos." ("One cannot cut wings or close doors on your children.")
Why are young people leaving farms to study or to seek out a new profession? There are many factors, but some of the top reasons that I can name based on years of talking with farmers include the desire to have a steady income, to continue studying, and because coffee farming is incredibly difficult and often not profitable--not to mention the threat of climate change. The number of reasons young people choose not to stay on the farm are vast and vary by region.
To get firsthand perspective on the choices facing the children of coffee farmers, I spent some time interviewing Cristian David Restrepo Guerrero. Cristian is the son of Luis Restrepo (mentioned above) and is currently working with ASPROCAFE Ingruma. Here is our conversation about generational turnover in coffee.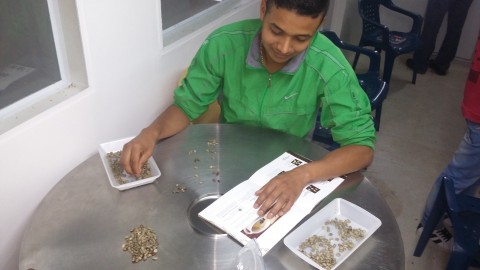 Cristian learning about and practicing defect sorting at the quality lab at ASPROCAFE Ingruma.
Interview adapted and translated from Spanish
Carly (CK): Can you tell us a little bit about yourself?
Cristian (CR): I have been part of agriculture and rural life since I was born. My father has always been a farmer and I have grown to see agriculture as a lifestyle and a passion. I love to learn and that is why I studied accounting, industrial engineering, entrepreneurship, [coffee] cupping, administration, and leadership. Right now I am a coffee producer and I am apprenticing as a general manager as a part of a special project with ASPROCAFE Ingruma.
CK: For those who do not know, how would you describe generational turnover?
CR: I have heard many definitions about generational turnover, but I consider it a term that is incomplete because we hardly ever speak about "generational inclusion." When the concept of generational turnover is mentioned, normally it is associated with children or close relatives who take on the farm management responsibilities.
However, it occurs to me that we need to first define "How are we going to have generational inclusion?" We need to keep in mind that first there should be different strategies developed to motivate, train, and transfer knowledge and planning [to young people], that allows for incentives and successful decision-making in all farm-related processes. There should be moments when families socialize these topics to illuminate the productive/agricultural aspects just as much as the economic aspects of farming sustainably without forgetting that the environmental and social pillars are fundamental to well-being and being able to contribute to society. After having a thorough process of generational inclusion, I think you would have the resources, knowledge, and abilities to help to successfully achieve generational turnover.
CK: I think you bring up a really good point. If we are only talking about who will take over the farm from the older generation, we are not talking about preparation and an intentional way to ensure a future generation of successful and sustainable coffee farmers. Can you share with us why is it important for you to talk about generational shift and inclusion?
CR: Speaking about generational shift and inclusion in the field of agriculture is very important because the new generations are those that will inherit the great work of feeding and providing nutrition to the world. In some cases it is worrisome to see an increase in preferences to move to the cities and find alternative careers. There is a need for programs that truly support and specifically encourage rural life and agriculture. In most cases today, the biggest motivating factor is economic, and in some cases, rural life does not represent what young people are seeking so they choose to migrate to cities to search for opportunities with higher wages.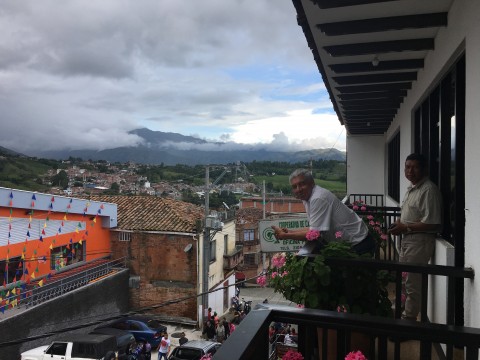 Ingruma staff members Fabio and Jose outside ASPROCAFE Ingruma's office in Caldas, Colombia where Cristian is both a member and an apprentice manager.
CK: In addition to insufficient wages in coffee farming and a desire for greater economic opportunities, what are some of the reasons for which many young people from rural areas do not want to be coffee farmers?
CR: In my opinion there is not a lack of opportunity to work because there is arable land and people in the agricultural sector. What I think is missing is an updated way of thinking and more opportunities for solid and promising careers in rural areas. One of the main reasons that I hear is related to the fact that other work requires less effort and offers more economic remuneration.
I also think that industrialization and consumerism have brought us to a point where city dwellers do not understand the different work and processes that we have in the field to produce food. Some think that food just comes from machines and they do not know the beautiful work that is building a connection between man and nature that allows us to subsist and feed ourselves.
Another important thing, young people do not know many aspects of the value chain from growing through consuming. Coffee has many different areas and job opportunities: harvesting, milling, drying, manufacturing and/or sale of inputs, providing technical assistance, cupping coffee for quality evaluation and differentiation, transporting the product, exporting, negotiating, roasting, certification, serving in coffee shops, conducting research, etc. It is just about starting to train and share opportunities in any part of the value chain and you can start to change the whole panorama.
CK: What do you think we should do to guarantee that our global systems ensure that there are coffee farmers for generations to come?
CR: Part of this question, I responded to above, but I want to add something that is very important to me, and that is that my father has transferred the connection and love that you should have for coffee to me. To guarantee that there are coffee farmers in the next generation it is necessary to share more opportunities and demonstrate that we all have a relationship with nature, that we should grow coffee organically (hopefully!) that guarantees that our coffee is truly a product full of nutrients and not poison.
Mutual and continued learning are indispensable. It is with great happiness that I see the global tendency shifting toward healthy eating, allowing us to open markets that will give us greater opportunity. However, I also think that there should be a change in the distribution of economic resources in the value chain. The majority of the earnings stay with the few and while the producers are the central axis, in many cases they are are not able to cover their costs of production, bringing big economic losses. There are many innovations that are linked to the idea of offering specialty coffees or different transformations to generate added value to the product and these are good alternatives and dynamic opportunities.
CK: With all that we have talked about and the challenges you see, do you want to be a coffee farmer in the future?
CR: More than a coffee farmer, I want to be a businessman and empower myself through the different processes that I have on my farm to have better results, with advanced knowledge of management, accounting, leadership, and financial management.
I also want to further study cupping, so that I can profile my coffee or others' coffee to be able to detect quality attributes or possible defects, to identify what parts of my process are producing inconsistencies and be able to improve daily. I also want to learn and have more experience in coffee growing to be able to have improved agricultural practices. And, I want to continue seeking connection with nature by being a coffee farmer because we also have an environmental obligation that invites us to find balance.
I also hope that down the line, my clients learn about the history of the coffee product that they are consuming, the activities behind it, the processes that created it, the joy, the problems, the sacrifices, and the love with which we do these things. I want to continue contributing and growing because I feel happiness when people consume a cup of coffee and express enjoyment and satisfaction.
And lastly, I want to motivate other people to start or continue growing organic products.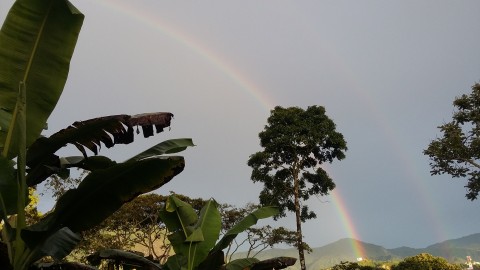 Views over Cristian's family farm in Riosucio, Caldas.
CK: Cristian, your wisdom, vision, and connection to nature really inspire me. Who inspires you?
CR: My primary inspiration is my father. He has always worked to get our family ahead and despite problems and difficult moments, he has never given up. I am also inspired by the connection that I have developed with the natural world and I have developed total respect and thankfulness toward nature.
CK: Anything else that you'd like to share with us?
CR: Just as the future of the world is in our hands--the young people and children--our future depends in a big way on multinationals, big business, and influential people, and I want to take this opportunity to express that we need your help because together we can change the arc of history and minimize the destruction of nature. We need more opportunities and more spaces to express our thoughts.
CK: Cristian, I would like to thank you for sharing your experience and vision with me and hopefully our partners, customers, and friends will read this and further open up spaces and opportunities for more voices of young coffee farmers to not only be heard, but to be listened to and followed. You are truly an inspiration.
CR: I would like to give my sincerest thanks to Equal Exchange because you have given us great opportunities that have helped us to continue playing our role and have given us hope to continue with this beautiful work. Not all businesses support organic growers and you all have allowed your customers to consume organic products that are verified with certifications that guarantee their origin in addition to the people who, with humility and hard work, give their best effort every day to producing coffee.