By Alexis Powell, Social Media Marketing Intern
When it launched, Nectar & Green was a one-woman-show run by Laurel McConville. But just a year later, the entrepreneur's organic almond milk business has grown from an idea to a team of six. The company has expanded its offerings to include almond milk flavors like matcha and lavender, but has remained committed to its authentic, small-scale roots, with door-to-door deliveries, old-fashioned glass milk bottles, and Fair Trade and local ingredients when possible. Nectar & Green uses Equal Exchange Organic Natural Almonds to create each of its six almond milk flavors.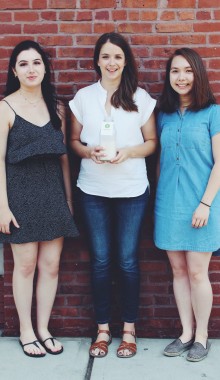 From left: Nicole Zabaneh (marketing intern), Laurel McConville (founder), and Hannah Kappler (head of production), Nectar & Green
With the help of our Equal Exchange Café Assistant Manager, Nakita Turner, and some fresh Nectar & Green almond milk, we've come up with four delicious non-dairy drinks that everyone can appreciate.
Vanilla Bean Iced Coffee
We started with a simple duo that was perfect for the 90-degree heat. Nakita used Equal Exchange's iced coffee paired with the Vanilla Bean almond milk, creating a sweet and balanced spin on the classic summer beverage.
Sea Salt & Honey, Dark Chocolate Mocha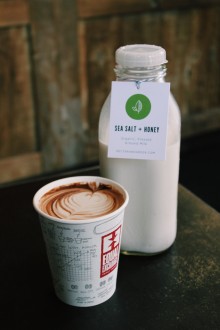 If you're a fan of sea salt and chocolate, try this drink. The deep flavor of the mocha, made from Equal Exchange Organic Dark Hot Chocolate, blended with the sweet but salty almond milk, was a crowd pleaser.
Iced Chai & Vanilla Bean Latte
Almond milk is just as versatile as milk and to prove it, we decided to make a non-dairy version of a chai latte. Made using Equal Exchange Organic Chai Tea, Nakita worked her coffee magic to create a delicious, frothy drink fit for summer.
Rooibos Tea with Sea Salt + Honey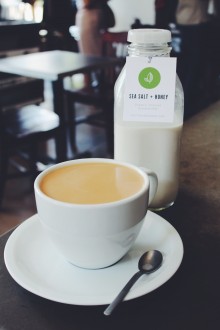 Rooibos tea is already subtly sweet, but with an added dash of Sea Salt + Honey almond milk, we may have made it even better.
Thanks to Nectar & Green and Equal Exchange Café for this fun collaboration!