In mid-May, Equal Exchange, together with our friends at Root Capital, brought together six coffee farmer cooperatives for two days of self diagnostics and collaborative strategic planning in Jaltenango, Chiapas, Mexico.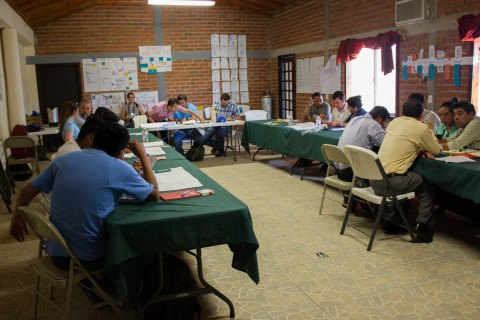 Groups of co-op members during the two-day workshop.
The event was part of the Equal Exchange coffee team's strategic plan for 2017-2020. "We're trying to have a more participatory [strategic planning] process with our producer partners," said Todd Caspersen, director of purchasing and production at Equal Exchange. "It's an attempt to co-plan, and see where there's overlap - not just between us and individual producer co-ops, but between the co-ops themselves. There's a lot of overlap in the things they want to work on."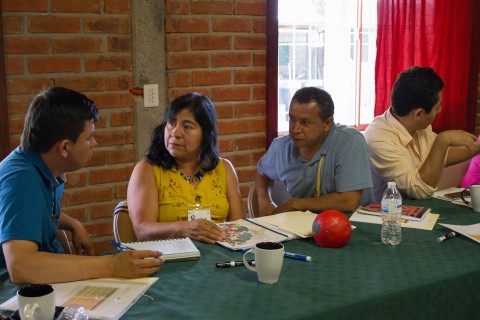 The team from ASPROCAFE Ingruma in Colombia working on self diagnostics.
The six groups included Sol y Café (Peru), ASPROCAFE Ingruma (Colombia), Manos Campesinas (Guatemala), CESMACH (Mexico), Comon Yaj Noptic (Mexico), and Triunfo Verde (Mexico).
"This event is the foundation of how we are trying to work on a newer methodology of not having a strategic plan that is just 'How are we going to buy coffee? Where are we going to buy coffee?' but instead engages our key allies in saying, "How can we buy coffee and support you all in a more holistic way?' because we think that's the only way to move forward and support rural livelihoods," said Carly Kadlec, Equal Exchange green coffee buyer.
The biggest part of the workshop was a self-evaluative diagnostic tool that each of the cooperatives worked on as a team. The diagnostic tool covered six perspectives:
Financial
Commercial
Productive (Farm/Agronomic)
Internal Control
Human Resources/Capacity
Organizational Capacity
There were 2-6 people from each co-op organization working together to answer specific questions and score themselves numerically. At the end, the scores were averaged by category and then mapped out as a spider chart to show where the organization was strongest and weakest.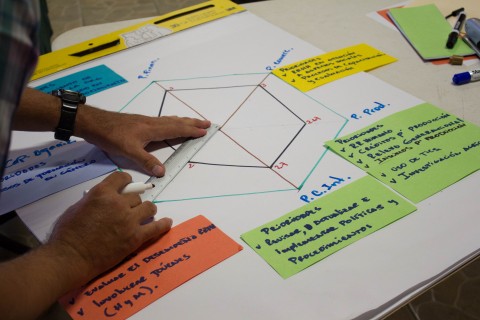 Each co-op group made a spider chart to summarize the diagnostic process.
Based on the scores and dialogue that came up during the self-evaluation process, the individual co-op groups then generated a list of priorities or things that they wanted to work on and then ranked them. Some of the themes that came up as a result of the diagnostic process included: strengthening and training board members, productivity work, engaging young people around farming, and gender equity.
"For many people, they focus only on coffee leaf rust, coffee leaf rust, and more coffee leaf rust, but our challenges are much deeper than that," said Carlos Reynoso, the general manager of Manos Campesinas in Guatemala.
At the end of day two, Equal Exchange and Root Capital had exit interviews with each co-op group to discuss their top 3-5 priorities. The plan is to fund some of these priorities through Root Capital as well as our Donor Advised Fund with The Rudolf Steiner Foundation. Additional funding will likely be needed. "The need and the debt that's owed to the agricultural systems across the world is enormous and it can't be born on the backs of producers," Todd said. "There needs to be more investment in this sector, because there's decades of underinvestment."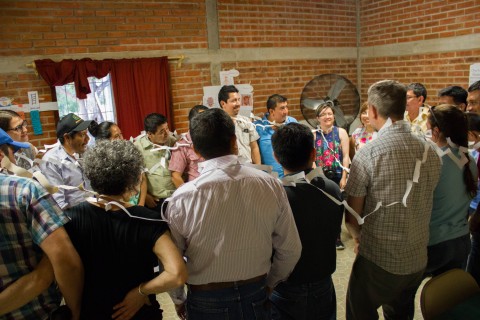 The two days also included some team building exercises, like this human chain.
Equal Exchange will continue to learn from the ongoing co-planning process about what collaboration across commercial, financial and technical relationships can look like, but the event felt like a good first step.
"Besides the fact that we have done similar [diagnostics] before, this time felt different," said Rocio Motato Suárez, the coordinator of ASPROCAFE Ingruma in Colombia. "These situations help us to question ourselves and establish some new goals according to the resources we have, both human resources and economic resources. This was very valuable to us, to reaffirm certain things and to add other new ideas. It was very valuable for us to participate here."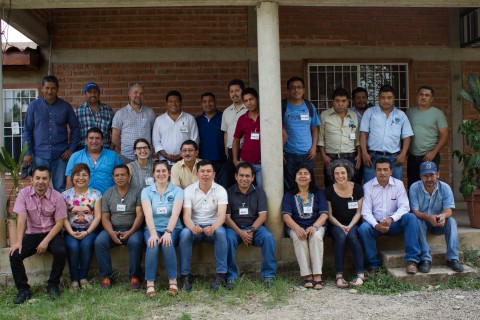 All the participants from the co-op groups, Equal Exchange and Root Capital.