Jessica Jones-Hughes & Ravdeep Jaidka of OKE, USA
Over the last decade, avocados have transitioned from an exotic fruit to a grocery staple, finding a place in U.S. kitchens on a weekly basis. Last year, avocados surpassed bananas as the most valuable fruit import in the U.S. This statistic alone speaks to the immense boom that avocados have seen in the U.S. market.
The majority of the U.S. avocado supply comes from Mexico. In 2017, 86% of avocado imports into the U.S. came from Mexico (USDA ERS). Mexican avocados dominate the U.S. market for various reasons: geographic proximity, ease of trade restrictions due to NAFTA, and a fairly long growing season that extends from August to May. However, as avocado consumption continues to soar, Mexico alone cannot fulfill this demand. Given this gap between supply and demand, more countries are now importing avocados into the U.S. market.
In this changing avocado landscape, Peru has emerged as a key source for avocados for the U.S. The Peruvian avocado season (May-August) complements the Mexican avocado season perfectly (August-May). The transit to U.S. is shorter compared to other avocado producing countries, such as Chile. And lastly, Peru is experiencing an agricultural boom, exporting more and more produce to the U.S. each year, becoming a powerhouse in imported asparagus, grapes, mangoes, and now avocados as well.
What does this mean for small farmers?
Peru has a thriving small farmer economy and, as such, has always been a crucial origin for Equal Exchange's sourcing. Currently, Equal Exchange purchases coffee, cacao, bananas, and dried mango from Peru, all from small farmer cooperatives certified as organic and fair trade.
While small farmers form a robust part of the Peruvian agricultural economy, they nevertheless must overcome a multitude of challenges. First and foremost, small scale farmers must compete with large plantations, which benefit from economies of scale. Operating on a smaller scale means small farmers purchase fertilizers and other inputs in limited volumes and sell their harvest in smaller volumes. Without scale at their advantage, small farmers have higher production costs and little negotiating power for their harvest´s selling price, putting them at a distinct disadvantage in a highly competitive and price-sensitive marketplace.
Secondly, small farmers do not have access to technical assistance often available on larger scale plantations. This includes training on farming practices that improve productivity or decrease incidences of diseases, all of which directly impacts the profitability of the farm. Lastly, small farmers lack the volumes to export directly and, therefore, lack control over their business and access to market information, all of which lies at the hands of intermediaries or exporters.
Partnerships as the key to success
These small farmer specific challenges discussed above are especially true in avocados, a nascent industry in Peru. While coffee, bananas, and cacao are more mature products, avocados are a more recent addition to Peru's agricultural economy. In the last decade, the Peruvian avocado industry has undergone a period of learning and development, primarily through exports to Europe. This experience has positioned Peru to become a key player in the U.S. avocado industry. That said, small scale avocado farmers have not always been a part of this learning and development, putting them at disadvantage within this growing industry.
Equal Exchange was founded with a goal of building market access for small scale farmer cooperatives in response to these challenges. Now, 32 years later, Equal Exchange is confronting similar and new challenges in rapidly-expanding industries, such as the avocado industry. We find ourselves asking: how do small farmers fit into this newly-established industry?
The Equal Exchange model has always taken on these issues through partnerships. In avocados, a partner on the ground level that understands the challenges and the local context is key to developing small farmer capacity in Peru. Equal Exchange found a partner well suited to this task, La Grama. La Grama is a Peruvian owned-and-operated organization based in Lima. Since its inception in 2006, La Grama has worked tirelessly to connect small farmers to export markets, starting with ginger grown in the remote Amazon jungle of Peru (literally a 26 hour bus ride from Lima). Ten years ago, La Grama expanded into avocados, seeing the potential for the Peruvian market and the Peruvian small scale farmers.
In March 2018, we traveled to Peru to visit La Grama, meet the producers, and see the avocados for ourselves. It was evident that La Grama has some of the most experienced staff we have met over the course of our work, with numerous La Grama staff members having worked in small farmer agriculture for over 20 years. La Grama provides important services to small farmers to connect them to the export market, including technical assistance, capacity building, organizational development, packing and export logistics, and market access. La Grama's connections to the U.S. and European markets give them the buying power to export large volumes from small scale producers. Equal Exchange is excited to partner with La Grama, a company with a congruent mission of connecting small farmers to market access, to develop a fairtrade, organic, small farmer, Peruvian avocado supply chain.
Equal Exchange Peruvian Avocado Program
This May, Equal Exchange will be launching a trial program of Peruvian avocados from a small farmer cooperative. Paired with our Mexican program, avocados from Peru are essential to building a year-round program of Equal Exchange avocados. In this booming Peruvian avocado industry, the Equal Exchange small farmer avocado program is an essential piece to ensuring small farmers have a place in this growth.
Like all Equal Exchange supply chains, this starts with farmers and ends with consumers. We need small farmers interested in organizing together and growing a quality product. We need produce distributors willing to support a small farmer movement. We need retailers willing to buy and sell small farmer avocados. We need consumers seeking out truly radical avocados in their grocery, coop, and independent markets.
The question remains as to whether there will be a place at the table for small scale farmers in a booming avocado industry. We need your help to build a movement of distributors, retailers, consumers and activists seeking out and supporting small farmer avocados to make their seat at the table a reality.
Below are some snapshots from Jessica and Ravdeep's trip.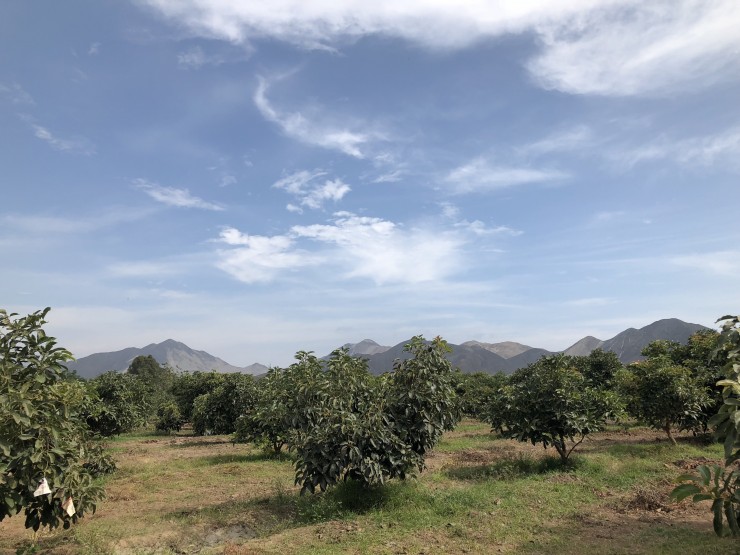 The lush avocado trees in the foreground and the arid mountains in the background form a picturesque landscape in the avocado region of Peru.
Jessica and Ravdeep visiting the avocado orchard of a farmer member of the avocado cooperative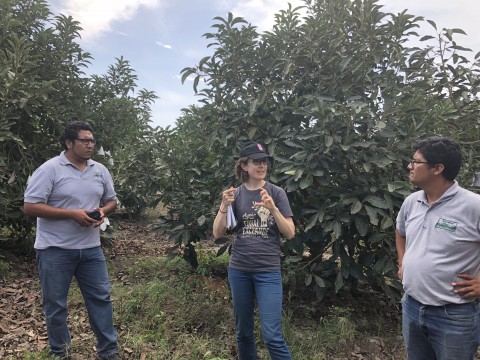 Jessica on a farm visit with members of the La Grama team. Agronomists from the La Grama team provide essential technical services to the farmers, teaching them farming practices to improve productivity and control diseases, often visiting farms once a week during the avocado season.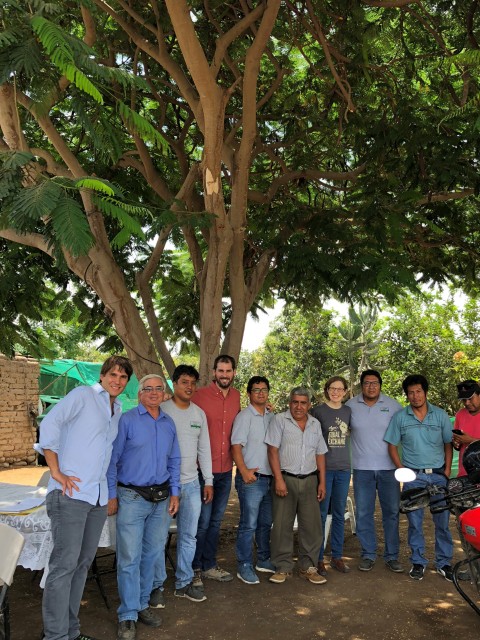 Representatives of La Grama, Equal Exchange, and the farmer cooperative pause for a photo after a long but inspiring day of farm visits.