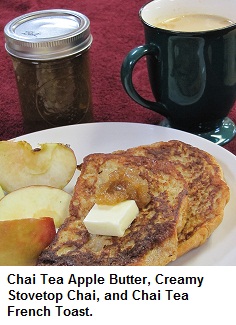 Our deliciously spicy chai is made with black tea and spices from Sri Lanka. It's great when steeped as black tea and served sweetened with a drop of honey. To deepen the flavors, try the following recipe for steeping it on the stove in milk.
Creamy Stovetop Chai
Serves: 2
Ingredients:
2 cups milk
4 bags Equal Exchange Organic

Chai

Honey or sugar to sweeten to taste
Instructions:
Remove tags from teabags, being careful not to cut or tear the bag. Add milk to a saucepan and turn heat to medium-high. Add teabags to saucepan and let milk come to a boil. Reduce heat and steep the teabags in the milk for 5 more minutes, stirring frequently to keep the milk from scalding. Remove from heat and pour into cups or teapot. Sweeten to taste with sugar or honey and serve garnished with a sprinkle of cinnamon.
You can add more teabags to increase the intensity of the spicy chai flavor.
Chai Tea French Toast
Serves: 2
Ingredients:
1/2 cup Creamy Stovetop

Chai

, unsweetened, made to your desired strength, chilled
4 eggs
4 thick slices of bread (like Portuguese sweet bread, or whatever floats your toast boat!)
Butter for frying
Instructions:
Combine the chilled Creamy Stovetop Chai and eggs in a medium-sized bowl. Set aside. Place a good amount of butter in a skillet or frying pan over medium-high heat and allow it to melt. Dunk your bread in the egg mixture on one side, dunk the other side, and place it in the hot pan. Continue for all slices of bread. Be quick when dunking, as leaving the bread in the egg mix will cause it to disintegrate! Fry until golden brown, about 2 minutes, then flip and fry the other side. Serve immediately with butter and drizzled with honey or maple syrup.
Finally, if you're fortunate enough to live in an area of the country where apples grow, make the following Chai Tea Apple Butter. If you don't live near an orchard, store bought apples work great, too!
Chai Tea Apple Butter
Yield: Approximately 4 1/2 cups of finished apple butter
Ingredients:
4lbs apples (try a combination of varieties)
3 cups brewed Equal Exchange Organic Chai (steep 6 bags in 3 cups boiling water)
Sugar (about 4 cups - see cooking instructions)
Salt
Juice of one lemon
Equipment:
Food mill or chinois sieve
Liquid measuring cup
Instructions:
Quarter your apples without peeling or coring them and add to a large, heavy bottomed pot (like a dutch oven). Add the tea and cover the pot. Bring to a boil, then reduce heat to simmer and cook until the apples are soft, about 20 minutes. Remove from heat. Ladle hot apple mixture into the food mill and run the mixture through it over a large bowl. Measure how much puree you got from your apples by pouring the pureed mix from the bowl into your liquid measuring cup and then back into your heavy bottomed pot. Add 1/2 cup of sugar for every cup of puree your apples yielded (I had 6 cups of puree, and added 3 cups of sugar). Stir in the sugar until it is dissolved and then add a dash of salt and the lemon juice.
Now for the fun part: stirring! Turn the heat under your pot full of apple puree to medium-low and stir. Stir your apple puree constantly for 1 - 2 hours. It's a long time but it's worth it. Enlist the help of friends and family and work in 20 minute shifts. You can tell when it's done by how it looks (thick and dark) but also by one of the following methods:
A spoonful of the butter on a chilled plate (from the freezer) will not form a ring of water around it after a couple of minutes
A ribbon of sauce will sit on top of the mixture before dissolving into it
The apple butter will stay in a rounded shape on a spoon for two minutes
Dragging the spoon through the mixture quickly, you'll see the bottom of the pot before it closes in on itself
Turn off the heat and admire your work and your new muscles. It should keep in the fridge for at least a week.
Please keep in mind that all of these recipes are made with Equal Exchange Organic Chai, a blend of black tea and spices and therefore will have some amount of caffeine in them.