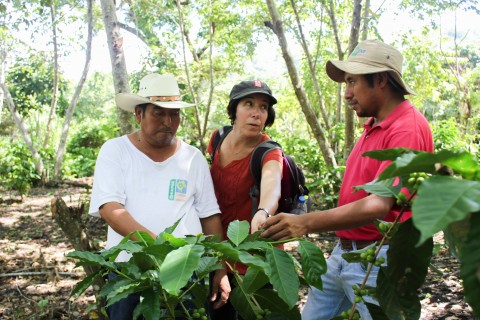 Cooperation among cooperatives is the sixth international cooperative principle. Few organizations can lay a stronger claim to putting it into action than Equal Exchange. Since our founding 31 years ago, our very mission, organizational model, and business practices are lived out in adherence to this core value.
In 2008, Equal Exchange launched a new project with Co-op Food Stores, located in New Hampshire and Vermont, whereby we co-branded a dozen of our best coffees, all from small farmer co-operatives throughout Latin America, Africa, and Asia. In addition to increasing sales (enabling us to buy even more small farmer coffee from our partners), we shared another mutual goal: to improve consumer education about the issues facing the incredible, hardworking, small-scale farmers whose cooperatives sell us their flavorsome coffee (education, training and information happens to be the fifth cooperative principle).
Several years after we launched our successful co-branded coffee line with Co-op Food Stores, we decided to take further action. In 2014, we created a Sister Cooperative program to match Co-op Food Stores with one of our farmer co-op partners in order to further deepen our attempts at education and relationship building. We chose CIRSA, an indigenous co-op in Chiapas, Mexico, because of our strong and longstanding relationship with them, their delicious coffee, as well as respect for their farmer members, whose rich, but brutally difficult history of struggle and revolution has seemingly only deepened their faith, open-heartedness and generous spirits.
This link takes you to an article by Allan Reetz, Director of Public Relations for Co-op Food Stores. In it, Allan talks about the history of CIRSA, its struggle to combat the Coffee Leaf Rust (an insipid by-product of climate change), and the relationship between CIRSA-Equal Exchange-Co-op Food Stores. We hope you find them, and this project, as inspiring as we do.