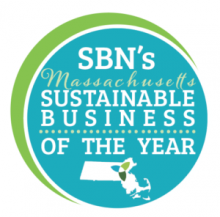 Equal Exchange has been named the 2017 Massachusetts Sustainable Business of the Year by the
Sustainable Business Network of Massachusetts
, in the Eastern Massachusetts: Mid-Sized Business category.
​The Massachusetts Sustainable Business of the Year Award is presented to leading local independent businesses in Massachusetts that are helping to build economies that are local, green and fair. A committee of leaders in the sustainable business movement in Massachusetts chose five winners​ based on local, green, and fair values. Award winners, including fellow Eastern Massachusetts winners Bon Me and preserve, will be honored at the annual SBN Winter Gala on Thursday, Dec. 14 at The Amory in Somerville.
"SBN of Massachusetts is proud to have a trail-blazing and successful company like Equal Exchange be a leader in the Massachusetts economy and our community," said ​Laury Hammel, Executive Director and Founder of SBN. "Equal Exchange is a pioneering venture that has had a worldwide impact from so many important angles: Fair Trade, worker-ownership, and the triple bottom line. The original vision of the three founders has continued to thrive over the years and it has evolved in magical ways that ultimately have resulted in making a positive difference in communities all around the world and teaching sustainable businesses profound lessons."
Equal Exchange has been based in Eastern Massachusetts since its founding in 1986.
"We are grateful that the painstaking work we do to build supply chains that truly work for small-scale farmers and their cooperatives has been recognized by SBN," said Rob Everts, Co-President of Equal Exchange. "SBN has been the driving force behind many advances in making business a force for good in Massachusetts, so we are proud to count ourselves a part of this network. In addition, SBN's work to educate the broader community is consistent with our own redoubling of efforts to engage citizen-consumers in reforming the wider food system through the Equal Exchange Action Forum. Let's all keep pushing ourselves to do even more going forward."
The recently launched Action Forum is an initiative to engage people more deeply in food supply chains locally in Massachusetts and worldwide, collaborating in the difficult work of building a democratic and sustainable food system that works for the people. Learn more about how to join this community here.