By Carly Kadlec and Mike Mowry
In early April, Carly Kadlec and Mike Mowry of Equal Exchange traveled to Manos Campesinas in Guatemala alongside cuppers from three partner cooperatives in Chiapas, Mexico to join an evaluation of experimental coffee varieties resisting coffee leaf rust (la roya), a devastating fungus affecting coffee production. You can read more about coffee leaf rust in a 2014 blog post here.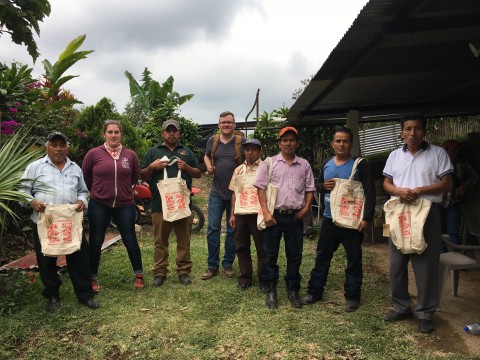 To give some context, the 2012-2013 coffee harvest was a very rough time for Central American coffee farmers. The roya crisis was beginning to reveal its scope and farmers across the region saw drops in productivity on their coffee plants of 25-60% during that harvest. After the initial shock of the coffee leaf rust crisis began to fade, the staff at Manos Campesinas farmer association sat down as a team to reflect on how their organization could be more prepared for future crises. They discussed the need to conduct research on a local level and adequately evaluate coffee varieties for their disease-resistance, productivity levels, response to organic inputs, and cup quality.
Historically, there has been a significant lack of investment in local and smallholder-led farm research in the coffee sector. The technical team at Manos Campesinas is led by Marco Antonio "Maco" Tzunun. Maco and his team insisted that if they wanted to answer the members' questions with solid answers, they needed to organize their own experiments around varieties at different sites throughout the producing region.
With funding from the Coffee Farmer Resilience Initiative (CFRI), an initiative organized by Root Capital with funding from USAID and private sector partners including Equal Exchange and Cooperative Coffees, the staff at Manos Campesinas organized a field-based research experiment to evaluate five coffee varieties at five different farms. Maco and the team selected and worked with five farmers at different base organizations to establish these experimental plots and implement two different organic management strategies (one with products purchased on the local market and the other with organic inputs produced on the farm by the farmers).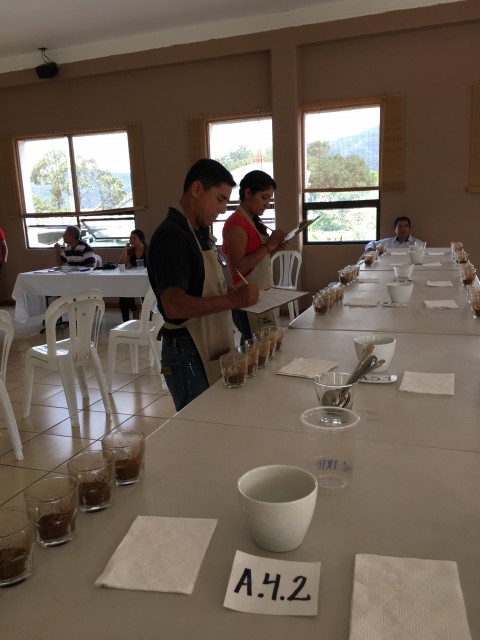 Since establishing the experimental plots in 2015, the technical assistance team at Manos has continued monitoring the performance of the plots in terms of productivity, growth, and disease resistance. As coffee trees require a few harvest cycles to reach full productivity, 2018 is the first year that the plants have produced enough coffee cherries to cup (taste) the coffees and evaluate their cup profiles.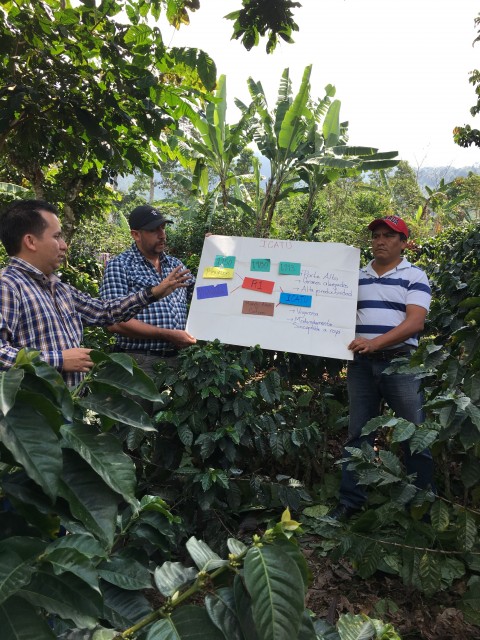 Carlos Reynoso (MC general manager), Erick Mazariegos (lead cupper), and Maco (head agronomist) asked Equal Exchange to co-evaluate the varietals in a blind cupping. Coffee quality coordinator Mike Mowry and green coffee buyer Carly Kadlec joined the Manos team in Guatemala and invited cuppers from three partner cooperatives in Chiapas, Mexico to join in the evaluation.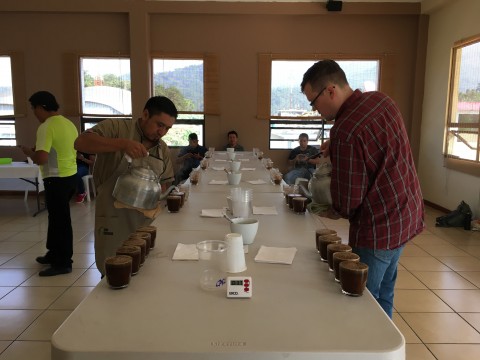 The cuppings took place over several days. Together, Manos Campesinas, Equal Exchange, and the cuppers from Chiapas analyzed the coffees and examined the differences in flavor profile and overall quality by coffee variety and type of organic input used. One of the most interesting takeaways was the performance of some of the hybrid varieties, which scored very well on the cupping table. Many of these hybrids have been cultivated and bred with some amount of lineage from Robusta coffee (Coffea canephora). Robusta is considered by many to be of lower quality than Arabica (Coffea arabica), but the plants are much more resistant to disease and are generally more productive. The goal of breeding these hybrids is to find the sweet spot where the coffee retains all of the high quality attributes of Arabica while also preserving the resilience and productivity of the Robusta line. Also interesting were that some of the coffee varieties most coveted for their high quality, received low cup scores; partly the result of susceptibility to and damage from roya. Though interesting, these results are not surprising. Many coffees are capable of tasting both great and not so great, regardless of variety. There's so many factors in play when it comes to a coffees sensory qualities. Ultimately, more cuppings and analysis will need to be done before conclusions can be drawn about the overall quality potential of these varieties at Manos Campesinas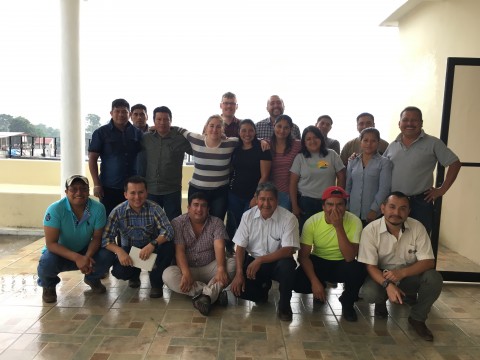 Two of the biggest takeaways from this event were the need to continue conducting and supporting smallholder-led experiments and the realization that we have just started scratching the surface. During the event, we all agreed that there were ultimately very few final conclusions or recommendations to make to producers. We walked away with more questions and a clearer idea of how to improve and expand the variety research in the smallholder context in Guatemala. We plan to continue supporting Manos Campesinas through their research efforts as a part of our Donor Advised Fund. If you would like to learn more about our DAF and possibly contribute to support experiments and efforts like this, you can learn more
here.