Two weeks ago, workers from Equal Exchange and La Siembra (a sister worker co-op committed to small farmers, based in Canada) had the opportunity to visit our mutual sugar partner, Manduvira co-operative in Paraguay, and share a day and a half at the homes and fields of several of its 986 farmer members.
A major achievement of this pioneering sugar cane co-operative is the opening of the world's first FairTrade and organic, cooperatively run sugar mill, in 2014. This is an exciting development considering how dominant the private mills are in controlling so many aspects of sugar production in Paraguay. The co-op members were able to achieve this—in no small part—due to long term partnerships with organizations like Equal Exchange, La Siembra, and our peers in Europe, especially Ctm Altromercato in Italy.
The farmers at Manduvira are innovating on multiple levels. One farm visit in particular inspired me to highlight how a group of cooperative members are collaborating above and beyond sugarcane production, and how this collaboration fosters resiliency in the face of climate change. Small-scale farmers are often at the frontline of changing weather patterns, with devastating effects on their crops from disasters like drought, torrential rains, landslides, hurricanes and earthquakes. When a crop is wiped out it can sometimes mean losing all income that year, something that this group of farmers at Manduvira aimed to change.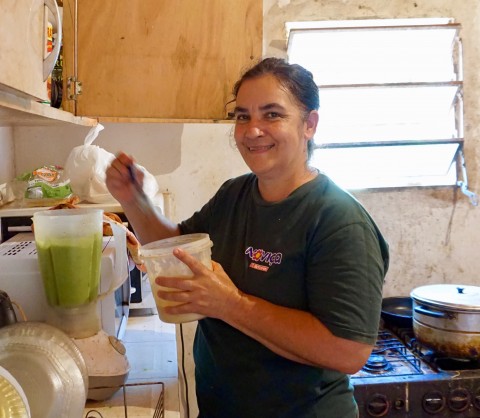 Doña Olga Salvioni making green juice with produce harvested from her organic garden - and a spoonful of Manduvira sugar!
Our group traveled to the community of Sargento Baez to visit Doña Olga Salvioni's farm. Doña Olga proudly prepared juice to share with us, while her toddling grandson ran around the kitchen. Doña Olga's juice was a vibrant green color, full of organic parsley, carrot greens, swiss chard, and spinach, that we helped her harvest from her garden just minutes before. She explained to us the health benefits of green juice that she learned during a series of nutrition and gardening trainings provided by Manduvira co-op's agronomy and extension team.
Doña Olga and 10 of her neighbors are proud members of a women's committee called January 22, named for the date the committee was formed. Two years ago, the women began working diligently together to develop a project that would diversify their household incomes. They agreed upon a project that involves investing in the production of fresh vegetables as a steady income source and for household consumption. In 2016, their project proposal was approved by the Paraguayan Ministry of Agriculture.
Each member of the women's committee received a greenhouse and drip irrigation system. Adding their already progressive gardening knowledge to this new technical infrastructure, the women are able to produce an abundance of organic vegetables, which they gather to sell in the city at a weekly market. Their homes have become social centers and local supermarkets, where neighbors can visit and buy fresh organic produce directly from the gardens.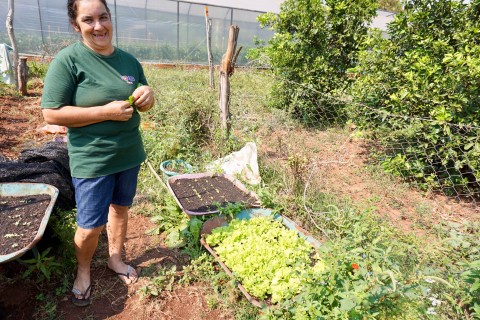 Doña Olga shows us her seedbeds for her garden, prepared in compost provided by Manduvira co-operative.
With the infrastructural advantages of a greenhouse and drip irrigation, the women's committee members are not as directly dependent on the environment for their yields. In July, three consecutive days of frost fell upon the sugarcane fields of co-op members after a month-long drought. In Paraguay, a subtropical country where frost falls once every couple of years, sugarcane is not adapted to freezing temperatures.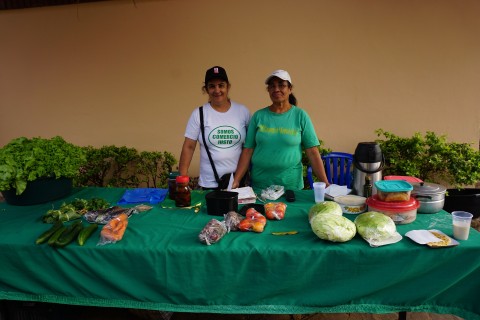 Olga Salvioni and Florentina Gimenez sell their produce and breakfast items at the weekly market in Arroyos y Esteros, while other members of the women's committee sell door-to-door.
This year, Manduvira expects up to a 40 percent loss in sugar production because of the frost damage. This will affect household incomes that rely directly on crop yields. Households participating in the January 22 committee are buffered by the impacts of severe climate events through their diversified income approach. Their greenhouse and drip irrigation allows them to produce vegetables year-round, regardless of rainfall and temperatures. These proud members hope that their committee will act as a model and inspire other Manduvira co-operative members to explore innovative solutions.
For more information on Manduvira co-op: https://equalexchange.coop/our-partners/farmer-partners/manduvira
For more information about the U.S. sugar policy: https://equalexchange.coop/blog/the-not-so-sweet-us-sugar-policy