I was nervous about my trip to the D.R. Congo.

A war has raged there on and off for decades, and heightened violence and political unrest in 2012 has left more than 500,000 people internally displaced.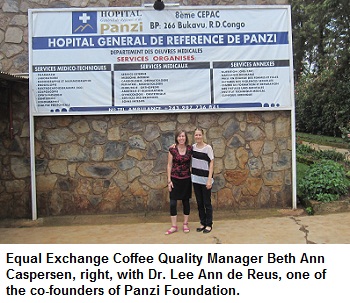 There was a brief lull in the violence during the month of October, so I took the opportunity to go visit our producer partners at SOPACDI and then make the journey across Lake Kivu to visit the Panzi Hospital. Equal Exchange started the Congo Coffee Project in 2011 to raise awareness about the conflict in the eastern part of the Congo and to support the Panzi Hospital, which provides treatment for survivors of gender-based violence. In 2011, the Congo Coffee Project raised more than $8,000. I was excited to travel there for the first time and meet the recipients of these efforts.

My work with coffee producers has allowed me to travel to other countries in Africa, and upon arriving in the Congo I found familiarity in the sights and sounds - the smell of wood burning, colorful clothes, the heat - but nothing could have really prepared me for the emotional experience of the Panzi Hospital.

The hospital has operated in Bukavu, South Kivu for more than a decade and today the hospital employs the largest workforce in the city. There are more than 360 staff, 30 of which are doctors, and together they provided care to more than 18,000 patients in 2011, including 2,571 survivors of sexual violence. Every day, there are between 250 and 300 women survivors at the hospital receiving treatment for injuries or complications due to rape. After treatment, 40-60 percent of the survivors go to an aftercare program called Maison Dorcas, which provides extended shelter, literacy and skills training, and trauma treatment for women and their children who often have no place else to go.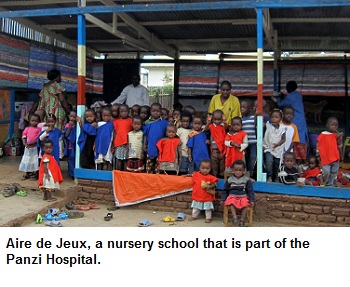 On my visit to the hospital I was accompanied by Dr. Lee Ann de Reus, one of the co-founders of Panzi Foundation. My heart was heavy from the moment we passed through a set of iron gates to enter the hospital grounds, a series of one-story buildings joined by a large open courtyard.

We walked past the garden, through another set of gates, and that was when my heart went straight into my throat. The children are cared for through a program called Aire de Jeux. There, Zawadi Nabintu, known fondly as Mama Zawadi, oversees a small dedicated staff that takes care of 50 children ranging in age from newborns to five year olds. This program also provides schooling for primary school aged children in an adjoining building and outdoor play area. Our $8,000 contribution supported the Aire de Jeux, and here it was in action, right in front of my eyes.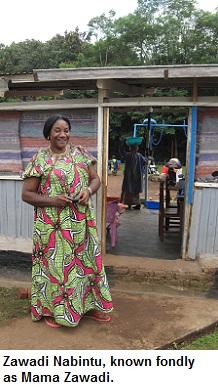 I am not usually at a loss for words, but I found myself looking in the opposite direction of the play area in order to fight back possible tears and to collect my thoughts. All I could think was, wow. I turned back to watch children push carts, play with stuffed animals and move around with the carefree nature only small children really know. These kids had no idea what their mothers had been through and it was amazing to just watch kids being kids. My son, Magnus, is four-and-a-half years old, and I was so happy to hear the laughter, the cries and the goings on of a daycare. I knew that resources were slim, so before leaving for the Congo I decided to pack a suitcase of Magnus' baby clothes and haul them to the hospital. With more than 50 children under the age of five, I was sure that the t-shirts, sweatpants and shorts would be welcome, and as you can imagine, they were.

After listening to songs, watching some great dancing and talking with Mama Zawadi, I knew that I was there for a reason: to tell you the story of Panzi.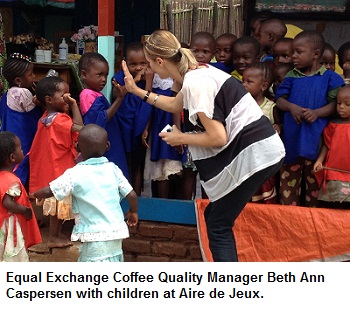 We continued touring the hospital and made our way over to the aftercare program. There, women gathered in small groups sitting in the shade. Some were knitting, some laughing and others were sitting with a quiet hollowness in their eyes. We greeted them and I again found myself overwhelmed with emotion, but thankful to be part of the ongoing work of the Panzi Hospital. A key objective of Maison Dorcas is to help women heal from their trauma and to provide skills training that is applicable to their lives and traditions. Currently, the women are making beautiful handwoven bags made of packaging plastic. Making handicrafts provides the women with an outlet, a little bit of money, and, in many cases, a new set of skills.

We are planning to support Maison Dorcas with our 2012 contribution, projected at $13,000. Women will be trained in weaving, and making soymilk, bread/binets, and fruit juice. These programs are currently being run at Maison Dorcas and will be expanded in the coming year. Since the hospital sees more than 2,000 survivors a year, this will require more trainers and equipment.

One week after my trip, there was an attempted assassination on the founder and father of the Panzi Hopital, Dr. Denis Mukwege. Dr. Mukwege is an international hero and a recipient of countless awards and accolades for his important work in establishing and maintaining the hospital. Dr. Mukwege is well known for his expertise and his groundbreaking work in providing fistula surgery to patients that have been affected by gender-based violence. The attempted assassination was covered in news media all over the world, stunning and saddening those who know him and his work. The event took place in Dr. Mukwege's home and unfortunately his good friend died in the incident.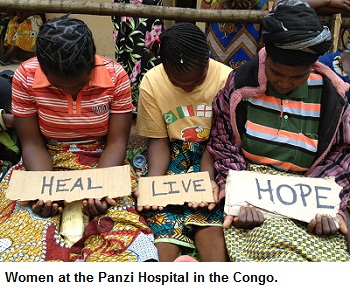 I wondered how everyone was doing at the hospital after such a traumatic incident, so I followed up with Dr. De Reus. She told me:
"The staff at Panzi are concerned about Dr. Mukwege and worried about the situation in Goma spreading to Bukavu. There are less patients at the hospital now as people are staying close to their homes and not venturing out. But the staff are resolute and committed to providing care to those who need it. Dr. Mukwege and his family are safe in Belgium. We look forward to his return to Panzi but no date has been set."
Over the last year, violence and conflict have increased in the Congo, and more than 500,000 people have been internally displaced. The conflict continues to escalate and on Nov. 20, the city of Goma, which is located close to the Rwandan border, fell to a rebel group called M23. Electrical lines were cut and the Congolese army was forced out of the city, leaving behind their weapons with the rebel group. This has resulted in even more insecurity and although peace talks are underway as I write, M23 still occupies the city. The situation is complex: the Congo has vast mineral wealth, inter-ethnic conflicts, influence and rumored involvement by neighboring countries, and a weak national government.

Thank you to everyone who has supported the Congo Coffee Project. Even seemingly small actions can make a difference toward change, and it starts with hope.