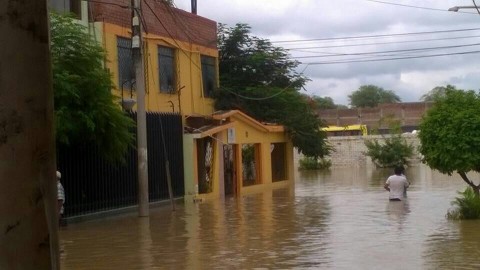 The flooding in Piura, Peru. Photo courtesy of Norandino co-op.
Torrential rainfall in Peru has triggered landslides and flooding, causing devastation across large parts of the country, including Lima, Piura, Lambayeque, Tumbes, Cajamarca and Ica. Many communities have been cut off by damaged roads, making access to services very difficult. A state of emergency is in effect in 11 of Peru's departments. Already 90 people have died and another 863,000, including 285,000 children, are currently affected by the rains.
Equal Exchange has had particularly deep relationships with farmer cooperatives in Piura, dating back 20 years with coffee. Our banana affiliate, Oké USA, also began sourcing bananas from co-ops a decade ago, and more recently we have sourced mangos from the region.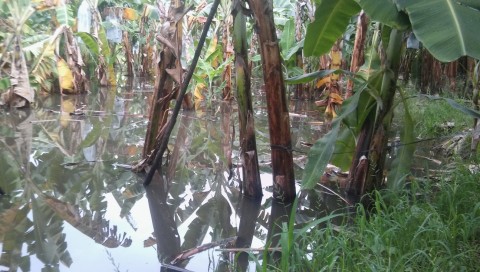 Photo courtesy of CEPIBO co-op.
In response to the flooding, Equal Exchange has donated $5,000 to our partners at Norandino co-op in Piura. Norandino, in coordination with an NGO and with the support of volunteers, is trying to coordinate relief efforts for the community and particularly in communities where farmer members live. They've created a solidarity campaign: Piura needs you. "The need is great and there are thousands of people [affected]. In order to continue sending their support, we are seeking ongoing support," says Santiago Paz, the general manager of Norandino. Many roads up into the mountains are impassable due to mudslides blocking off access to coffee-farming communities. See this video Norandino put together as part of the solidarity campaign.
Norandino has had power outage and massive flooding in their co-op headquarters, with water reaching 1.7 meters in the main office. The floodwaters have damaged sugar products grown by Norandino members and stored in this office. The co-op staff is currently trying to move the damaged and undamaged product out of the flood zone, but this is extremely challenging. Their mill has flooded to a lesser degree, but water damage has still occurred.
Floodwaters damaged sugar being stored in the Norandino office. Photo courtesy of Norandino co-op.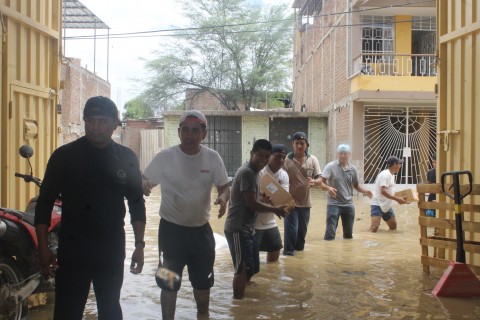 Damaged sugar being moved out of the Norandino office in Piura. Photo courtesy of Norandino co-op.
Banana producers have been hit hard as well (you may have noticed a shortage of Equal Exchange bananas in stores as a result). It has been difficult for trucks to transport bananas from the fields to the port because the dirt roads are all washed out. It has also been challenging for materials such as boxes to get to the farms. Here is a video of APPBOSA, a group of small farmers, using a raft to transport bananas to functional roads. The flooding and infrastructure damage has significantly impacted Peru's ability to export fruit during this period. Read more about how our banana farmers have been impacted.
Background
Peru's rainy season has delivered 10 times more rainfall than usual. The heavy rains, which started in January, are expected to continue into April. The rains are an El Niño coastal phenomenon, caused by unusually warm ocean temperatures between Ecuador and Peru that are disrupting weather patterns. Some scientists have said climate change will make El Niños more frequent and intense, but the relationship is complex and still being studied. Read more on that here.
This heavy rainfall has resulted in extensive damage to homes, water supply facilities, schools, hospitals, roads, and bridges and there is limited potable water in many areas. With nearly 30,000 homes destroyed or collapsed, aid needs are wide-ranging. Many people have lost all their belongings, including personal documents. Clean water is in limited supply, and fears are rising of disease outbreaks, including diarrhea, dengue fever and the Zika virus.
Immediate needs: Food, clean water, mosquito nets, and access to health care
Short-term needs: Temporary shelter, debris clearing, water drainage, disease prevention
Recovery needs: Repair and rebuilding of homes and livelihoods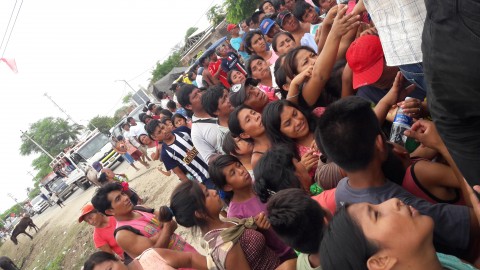 Members of a community affected by the floods wait for water bottles and other supplies. Photo courtesy of CEPIBO co-op.
How to Help
There is an urgent need for donations to provide immediate relief for the Peruvian flood victims. Please consider making a donation and share with your networks. On behalf of Equal Exchange and our producer partners in Peru, thank you for your interest in this situation.