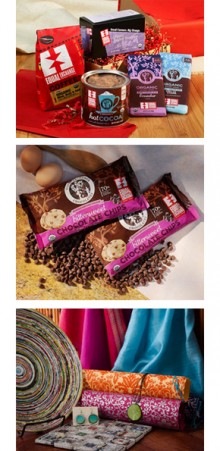 It's October, and here at Equal Exchange, we find ourselves in the middle of an exciting fall fundraising season.
Why are we so excited? Because now it's easier than ever for your school, sports team, youth group or club to raise money while making a positive impact on the environment and our global community.
We spent the last year delving into your feedback about what's working or not working for you in your community and school fundraisers. Then, we figured out how to make our green fundraising program easier, more profitable and more fun for everyone. We made some key changes and are so pleased with the results – and we think you will be, too! Take a look at the ways we've streamlined our Fair Trade fundraising program to help your group earn more money in less time.
No minimum orders. Don't stress about buying more than you can sell. We've eliminated the price difference between buying an individual product and a case, so you earn the most profit per item no matter how many you order. Whether you order one bag of coffee or 100, you'll receive the highest possible profit for that item.
We've streamlined our product list. Our new green fundraising catalog features a hand-picked selection of our bestsellers and classics. This makes ordering easier and faster for your customers, and for you! You'll still enjoy a diverse selection of products, but can relax a little knowing that you're getting only the best of what we have to offer.
Bundled items and higher profits. We're now offering bundles of some bestselling products, packed in twos or threes. Bundling chocolate bars, for example, creates a higher price point, a better value and a higher profit margin for you. Most bundles start at $10, a small increase that goes a long way. Your community will get more and help more, effortlessly. Plus, you'll see an increase in your sales without an increase in orders.
New products. You're going to love these instant-classic newcomers, like Organic Bittersweet Chocolate Chips. And we have a new, gorgeous collection of handcrafted jewelry and gifts from Ten Thousand Villages and other Fair Trade friends.
An unforgettable, successful, low-stress school fundraiser is possible this fall. And don't forget – you'll be making a difference for family farmers and artisans around the world.
Request a free catalog or get started on our Fundraising page.