During the five days I stayed in San Fernando, a coffee-farming community remotely located 6,000 feet up in the Andes Mountains of Peru, I only started to understand the complexities of rural life for the farmers and their families. Because of my academic background in gender studies, I was particularly interested in the breakdown of gender roles in San Fernando.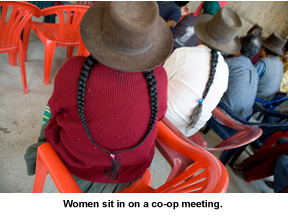 Throughout our visit, during and between our meetings with co-op members, I made casual observations on gender - like how the women prepared our meals, which involved several hours and a whole kitchen full of women. Or how in co-op meetings, the women tended to sit together. I saw that the women worked on the farms, often with an infant or toddler in a sling. Some seemed quiet and timid, while others were very vocal and were leaders in the community.
But I hadn't gotten the opportunity to spend much time talking with the women. It was our last night in San Fernando, and the sun had long set. After dinner, I sat in a circle with five women who were members of San Fernando's women's committee. I learned about the committee a year earlier when the woman who helped start it, an employee of our partner COCLA, came to visit Equal Exchange in 2007. I was thrilled to now have the chance to hear about the committee directly from the women themselves. Since I only speak basic Spanish, I had an interpreter with me. But because the women's indigenous language is actually Quechua, this conversation required two translations, from Quechua to Spanish to English. I waited as words flowed through the language chain, and it wasn't always easy. I struggled to write down my notes with one light hanging overhead. That, and stars shining like I had never seen before in my life. I knew this was a big moment.
The women were shy at first, careful to take turns speaking. But after 40 minutes, they spoke freely and were eager to tell me about their lives - their husbands, their children, their ongoing struggles. The initial five women increased in numbers as more plastic chairs were added to the circle.
They were all members of the community's women's committee, which has 80-90 total members, and is broken into 10 subcommittees. Although a few of the women are co-op members, most aren't. The co-op rules only allow one member per family, and usually the husbands become members. Only about two percent of the co-op members are women.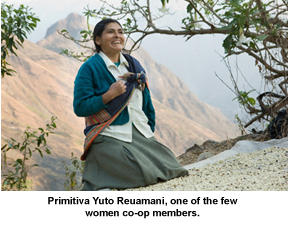 Primitiva Yuto Reuamani is one of the few. "When the co-op was created, my husband wasn't here," she said. "I wanted to belong to the co-op, and since he wasn't here, I signed the documents. Now, it's my name on the papers, and it's my name they call in meetings, not my husband's." She tells the story with a smile and a sense of pride.
Promoting Healthy Habits
Since most of the women are not co-op members, the women's committee formed when wives, sisters and daughters of co-op members decided to organize, with help from advocates from COCLA, mainly to address health issues in the community. Not all of the communities have health centers and because of the long distances between communities, it can be difficult to get medical attention. So, much of the committee's focus is on preventative health.
Eliana Moran is a nurse employed by COCLA who travels to remote coffee-farming communities, like San Fernando, to train the women on these health initiatives. Since women are responsible for the households and children, she focuses on training the women to change their everyday behaviors. "We wash our hands, and make sure food is cleaner," said Nieves Florez Vueso, a committee member, about the health trainings Moran has conducted. "We know the changes are for the better and we are really happy because we've changed our lifestyles, not only for us but for our whole families."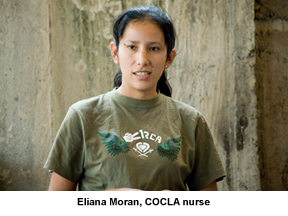 Balancing Gender Roles
Besides promoting healthy habits, Moran is also encouraging a more balanced breakdown of gender roles. "The lifestyle in the countryside is different from that in the cities," Moran said. "The women traditionally only learn to clean and cook, and the idea is to change this mentality. I want to show the community and society that men and women can share chores."
The women wake up at 4 a.m. and are the last to go to bed. "For the most part, men don't put a hand in the kitchen, so the woman does everything," said Alejadrina Salas Altamirano, who lives in the community of Erapata, is a women's committee member, and one of the earliest San Fernando Co-op members since joining in 2001. "We members don't have help in the kitchen during harvesting. We're doing double work - feeding the workers and working alongside them."
The women often talk about this double work load. "When the man of the house is sick, the woman has to do both jobs, because who else is going to do it?" said Cirila Fernandez Bernaula, a committee member whose husband is ill. "Now we can discuss these problems in the women's committees."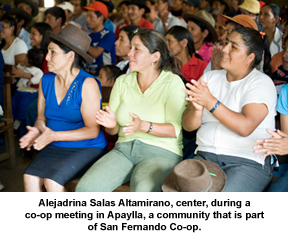 Creating Solidarity
The women try to meet once a month to discuss issues with one another, but even that can be difficult to coordinate with such demanding schedules, especially during the harvest season when women are working on the farms. But they see the benefits of the meetings. "When the women work as a group, things are much better than working alone," Moran said. "They can talk about how they can help one another."
Perhaps most importantly, the committee has created this feeling of solidarity among the women. "We feel together and I like that," Vueso said, with a smile. "We talk about our problems. We look for solutions. We speak and feel better, so that we can go home happy."
The women in the committee said they feel more comfortable voicing their opinions in community matters. I saw this firsthand as women got up to speak and ask questions during our meetings with the whole co-op assembly. "We can participate," Vueso said. "We feel on the same level as the men. If there's a problem, we can now speak better about it. Women speak and participate in meetings with confidence. The husbands respect their wives and I'm really happy about that."
Supporting Education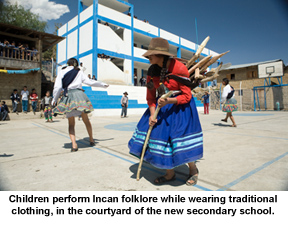 I asked the women what their hopes are for their own daughters, and the answer was unanimous: education. Traditionally, women haven't attended school past grade school. "We didn't have the opportunity to go to school. I finished second grade and that's it," Reuamani said. "My father thought that to work in the kitchen I didn't need school. Now everything has changed. We recognize that illiteracy is a big disadvantage."
The women feel there is more support for secondary education, and even college, in hopes of better lives for their children. "It's really hard, this kind of life," Vueso said. Many sons and daughters are leaving their communities for cities to go to college in fields like agriculture or engineering, and are then returning home to use their education in their own communities.
Asking for a Fair Price
As a member of Equal Exchange's co-op, I felt excited listening to the women and sensing the pride in their solidarity. Although they are still facing long, exhausting work days managing both farms and the household, they are now talking about these challenges and are working toward solutions.
At the end of the night, when it was time for me to return to my host family, each of the women embraced me, and kissed me on the cheek. Despite speaking different languages, I understood their appreciative goodbyes perfectly. They asked me to tell their stories when I returned to the U.S., so that people could know how hard they work each day to provide high-quality coffee and how important receiving a fair price is for the health and well-being of their families and communities.
This is for them.
Photos by Jessica Notargiacomo