COOPERATION IN PRODUCTIVITY
Marcala, Honduras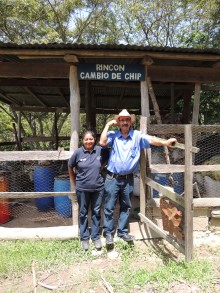 Don Mario Pérez likes to learn, and he likes to challenge the people around him to learn. While visiting his home and coffee farm during an organic workshop in early June, Don Mario and his wife, Joselinda Manueles (pictured, right) explained their philosophy to me.
"It is all about changing your chip," Don Mario said. "Just like a cell phone, you change the chip or the software in your brain and you have a whole new world. We have been so programmed to learn, repeat, memorize, and copy but we need to change our chip. We must have a chip that allows us to observe, analyze, think, and invent!"
Don Mario believes in this idea of "changing your chip" so much that he named his organic fertilizer production space Chip Change Corner, or, in Spanish, Rincón Cambio de Chip.
He and his wife embody the spirit of Café Orgánico Marcala (COMSA), the farmer organization of which they are members. That's why we organized our first Cooperation and Productivity event at their farm and invited members of Las Colinas Co-op to visit and learn from COMSA and its members.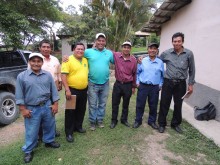 I traveled with six members from Las Colinas—Adolfo, Alirio, Lorenzo, Pedro, Oscar and Julio—from Tacuba, El Salvador to Marcala, Honduras. This professional field trip focused on the integrated organic practices that COMSA has developed using locally available natural resources to their maximum potential. (Pictured, right: Alirio, Adolfo, Pedro, Oscar Omar Alonso, Oscar from Las Colinas, Julio, Lorenzo.)
One of the most unique and inspirational parts of the workshop was seeing the COMSA farmers share their outlook and philosophy with the farmers from Las Colinas. The COMSA mindset centers on the need for a personal, internal change in yourself before attempting to change how you work on your farm.
"Experience has taught us that change happens first in your mind and then in your home and on your farm," Don Mario said. This mindset shift—or change of chip—does not pervade the majority of coffee co-operatives. In fact, I think this is what makes COMSA so dynamic: focusing first on the individual and the development of the mind, and then on how the individual can observe, analyze, think and invent to better their farm.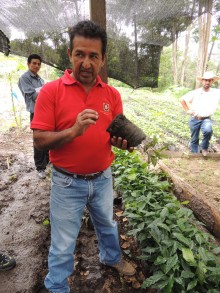 Oscar Omar Alonso of COMSA shared his life story to the six members of Las Colinas over dinner one night. Oscar explained reaching a crossroads that made him realize the problems were not on his farm. "The problems were my problems," he said. "It was me that had to change. I asked myself, 'What are the barriers in front of me?' I had to identify the obstacles and then work on them."
It was incredible to hear Oscar Omar tell his story and lessons with the Las Colinas guys. In my experience, farmers learn best first and foremost from their own experiences (as Oscar and Mario make clear) and second from other farmers. What COMSA gets right, and what I want to share with both farmers and coffee drinkers is an idea that the manager of COMSA, Rodolfo Peñalba (pictured, above), explained: "If there is only one brain, it can only think so much. But, add another brain and another and another. What do you get? Farmers who generate ideas together. This is what we need."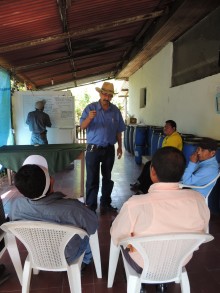 Farmer organizations and co-operatives provide that space for farmers to join together and share their brain power – with amazing results. The farmers from Las Colinas traveled to COMSA with the desire to learn biodynamic organic practices and compost recipes, and while they learned a great deal about that, I believe the philosophy element of this trip made it unique and memorable. The members of COMSA know that farmers must believe in themselves and their ability to create solutions to challenges. They are inspiring other farmers to recognize their own strength and potential.