With Earth Day approaching, we thought we'd give one example of small-scale farmers who are experiencing the effects of a changing climate. Our cashew partner in El Salvador, APRAINORES, is a small group that has been consistently smacked by climate change and other difficulties - like the first general manager of the co-op who left them hundreds of thousands of dollars in debt that they are continuing to pay off.
In early 2016, things were looking good, largely due to Equal Exchange's contribution of $50,000 ($25,000 directly from us and $25,000 from food co-ops through the Grow Together Fund). For the first time, we were going to get two containers from APRAINORES (twice the usual amount) and Ethiquitable in France was going to get one container as well. Things were looking good.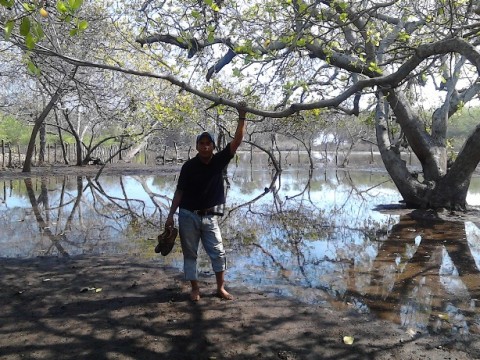 An APRAINORES member on a flooded farm.
Then the ocean tides swept up on the Island of Montecristo higher than ever before, as the tides are beginning to do in coastal areas all around the world. In this case, APRAINORES lost approximately 50 (out of a total of about 370) acres of cashew trees. While this was a loss in cashew volume for the co-op, it also meant the three or four farmers whose land was affected lost their income not just for this year, but for the foreseeable future. Once the soil is salinated, the trees die, and there is no point in replanting.
Next, the entire production cycle was off. As is also happening to farmers everywhere, in the case of APRAINORES - and all of Central America - in 2015 they experienced a drought when there should have been rain, and then just as the trees were flowering (which produces the cashew fruit), sweeping rains washed most of the flowers off the tree and rotted the fruit that were already coming forth.
A cashew scarcity caused the price of cashews on the local market to skyrocket as the middlemen, or coyotes, went wild offering high prices for anything they could get their hands on. APRAINORES let us know that they might not have any cashews for us to buy. The meager quantity could fetch a higher price unprocessed (in the shell) on the local market than they could get exporting to us or to Europe. In addition, it did not seem to make sense to keep the plant open for the few weeks necessary to process and export whatever they had, and they did not want to choose between us and Ethiquitable, nor did it make sense to sell half a container to each of us.
So I went down to visit APRAINORES last May. They were really struggling with what to do. Just under 100 women depend on the processing plant for their livelihoods. Closing the plant would leave all those women without work or a way to feed their families, would demotivate the farmers, and send a worrisome signal to buyers and the financial entities that had lent them money for the harvest season.
After much discussion and considerable wrangling to weigh out the pros and cons of each scenario, we were all finally able to work out an arrangement that made sense to everyone. Equal Exchange would receive one container of cashews in mid-November 2016, and the plant would stay open to process them. The co-op received higher than usual prices and the women kept their jobs.
The farmers of APRAINORES are located along the southern tip of the Lempa River (the area is referred to as the Bajo Lempa). The river has two hydroelectric dams and every year the government's energy company, CEL, decides when to open the flood gates and release water. Almost every year for decades, when CEL does this, the communities alongside the river are flooded. There are always photos showing people trying to cross the roads with water up to their necks, carrying one or two precious items on their heads, animals floating down the river, people standing on the roofs waiting to be rescued, and so on. Homes and crops are routinely destroyed, and people are displaced, or worse yet, drowned in the flooding, as they try to find shelter in area churches.
CEL, long seen as the "enemy of the people" and a target of many social justice organizing efforts, for their seeming insensitivity to the consequences of their actions, has decided to invest $3 million over three years in a strategy to plant cacao and cashew trees on the banks of the river throughout the Bajo Lempa in an attempt to restore the banks and mitigate against flooding in the future.
APRAINORES, through its years of selling to Alternative Trade Organizations in Europe - folks such as GEPA, Equal Exchange UK, Ethiquitable - and us in the U.S, is one of the only organized cashew co-ops in the area, which is heavily saturated with cashew growers. As such, they were asked by the CEL to implement the project and to provide technical assistance to increase organic cashew production.
The co-op is extremely excited by this; they are now considered the leaders and the organic experts in the area. They have just planted 100 new acres of land and will be adding 50 new members to their current base of 65. Next year, the plan is to plant another 100-200 acres and to eventually incorporate another 100 or so farmers into their roster. Current farmers also have received additional trees and organic matter for fertilizers.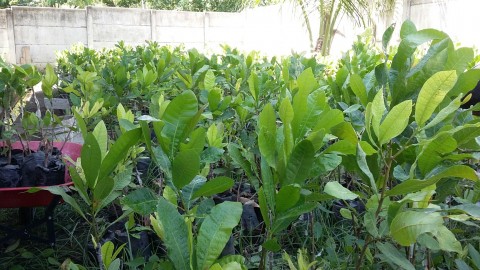 The cashew nursery.
The money they received from the Grow Together Fund and Equal Exchange was used to hire technical assistance and to plant 5,000 grafted trees in nurseries, which are now being given to the farmers. (CEL pays for the actual work of planting and maintenance of the farms.)
"Finally, we are able to do something different," said APRAINORES General Manager Alex Flores, who has stood by this co-op through the hardest of times. He wanted me to pass along his thanks to Equal Exchange and our customers for our support, our ideas, and our trust in them. He emphasized how important that has been and how excited APRAINORES members are for this next chapter in their development.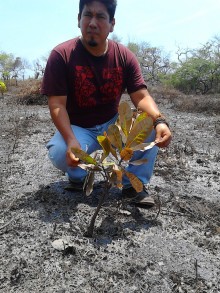 Alex Flores, general manager of APRAINORES co-op.
For more access to in-depth farmer information and ways to take action on behalf of small farmers affected by climate change, join the Equal Exchange Action Forum.