By Carly Kadlec, Green Coffee Buyer
In November 2017, I wrote a post about the Honduran presidential election for this blog and I followed that up recently with a short update on current events in Honduras. In this blog, I asked my friend and Café Orgánico Marcala S.A. (COMSA) member Betty Perez Zelaya to join the conversation to provide context on the election, her perspective, and to share a deeper analysis of the COMSA vision. Betty is a member of COMSA, works as part of the certification team, and also manages her own farm.
Well before the 2017 presidential election in Honduras, I had been hearing from many Honduran friends and colleagues the sentiment that national politics in Honduras are unlikely to be the source of great changes or positive transformation for the largest exporter of coffee in Central America. To hear more about this idea of community-driven change, I reached out to Betty Perez Zelaya to share her perspective on how COMSA is trying to be a change-agent in and around Marcala, La Paz and to be an example, inspiration, and source of ideas for other community organizations and farmer cooperatives in Honduras. COMSA members are not waiting for change to happen at the national government level, they are the change they wish to see in Honduras.
I had the chance to talk with my friend Betty about the most recent presidential elections in Honduras. Betty discussed her answers with several colleagues and friends at Café Orgánico Marcala S.A. (COMSA) in order to provide a consensus perspective. Here is part of our conversation.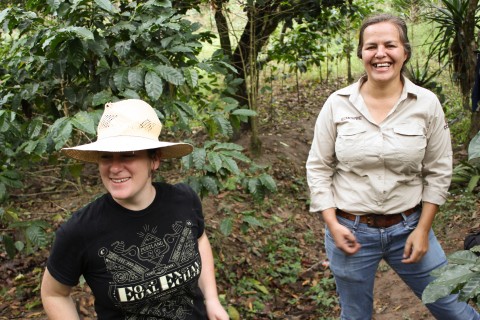 Pictured above: Carly Kadlec (L) and Betty Perez Zelaya (R)
Carly: Can you explain to our consumers and allies what has happened in the most recent Honduran presidential election? What is your perspective on what has happened?
Betty: Elections in Honduras are every four years according to our constitution; a candidate should be selected who has never been president before, there cannot be a reelection according to the constitution, and the constitution can only be modified in a democratic process where the public participates.
In this election the process that was carried out was with a candidate who should not have been constitutionally authorize. Beyond this we are in an illegal process, and at the end of vote counting, he came out as president. This is something that we know to be fact. The opposition candidate [Nasralla] was winning with a margin of votes early on that in the end was reported to have been overcome [by the incumbent Hernandez]
This election (the most recent) was plagued with incidents: the constitutional reforms were carried out in an irregular fashion, the profile of the supreme court was changed abruptly in order to allow for the reelection of our current president. These acts generated widespread discontent on a scale that has rarely been seen in this country. Now it is very clear to us that these type of events are only possible if there exists a type of collective agreement between nations that exert influence in our country.
Carly: What impact have these events had on members of COMSA and COMSA as a business?
Betty: Shortly after the elections, we had some inconveniences mostly in logistical aspects of our business (there was not gas at the gas stations, the highways and the ports were occupied by protests), and you perceived a sense of collective pessimism about the possibility to generate deep shifts in the progress of our country.
Of course there was a certain amount of division. At first when we were not sure of the results in the 'chats' where we share business information we prefer not to wade into the realm of politics so as to not create distance between members or provoke division. So we respected that and everyone was able to share their opinions outside of out COMSA group chats and we did not have to take a position as an organization because this would be very divisive and we respect those in favor and those opposed [to the government].
Carly: COMSA's vision is a very progressive and broad around what is possible for a producer organization to achieve. How did the vision of COMSA take shape in Marcala?
Betty: The vision of our business is grounded in the fact that COMSA has had the possibility to grow, in different markets, we have understood that we should be our own agents of our own progress. We saw ourselves as obligated to generate change that is the precursor to any true development. We see coffee as a means and it is very clear to us that our goal is to focus on humanity.
I believe that the vision that COMSA has around the environment has been developed during the lifetime of COMSA as an organization from understanding that the world is really a village and the damages that happen in one corner of the village also impact the other corners. I believe it is about responsibility; organic agriculture has brought us a vision different from others, and we want to share it with the world to make us all view each other as part of a big family. We are all the same species, and we do not have a reason to treat others differently than we treat ourselves. So this is our vision that have we have been building. The COMSA vision did not happen in a single moment. It is the result of the business and we could say we as changed people are also results of COMSA.
Carly: As a part of the COMSA vision, you all have recently started working in education and in fact run a bilingual education school in Marcala called COMSA International School (CIS). Even more recently, you just opened what is essentially a municipal recycling facility. Why and how did the ideas of CIS and the recycling project take shape?
Betty: The absence of education is the primary root cause from which all of our problems in Marcala and Honduras are born (Corruption, criminality, highways in bad shape, contamination, bad politicians). If we invest in quality education, our future looks promising; we see clearly that [education] is a responsibility of the government however, their results up until now have left us as a country, besides Haiti, as the poorest country in Latin America.
In COMSA we understand that education is the only way to overcome these structures. In Honduras we must look at results, and we all know that education is what generates good or bad results. If we have a bad education, the results will be like those in Honduras. So we have to understand what is 'good education'. We believe we have understood it and since nobody else wants to do it, we are going to make the effort, and that is why we are trying to develop an educational project that serves the world—not only Honduras—so as to have a less damaged planet and we can achieve all of this if we educate ourselves.
With regard to this recycling project, it is a project that serves reduce the amount of material going into the trash stream (but not to control the actual consumption of products and generation of waste). Our focus has to be the same as Acsel Argueta Claros, a young 10-year old boy, who has left us with incredible lessons and is always saying to us "you have to stop buying garbage to have less garbage". We would not have to recycle; we would not have to spend energy to recycle things that damage all living things. This level of consciousness is what we need to share and develop. In the short and medium term it is a human responsibility to get busy working on the poor management of solid waste, and to educate the people of Marcala on the correct and safe methodology of waste management and follow the lead of countries like Sweden. Additionally, we see an opportunity of entrepreneurship and creative development with young people in our recycling program with glass, paper, plastics, and other organic solid waste.
Carly: I think one of the things that I notice most when I visit COMSA is how curiosity has led so many members to experiment and expand beyond being just coffee farmers. The recycling project, the school…all of these fall into the larger vision that COMSA and its members have developed over the past fifteen years. Is there anything else you would like to share with consumers?
Betty: We are very thankful for your support and you can be absolutely certain that with your support we will make Marcala the heart of Honduras in the next 50 years.
Consumers should get to know our theory of change. We deeply believe that we are all children of a greater being and we do not see why there should be borders and racial or political divisions. We see that we are a family and we want this family to be healthy and to live like true children of life.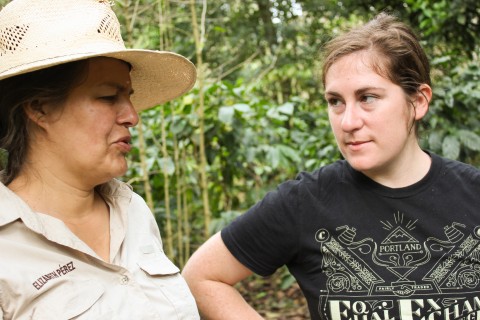 Pictured above: Betty Perez Zelaya (L) Carly Kadlec (R)
I think the arc of the Honduran presidential election and national politics in Honduras and COMSA's belief that they can be a source of change and inspiration for their country through this grassroots and community outreach/network building is an example applicable around the globe. Too often I see US development professionals, activists, students, private sector actors exporting their own ideas to the 'developing world' without first listening to and learning from community activists in the same communities where they would like to 'help'.
In this post I have just focused on COMSA as a change agent but there are many other farmer associations and cooperatives as well as indigenous-led environmental groups, workers organizations, and activists in our supply chain that deserve more recognition and support. We hope to continue to share these stories from our supply chain and to use the tools we have at hand to amplify farmer voices from around the world.