By Ravdeep Jaidka, Producer Relations at Equal Exchange Bananas
There are many tangible pieces to the Equal Exchange model. Organic. Fair Trade. Small Farmers. Cooperatives. While these are all important elements of our holistic approach toward trade, the small farmer piece is critical. First and foremost, the Equal Exchange mission is to give small farmers a place in the global marketplace. This is exactly why our tagline reads Small Farmers. Big Change.
This year, we are using Equal Exchange March Banana Month as a platform to dig into the whys of the small farmer model. Why support the 500 million small farmers worldwide and the 1,200 small farmers in Ecuador and Peru that make up the Equal Exchange banana supply chain? In a food system increasingly dominated by corporate consolidation and large plantations, where both companies and farms are getting bigger and bigger, it is becoming challenging for small farmers to compete and survive. In this rapidly changing landscape, it's important to understand the realities of the small farmer model and the benefits that model provides to local economies, communities, and the food system as a whole.
Why Small Farmers? Because small farmers transform local economies.
Exporting bananas requires many more players than the farmer and the buyer. Bananas are harvested and exported 52 weeks of the year, which means every week the process involves hiring harvest crews, ordering packaging materials, making reservations with shipping lines, and filing customs documentation, among other logistics tasks. This means the exporting of bananas creates second tier jobs in the communities where bananas are produced, often in rural communities where jobs are scarce. These jobs span across many disciplines, from farm laborers and agricultural technicians to logistics operators and general managers of farmer cooperatives. Together, these jobs create a thriving agricultural economy where farmers and all other actors in the export process take ownership of their own piece to make the supply chain run like clockwork on a weekly basis.
"In Piura, the northern region of Peru, exist many distinct organizations of small farmers, who on average own less than 3 hectares of land, and are linked to export through the organic banana chain. This has resulted in an economic dynamism that has transformed the environment of the community and resulted in interesting cases of successful rural development. These better economic opportunities have increased the overall level of income, investment in other ventures, access to credit, and resulted in better housing and roads infrastructure."-Leticia Gutierrez
Leticia is the Logistics Coordinator at CEPIBO, one of our Peru banana cooperative partners comprised of 466 small farmers. Leticia has worked at CEPIBO for over 7 years, managing the weekly tasks of getting bananas from the packhouse in Peru to buyers in the U.S. and Europe. Her work is an example of the many important economic opportunities that the small farmer banana supply chain brings to rural Peru.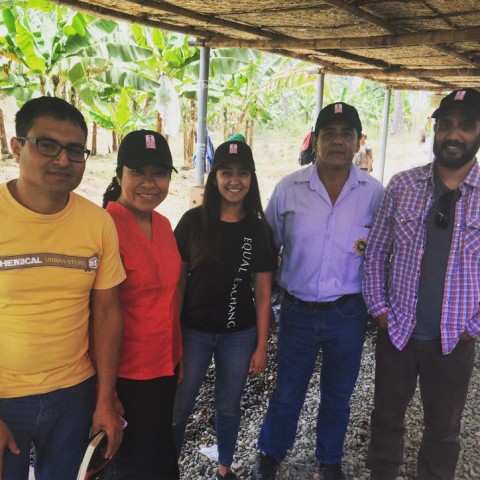 Pictured above staff members of CEPIBO cooperative in Peru pause for a quick photo during Ravdeep's visit. Walter, Leticia and Julio are all employees of CEPIBO, managing the weekly export of bananas grown by 466 small farmers that are members of the cooperative. Left to right: Walter Garrido (Certifications Manager), Leticia Gutierrez (Logistics Coordinator), Ravdeep Jaidka (Equal Exchange Produce), Jorge Socola (President), and Julio Gallegos (Finance Manager).
Why Small Farmers? Because small farmers create vibrant communities.
In addition to the local economy, small farmers also have positive impacts on their communities. This is made possible through the fair trade premium earned for each box of Equal Exchange bananas, which give farmers a stake in community development projects. In addition to the price of bananas, the farmer cooperative earns $1 per box as a fair trade premium. One shipping container holds 960 40 lb. boxes, which means an export business of one container per week (the minimum export volume) generates $50,000 over the course of the year in fair trade premiums. That's significant.
At the end of each year, farmers come together at the cooperative's general assembly to vote on how this money should be used within the community. Farmers and community members put forth proposals and decisions are made collectively on where to allocate the funds. There's discussion; there's disagreement; there's consensus; and that's democracy.
In the last year, our banana cooperative partners have elected to use the funding on a variety of projects, based on their communities' needs. At AsoGuabo cooperative in Ecuador, the 125 farmer members have identified healthcare and education as key gaps within the community. The premium fund pays for a doctor to be present at the cooperative's office each Friday. Farmers, farm workers, and community members come to the office for a check up. Then, the next Friday, they return to the office to read and interpret their results with the doctor. Not only are community members getting preventative health care, a novel concept in rural Ecuador, they are also becoming educated about their own health. In addition to this project, over the last year AsoGuabo's premium fund also supported a geriatric care organization and projects at 13 schools within the community.
The projects identified by our producer partners in Peru were much different in scope. Last year, Peru suffered some of the worst flooding in its history. Farmer members of APOQ, one of our cooperative partners, were some of the hardest hit in the region. Over 30% of the farms were destroyed and in need of renovations, which means old banana plants had to be uprooted and new banana seedlings planted. Since banana plants need time to reach maturity, this meant up to 8 months without an income, in addition to costly expenses associated with renovations. During this time, the 630 farmer members of APOQ decided to contribute a portion of their fair trade premium funds to renovation efforts as a way to rebuild the community. As of December 2017, the renovated farms are back in production.
This is the dynamic process of community development that farmers of each cooperative engage in: identifying the needs of their communities on an annual basis through a democratic and participatory process. It's the farmers who decide what to spend their money on, which is more powerful than any charity or development dollars.
Why Small Farmers? Because small farmers make food about people.
In the small farmer fair trade world, it's all about relationships. Over the course of our banana trade, we have continued to deepen our relationships with producer partners and build relationships between the many unique parts of the supply chain. Last June, we invited Four Seasons (produce distributor and ripener in Pennsylvania) and MOM's Organic Market (independent retail chain in the Northeast) to visit AsoGuabo, a banana cooperative in Ecuador. For over 10 years, these organizations have worked together to bring small farmer bananas to U.S. shelves, without having directly met one another. In Ecuador, we brought the entire supply chain together, from farmer to exporter, to importer, to ripener, to distributor, to store. We came together as partners, sitting at the same table, to discuss our realities and connect the disparate parts of the same supply chain.
The Equal Exchange delegation watches their bananas being​ packed into a container at AsoGuabo cooperative's centro de acopio (warehouse) at ​El Guabo, Ecuador last June. The cooperative's farmer members collectively made the decision to invest their Fairtrade premium dollars to build the warehouse, which means 125 small scale farmers co-own the warehouse.
Above the Equal Exchange delegation watches their bananas being​ packed into a container at AsoGuabo cooperative's centro de acopio (warehouse) at ​El Guabo, Ecuador last June. The cooperative's farmer members collectively made the decision to invest their Fairtrade premium dollars to build the warehouse, which means 125 small scale farmers co-own the warehouse. Back Row Left to Right: Jason Hollinger (Four Seasons, General Manager), Justin Smith (MOMs Organic Market, Buyer), Jessica Jones-Hughes (Equal Exchange Produce), Dean Andes (Four Seasons, Banana Buyer), Abimael Costales Morales (Four Seasons, Ripener) Front Row Left to Right: Edwin Melo ​(AsoGuabo, President), Lianne Zoeteweij (AsoGuabo, General Manager), Ravdeep Jaidka (Equal Exchange Produce).
Of course, my favorite example of relationships in the supply chain comes from my personal experience. Last fall, I spent a month living and working alongside AsoGuabo cooperative in Ecuador. I worked out of the AsoGuabo office and did homestays with 2 out of the 125 farmer members of AsoGuabo. I spent days in the field with Jeccica Ramon (banana farmer and host for my stay), learned about the export logistics process with the cooperative employees, and shared an office with farmer members who were serving their two year term as Board of Directors for the cooperative. Yes, I deepened my understanding of the producer end of the banana supply chain, but more importantly, I made lasting friendships that will take me back to Ecuador again and again.
All these examples are only a glimpse into the deep and important ways that small farmers are making big waves in their local communities and economies. Not only are small farmers a model for positive change in their communities, they provide a personal connection to our food in a food system that's designed to distance farmers from consumers. While the benefits of the small farmer model are slightly more complex to explain than the benefits of growing organically or the benefits of trading fairly, the value that small farmers bring to the supply chain and the food system as a whole is unparalleled. This is why at Equal Exchange we truly believe that small farmers are making big change.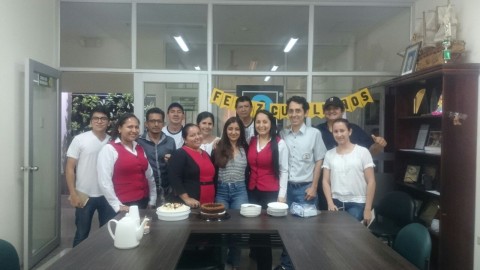 Ravdeep and staff members of AsoGuabo cooperative at her goodbye party at the end of her month long stay in El Guabo, Ecuador. Left to Right: Paul, Nataly, Segundo, Agustin, Vicky, Fabiola, me, Marcello, Vanessa, Luis, Edison and Karen.
Check out this short documentary chronicling the face-to-face connections made across the banana supply chain and the deeply cooperative relationships that have emerged as a result.