Equal Exchange is rooted in political activism. Our very first product, coffee from Nicaragua, was chosen after the Reagan administration imposed an embargo on all products from Nicaragua's Sandinista government in 1986. Importing coffee beans from Nicaragua was a demonstration of solidarity with the fledgling people's movement, and was intended to challenge U.S. trade policies. (Read more about our history.)
Over the last 30 years, we've built a worker-owned cooperative--the largest of its kind in the U.S.--with around 120 worker-owners and offices spanning the coasts. Each of us has one share and one vote in our co-op, and we encourage everyone to stand up and let their voice be heard. Sometimes these are tough conversations, and we often disagree, but this is essential as we mature as a workplace democracy.
The Women's March on Washington (and elsewhere) on Jan. 21 brought many of us to the streets, to stand in solidarity with those most vulnerable to systems of oppression and prejudice. Our daily work to build supply chains for small-scale farmers touches many of the issues that were marched for, from climate change to gender justice to indigenous peoples' rights. Here are some of the reasons we marched, in our own words.
I personally participated to be part of a mass demonstration of people that in turn demonstrates that Trump does not have a mandate. And there are so many ways that the Women's March relates to our work, but to choose one, I have been incredibly touched and impressed with our recent campaign on women in coffee. It has been so powerful to see so many strong women's voices from so many parts of our work (from cupper to buyer to producer) be brought to the forefront of our organization and our outreach.


-Aaron Dawson, Customer Service Manager, Marched in Providence, RI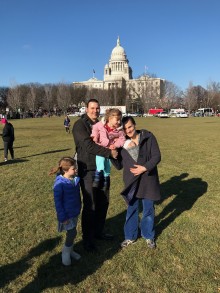 Photo Courtesy of Aaron Dawson
To me, there wasn't an option. I felt it was a feminist response to show that these causes - gender equality, racial equality, lgbtq+ rights, indigenous rights, workers rights, environmental justice - are all connected. Our president's disregard for them causes harm to everyone and should not be tolerated. It was also a strong push to get me more involved in the causes close to my life, and try to understand how I can best support others. Even if it's a small act, small acts of resistance can lead to something big.


-Alyssa Soares, Customer Service Workflow Supervisor, Marched in Boston, MA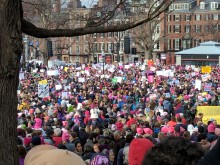 Photo Courtesy of Alyssa Soares
I marched not in support of just one issue, but because all of these things are interconnected and interrelated. For one part of the progressive resistance to succeed, we must work for success in all areas. Environmentalists must also be racial justice advocates; feminists must fight for immigration justice. Equal Exchange has to take its efforts to build democratic economic networks abroad and apply them at home in the U.S. The newly launched Action Forum is a start.


-Annie Sholar, Sales Representative, Marched in Madison, WI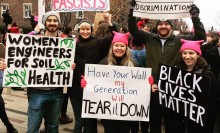 Photo Courtesy of Annie Sholar
I marched for so many reasons; the overarching one being to stand in solidarity against systems of oppression. The march was a tangible way to be seen by the new administration, and I hope that it sparked ongoing engagement and activism in local communities and in our democracy. So many of the issues raised at the march are things we grapple with at Equal Exchange on a daily basis. It was invigorating to see thousands of people engaging around these issues (and many other issues), and I hope that we continue to stand up, show up, call, write, vote, and listen to each other.


-Ashley Cheuk, Social Media & Website Manager, Marched in Boston, MA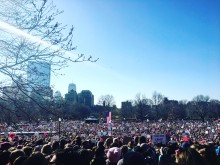 Photo Courtesy of Ashley Cheuk
I wanted to send a message to the new administration that I am part of a massive opposition that is willing to fight for human rights and the future of the entire planet. I marched against xenophobia. My parents are immigrants, refugees. I marched because we are a globally connected community. Equal Exchange's farmers already face the impacts (and often disasters) associated with climate change. I marched for healthcare and education access because I want us to continue to move forward and not backwards. I marched because silence in the face of oppression is consent and I do not consent to this America.


-Becca Koganer, Sales Manager, Marched in Washington D.C.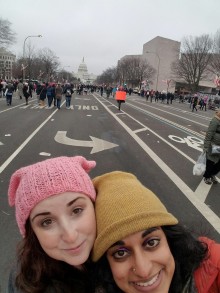 Photo Courtesy of Becca Koganer
I participated to show my support and compassion for fellow human beings.


-Billy Knudson, Direct Store Delivery Representative, Marched in Madison, WI
For me the impetus to march and engage in direct action right now is the possibility of movement building (as opposed to election building). I hope that the momentum that folks are feeling can be applied to building solidarity movements and broad-based coalitions around racial justice, women's rights, LGBTQ rights, economic, environmental and food justice, and many other issues that impact the liberation and freedom of all of us.


-Cameron Chambers, Customer Service Representative, Marched in Portland, OR
I marched to show solidarity and to hear from other marchers why they showed up: for their kids' future, for reproductive justice, for public education, for immigrants' rights, for trans rights, for black lives matter, that science is not a liberal conspiracy, against Islamaphobia, that women's rights are human rights, for prison reform, against hate. The reasons people came out were endless and I wanted to listen to my neighbors and stand next to them as just one step against hate and towards a future for all.


-Carly Kadlec, Green Coffee Buyer, Marched in Boston, MA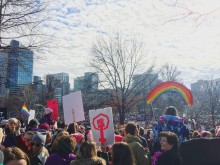 Photo Courtesy of Carly Kadlec
I wanted my voice to be part of a larger movement that communicated to our new president and cabinet that we are here, we still have a voice, and despite the huge obstacles in our way over the next four years we will continue to work to make the U.S. and the world a better place for all people. This was the Women's March, but it was evident that it resonated beyond this, whether that meant fairness and justice for women, people of color, the LGBTQ community, immigrants, laborers, communities facing economic or environmental injustice and more. So many of these issues stem from unjust systems, overt or blind, and for over 30 years Equal Exchange has been working to change unjust economic systems that fail to improve the lives of marginalized communities and most often only benefit a few. I think this movement is about equality, justice and fairness, which are at the heart of who Equal Exchange is.


-Dary Goodrich, Chocolate Products Manager, Marched in Birmingham, AL
Photo Courtesy of Dary Goodrich
I marched to stand in solidarity with my brothers, sisters, neighbors, and friends who are being threatened by this administration. To rise up, in a united front together as women, as people of color, as folks identifying LGBTQ+, as Muslims and Jewish people, as disabled people, as a nation truly made of immigrants and refugees. I marched to signify my participation of the first of many enormous actions that this administration will be dealing with for the next four years. 'FIRED UP, READY TO GO!'


-Jenica Caudill, Sales Representative, Marched in Portland, OR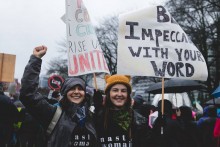 Photo Courtesy of Jenica Caudill
[My wife and I] participated as citizens promoting a government of all the people and for all the people, to support women everywhere, and to champion a more equitable, democratic and sustainable world.


-Keith Olcott, Customer Service Representative, Marched in Boston, MA
Photo Courtesy of Keith Olcott
We [three generations of women] marched for ourselves and in solidarity with the #ihaveafuture movement led by young people of color. We marched to feel the visceral power of being the majority that stands on the side of love and justice.


-Leah Madsen, Sales Manager, Marched in Boston, MA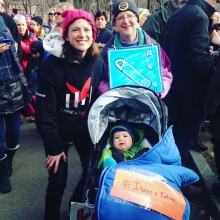 Photo Courtesy of Leah Madsen
I marched for a more inclusive America. I marched for my LGBTQ friends and community. I marched for reproductive justice and equality for all. I also marched to get more informed and to learn how I can participate in my democracy, which I felt was accomplished. I was really impressed with the amount of love demonstrated by all. I marched to get WOKE because silence is not an option. Lastly, I marched to hold space and common intention with my brothers and sisters, my community and my world vision.


-Manju Gupta-Koley, Sales Representative, Marched in Washington D.C.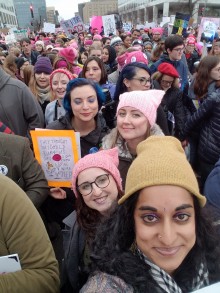 Photo Courtesy of Manju Gupta-Koley
I participated in the march in support of my friends, and to be exposed to the experience, as I am attempting to make a conscious decision to be more involved with social movements and become more informed on the topics that I feel need high attention. Luckily this march not only highlighted the idea of supporting fellow women, but also promoted the idea of environmental consciousness, love, unity, acceptance, and general respect for one another!


-Nicky Perez, Payroll and Benefits Clerk, Marched in Boston, MA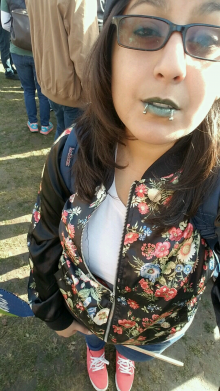 Photo Courtesy of Nicky Perez
[My partner and I] participated for the should-be-nonpartisan values we hold dear -- equality, respect, common humanity, true democracy, economic justice, and environmental stewardship. Values that Equal Exchange was founded on and has fought for the last 30 years.


-Rachel Dana, Sales Representative, Marched in Cleveland, OH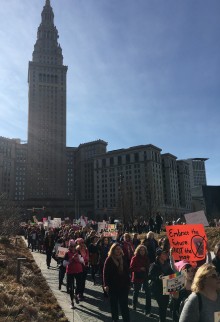 Photo Courtesy of Rachel Dana
I marched for the rights and well being of family, friends, neighbors, people I don't know, the environment, peace, compassion, to banish fear, to banish hate, and to add my voice to those resisting the current direction our country is headed. There's so much at stake.

-Rick Doughty, West Materials Manager, Marched in Bellingham, WA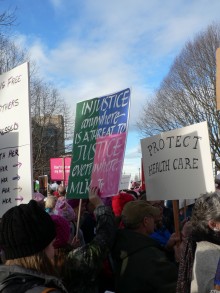 Photo Courtesy of Rick Doughty
I marched because our liberation is linked, every person of every kind, all over the world. This value underlies everything we work for at Equal Exchange: if our farmers are not healthy and successful, Equal Exchange can't be either. We work every day to bind us together in the struggle to lift each other up.


-River Cook, Sales Representative, Marched in St. Paul, MN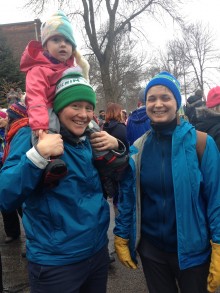 Photo Courtesy of River Cook
I attended the march because I felt it was important to be out there reinforcing the truth that the majority of voters did not elect Trump. That what he stands for does not represent the majority of American's views on critically important issues. I was also there in solidarity with the people and values behind the march. As a democratically governed, worker-owned cooperative working to build social justice in the marketplace, I find these values of inclusion consistent with Equal Exchange's mission and jarringly at odds with the words and deeds coming from the new president.


-Rob Everts, President, Marched in Boston, MA
I participated in the march because I wanted to make my opposition to Trump's policies visible, rather than just something I think about and talk about within my own circle. I think it's important to physically show up and make yourself seen, both to your allies and to the people you are opposing. I think this movement aligns with Equal Exchange's values because we, too, recognize and promote the value and equality of all people and because we are committed to pushing back against oppressive systems.


-Sara Fiore, Community Sales Copywriter & Content Coordinator, Marched in Boston, MA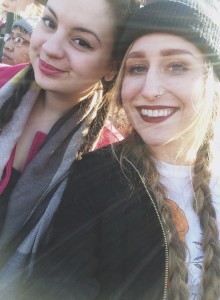 Photo Courtesy of Sara Fiore
I marched to let this administration know their values are not mine. I marched in solidarity with my LGBTQ community and because women's rights are human rights. I marched because it's not an option for me to sit back and watch this country move backwards instead of forward. I will continue to show up, march and stand up because oppression can only survive through silence.

-Shawn Seebach, Sales Manager, Marched in Portland, OR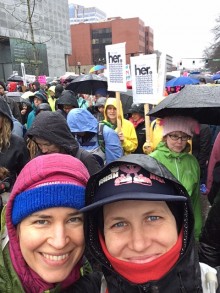 Photo Courtesy of Shawn Seebach
We were determined to put our bodies on the line to let Trump and the Republicans know that there are many alternative voices out there that will be rising up to resist and protest hateful policies directed toward women, minorities, the LGBTQ community, poor people, etc. Since it was the first full day of Trump's presidency, it felt good to let him know that we will work on social justice issues and minority rights, and we will not be going away. Just like at Equal Exchange: we will not be letting up.


-Susan Sklar, Community Sales Manager, Marched in Washington D.C.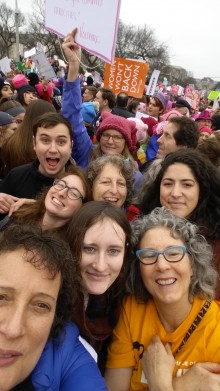 Photo Courtesy of Susan Sklar