Win Win Solutions Curriculum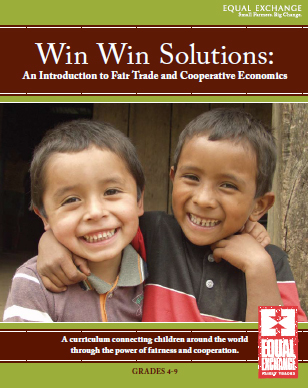 Download the FREE curriculum: Win Win Solutions: An Introduction to Fair Trade and Cooperative Economics in PDF format.
Equal Exchange's curriculum offers 124 pages of interactive classroom activities. Composed of four units, the curriculum raises students' awareness of the core issues surrounding food production and trade. It provides a link between personal actions and community efforts that create a more just and sustainable world. An interdisciplinary educational resource, the Equal Exchange curriculum addresses U.S. curriculum standards from a wide variety of subjects while providing a Fair Trade education. The flexible structure allows teachers to easily incorporate one or two classes into current lesson plans, or use all four units.
Grades 4 – 9
124 Pages
16 Classes
Special full-color insert
In collaboration with educators, Equal Exchange seeks to extend the concepts of fairness and sustainability into the classroom and engage students in the Fair Trade movement. We hope you will find this to be a valuable educational resource.

Questions? For additional information about the Equal Exchange curriculum, Win Win Solutions, please contact Ruthie Oland at (774) 776-7371 or fundraising@equalexchange.coop
Download PDFs of Individual Units and Classes