Did you know that chocolate comes from a tree, or that it is made from beans encased in a colorful squash-like pod? Take a chocolate journey from Bean to Bar with an educational chocolate tasting or a classroom activity.
Hands-On Tools
Conduct a Chocolate Tasting
Purchase Equal Exchange chocolates and use our free chocolate tasting materials to conduct a fun activity for kids.
Tasting Instructions
Tasting Form
Buy chocolate on our online store.
What is Fair Game? Students will experience what it's like to be a cacao farmer and will learn about the importance of authentic fair trade. Suggested for grades 4-9.
Read the handout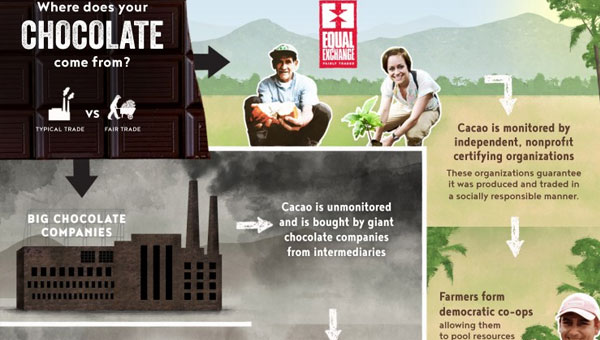 Where does your chocolate come from? Find out in this infographic comparing authentic fair trade and conventionally traded chocolate.
Read the handout