Five Products from the West Bank
At long last, the new Palestinian Boxes have arrived. If you're reading this, your box is probably sitting in front of you! Equal Exchange worked for months with our partner, the Palestinian Agricultural Relief Committee (PARC), to assemble this box of food products for you to pre-order for yourself, your congregation, or your organization. The agricultural products were harvested, minimally processed, packed, and shipped to us here in West Bridgewater, MA, where we've assembled the boxes and have shipped them off to you.
As you know, we've been purchasing organic extra virgin olive oil from PARC small-scale farmers for many years, and are hoping that in the future we'll be able to contribute to even greater economic independence for farmers by finding new markets for them. The goods in the Farmers' Box are produced in spite of limited water, climate-induced droughts, and other constraints imposed by the occupation.
Through our partnership with PARC, you'll find the following exceptional products in your box:
Maftoul: a hand crafted whole wheat cous cous, made in the traditional way in a Palestinian women's cooperative (800 gm or 28.2 oz)
Za'atar: a fragrant blend of thyme, sumac, and sesame seeds to be used in olive oil dipping or for cooking (400 gm or 14.1 oz)
Freekeh: a toasted green wheat which is cooked and used as a side dish, or to stuff meats or large vegetables like squash (800 gm or 28.2 oz)
Almonds: roasted and salted, almonds in a partial shell which can be opened by hand for snacking (250 gm or 8.8 oz)
Medjoul dates: the most succulent dates you will ever taste, for snacks, baking, or cooking (500 gm or 17.6 oz)
Enclosed in your box of products, there's an insert that includes recipes, and information about the Palestinian farmer groups that produced them.
Medjool Dates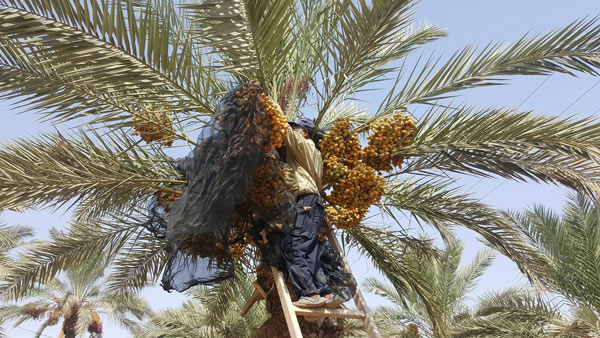 The dates come from small farmers in Jordan Valley where they processed in a PARC date packaging house starting from quality inspection to packaging and including of the steps of cleaning, sorting and grading.

This cooperative was established in early 2000. Water shortages in the area forced farmers to crops that could use less water. Medjoul dates not only require less water but can grow using the slightly salty water that sits under the reservoirs of fresh water.

Date cooperative membership: 12 farmers
Maftoul (Couscous)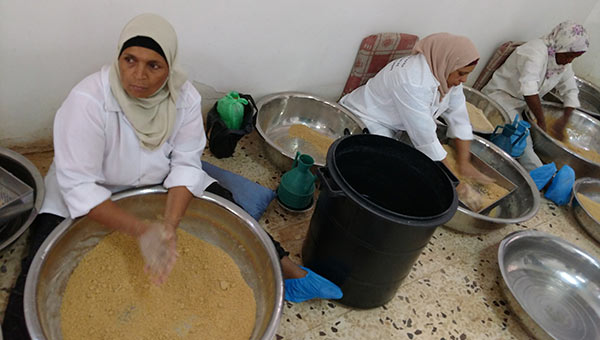 The wheat for the maftoul comes from small farmers in the Jenin area. It is produced 100% from ground flour. The flour then goes to a women's cooperative in Jericho and processed under PARC supervision.

Maftoul has been produced in Jericho for many years. But after 2007 when the Israelis imposed a blockade on the Gaza Strip, 5 women's maftoul co-ops web went out of business because they couldn't ship their product to PARC on the West Bank. As an alternative, PARC decided to assist a group of women in the West Bank. Most of them weren't educated and had limited access to good jobs.

The word "maftoul" means "Hand rolled" in Arabic. It's couscous that is made in the traditional way, upholding Palestinian tradition.

Maftoul cooperative membership: 40 women
Freekeh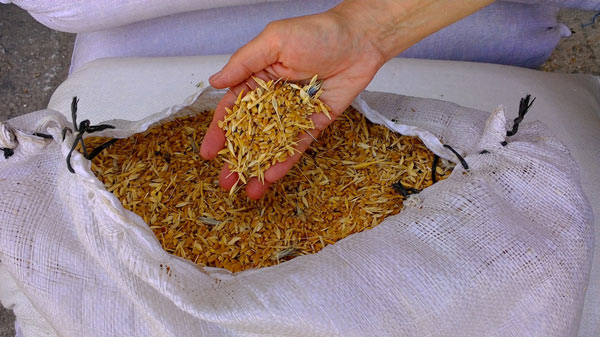 The wheat for the freekeh comes from small farmers in the Jenin area who depend solely on farming to make a living.

Freekeh is green roasted wheat which is processed by farmers in the field. It's produced by harvesting the wheat early when it's still green. Afterwards it's roasted in open fires in the field, cleaned from the husk, dried and then crushed.
Za'atar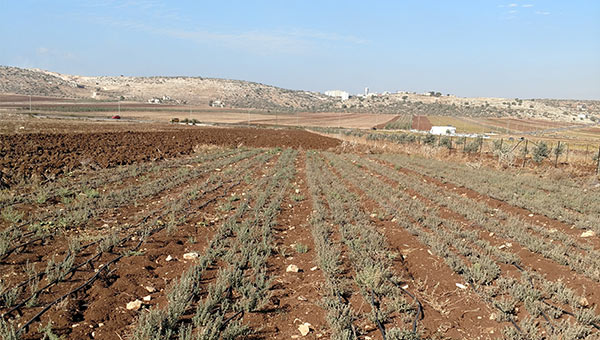 From the Northern Jordan Vally, it's a mixture of ingredients: thyme, sesame seeds, sumac, salt, olive oil, citric acid, and fennel. PARC purchases these ingredients from Palestinian farmers; they are mixed and packed by PARC.

This is a new women's cooperative which grows the thyme, the main ingredient in za'atar.

The Ein El Beida Women's Thyme cooperative membership: 15 women
Almonds in a Shell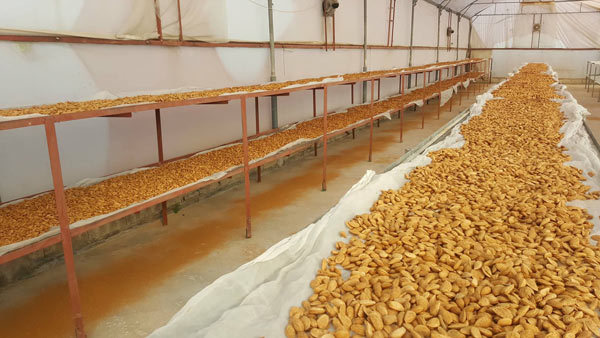 The Om Al Fahim almonds are collected from Palestinian farmers from the North West Bank where they are dried then roasted at a local roaster under the supervision of PARC. The Om Al Fahim almond is a local variety which is relatively large in and rich in favor.

In the 1990's, the members of these cooperatives received hundreds of thousands of seedlings from PARC in order to start their almond businesses.

The Fruitful Tree Cooperative: 40 members
The Aqqaba Cooperative: 90 members
Pictures
See the full collection of photos here.
delicious

Recipes
Za'atar Roasted Cauliflower with Dates and Almonds
Recipe & photo courtesy of Blanche, feastinthemiddleeast.com
This recipe has elements of sweet and savory, zesty and crunchy and goes well with any main dish or atop a bed of quinoa or other grain.
1 head of cauliflower, cut into florets
3 tbsp olive oil
1 tbsp za'atar
1 tsp garlic powder
1/4 cup slivered almonds
5 medjool dates, pitted and chopped
2 tsp fresh thyme
1 tbsp parmesan cheese (optional)
Preheat the oven to 400 degrees. In a bowl, whisk together the olive oil, garlic powder, and za'atar spice. Place the cauliflower florets on a baking sheet and drizzle with the olive oil mixture. Sprinkle salt and pepper and toss to combine. Bake in the oven for 20-25 minutes or until golden brown, and stirring halfway through. While the cauliflower is baking, heat a small pan on medium heat. Toast the almonds in a dry pan for 2 minutes, then add 1 tsp olive oil, the chopped dates and thyme. Stir together for an additional minute. Once the cauliflower is done, top with the date mixture. Sprinkle with the parmesan cheese if desired.

Serve warm.
Middle Eastern Potato Salad
Recipe & photo courtesy of Blanche, feastinthemiddleeast.com
This dairy free potato salad travels well without spoiling because there is no mayonnaise. The ingredients are the main stars, so for the best results, use organic potatoes and a robust fruity extra virgin olive oil, which will take the place of the mayonnaise. Za'atar adds a zesty flavor which works well with the potatoes.
2 pounds medium red potatoes, skin on (can also use 1 pound red and 1 pounds purple potatoes for color variation)
2 stalks finely diced scallions
2 cloves of finely minced garlic or 2 tsp of garlic powder if you don't like a strong garlic flavor
1/2 bunch parsley, finely chopped
1 tbsp za'atar
1 pickle finely minced (preferably Persian cucumber pickle but any kind is fine)
Juice of one large lemon
1/3 cup extra virgin olive oil
Salt and pepper to taste
1/4 cup diced black or green olives
Place the potatoes in a saucepan of boiling water, and boil until tender but firm, about 20 minutes. Cut the potatoes into small wedges. While still warm, add the remaining ingredients. Toss together gently, and serve either warm or at room temperature.
Freekeh Soup
Recipe courtesy of PARC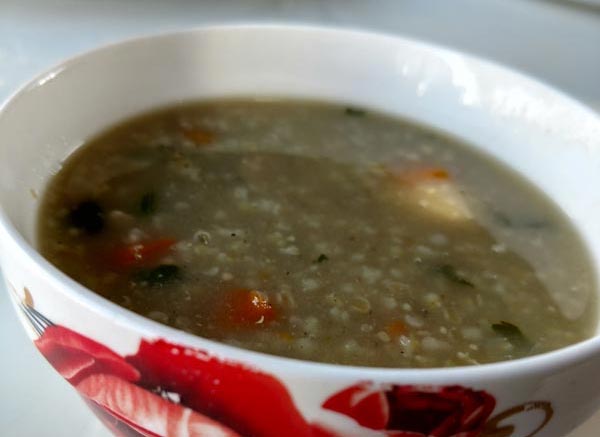 3 tablespoons olive oil
1 onion finely chopped
2 chicken breasts cut into cubes (optional)
1 cup fine freekeh
4 cups chicken stock, vegetable stock or water
1 teaspoon all spice
1/2 teaspoon cardamom
Salt to taste
Directions:
In a pot add the olive oil and onions
Saute the onions over medium low heat until they are transluscent
Add the chicken breast cubes (if using) and cook until slightly golden brown and cooked through (5- 7 minutes)
Add the Freekeh and stir for 5 minutes to toast the freekeh slightly
Add the all spice, cardamom and salt
Add the chicken stock and simmer for 20 - 30 minutes
Taste and adjust the salt if needed.
Date Almond "Chocolate" Truffles
Recipe & photo courtesy of Blanche, feastinthemiddleeast.com
An old Arabic legend tells of the Date palm's creation: "After God had finished molding Man from Earth; He took the remaining material and shaped it into a date palm which he placed in the Garden of Paradise". Besides its beauty, the date palm had vital importance in the pre modern economy of the Arab worlds, and has been eaten and enjoyed by man for over 7000 years. Cultivated date palms have existed in Palestine for 5,000 years. The Mediterranean climate conditions dominant in the area provide optimal conditions for growth and development of the date palm. Date palm cultivation in the Palestinian territories exists in the regions of Jericho and the Jordan Valley in the West Bank and in the Gaza Strip.

Dates are a great source or magnesium, potassium, and fiber so they pack a nutritional punch alongside their deliciousness. These date truffles reap the nutritional benefits of dates, as well as vitamin E, protein and fiber from the almonds too!
Serves 10 (two truffles each)
2 cups large pitted mejdool dates
4 tbs. almond butter
4 tbs. cocoa
1 tsp cinnamon
1/2 tsp nutmeg
1-2 tbsp almond milk (optional only if date paste is too stiff)
Dash of cardamom (optional)
1/2 cup almonds
Additional coconut, and or cocoa powder for rolling truffles
Grind the almonds until fine in a food processor, empty into a bowl and set aside. Now grind the pitted dates, almond butter, cocoa powder, and spices in a food processor, until a smooth paste forms. Add a tbsp at a time of almond milk if the paste is too stiff. Grease hands with olive oil to prevent sticking, and roll the date almond paste into about 20 two inch balls. Roll the truffles into the ground almonds. For variation you can also roll the truffles into coconut, or additional cocoa powder, depending on flavor preference.
Chocolate Date Mousse
Recipe & photo courtesy of Blanche, feastinthemiddleeast.com
This plant based chocolate mousse tastes sweet and creamy with no processed sugars or fats, as dates provide the natural sugars and avocados provide a creamy texture. I know the idea of avocado in a chocolate mousse sounds daunting, but avocado can work like a thick cream or butter, and the taste is mild enough to blend well into sweet desserts. This "chocolate" mousse also makes a great vegan pie filling with a no-bake nut crust topped with berries.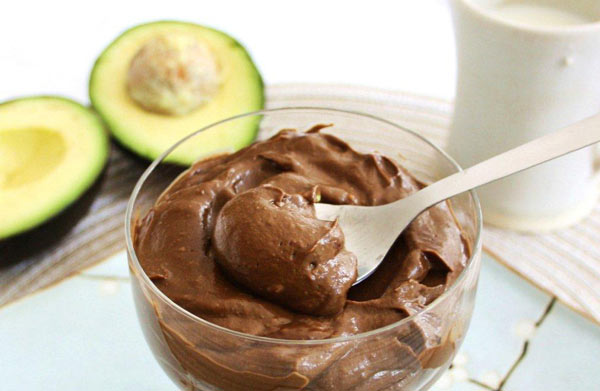 Serves 4
3 cups water (boiled)
1 medium sized ripe avocado
2 cups pitted medjool dates
1/4 cup non dairy milk (like cashew or almond)
2 tbsp maple syrup (optional)
1 tsp vanilla extract
1/2 cup unsweetened cocoa powder
Dash salt
In a saucepan, boil the 3 cups of water. Once boiling, turn off the heat and add the dates to soak for about 5 minutes. Drain out the water, and add the dates, nondairy milk, maple syrup if using, vanilla extract, salt, and cocoa powder to a food processor. Mix until smooth. In a separate plate, mash the avocado well. Add the avocado to the date mixture in the food processor. Process until very smooth, adding a little more nondairy milk a teaspoon at a time if needed to get the processor blade going. Spoon into 4 cups and chill for 2 hours. Top with raspberries or chocolate shavings before serving if desired.
Blanche's Ma'moul Cake
Recipe & photo courtesy of Blanche, feastinthemiddleeast.com
This cake is inspired by the Ma'moul cookie, a time intensive cookie made of dates, semolina, and clarified butter. The white cake has a filling of dates, which have a creamy caramel flavor without the need for extra sugar. To mimic the look of the donut shaped date ma'maoul, you can bake the cake in a bundt pan, then cut the cake in half horizontally and spread with the date filling.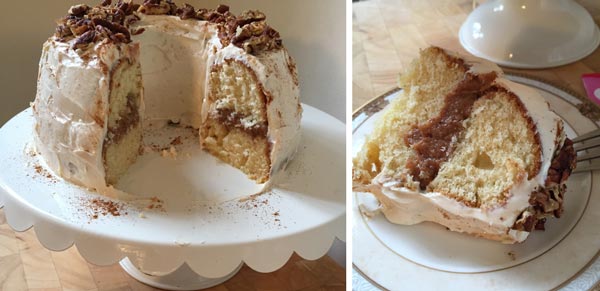 Cake:
1 cup sugar
1 stick butter, softened
2 eggs
1 1/2 cups cake flour
1 3/4 tsp baking powder
2 tsp vanilla extract
1/2 cup half and half or coconut cream
2 tsp Mahlab powder (optional)
Filling:
1 1/2 cups pitted medjool dates
1/4 cup almond or cashew butter
1/2 tsp cinnamon
1/4 tsp nutmeg
2 tbsp maple syrup (optional if you prefer a sweeter flavor)
2 cups of water that has been boiled
Frosting:
12 ounces cream cheese
1/2 stick butter
1 tsp vanilla extract
2/3 cup confectioners sugar
1/2 cup chopped walnuts or pecans, toasted
Optional toppings:
Chopped candied pecans, dusting of cinnamon
Preheat oven to 350 degrees F (175 degrees C). Grease and flour a bundt pan. In a medium bowl, cream together the sugar and butter. Beat in the eggs, one at a time, then stir in the vanilla. Combine flour, mahlab and baking powder, add to the creamed mixture and mix well. Finally stir in the coconut cream (or half and half) until batter is smooth. Pour or spoon batter into a buttered and floured bundt pan. Bake for 30-35 in the preheated oven, or until toothpick comes out clean. Once cool, cut the bundt cake across the middle horizontally.

For filling, add the dates to the boiled water and let sit for 30 minutes. Strain the water from the dates, If the skins of the dates come off easily, remove them. Add dates to a food processor with the cinnamon, nutmeg,almond butter, and maple syrup. If you are watching your sugar intake, you can use 2 tbs of water instead of maple syrup to ensure a smooth filling. Blend the date mixture in processor until smooth and creamy.

For the frosting, cream together the butter and cream cheese. Mix in the vanilla, then gradually stir in the confectioners' sugar.

To assemble, spread date filling over one half of the bundt cake. Place the second half on top, and frost the entire cake like you would a donut. Sprinkle the top with toasted pecans or walnuts and dust with cinnamon.
Freekeh with Meat
Recipe courtesy of PARC
2 cups of Freekeh
1kg. (2.2 lbs) lamb shanks without the bone or you can substitute tender beef cubes or chicken (pictured)
1 medium onion finely chopped for the Freekeh, 1 medium onion chopped to cook the meat
3 tablespoons olive oil for cooking the Freekeh, 1 tablespoon vegetable oil for cooking the meat
1 teaspoon salt
1/4 teaspoon cinnamon
1/2 teaspoon black pepper
1/2 teaspoon allspice
2 tablespoons of cooking almonds peeled and separated in half
2 tablespoons of pine nuts
Wash the Freekeh really well and then put it a strainer till the water is all out.

Put 1 tablespoon of vegetable oil with 1 finely chopped onion in a cooking pot. Fry the onion till it slightly changes color. Then put the meat in the pot and fry it with onion till it is semi cooked or becomes a darker color. Then put 4 cups water. After it boils, put it on low temperature and let it cook for 1 hour or till the meat is fully cooked. The meat should be very soft. Strain the meat broth (so the onions are out). Put the meat and the meat broth aside.

Get a large cooking pot and 1 medium finely chopped onion (for the Freekeh). Put 3 tablespoons olive to fry the onion till it is semi-fried. Add the Freekeh with all the spices and stir fry it for a few minutes. Then put your meat broth on top. It will take 20-25 minutes to cook the Freekeh on low to medium temperature. Cover your pot.

In a pan, fry the almonds and pine nuts in 2-3 tablespoons of vegetable oil separately.

After the Freekeh is done, put it in a serving plate and put the meat on top. Then put the fried almonds and pine nuts on top of the Freekeh.
Traditional Palestinian Couscous "Maftoul"
Recipe courtesy of PARC
1 kg chicken cut into 4 pieces
300 g onions cut into strips
1 kg tomatoes cut into quarters
3 cups water
3 tablespoons olive oil
1 teaspoon salt
2 cans whole chickpeas, washed and drained
For the Maftoul:
800 grams maftoul
1 can of chickpeas drained and washed
1 teaspoon salt
1 1/2 teaspoon all spice
1 teaspoon cumin
3 tablespoons olive oil
Directions:
In a blender, process the tomatoes and water until completely smooth
In a pot add the olive oil, onion strips and salt. Saute for 2-3 minutes
Add the chicken cutlets and sear on one side till golden brown, flip and repeat on the other side
Add the processed tomatoes and cook over medium heat till the chicken is done
Drain the chickpeas and wash them
Add them to the chicken pot, cook over medium heat for 7-10 minutes
In another pot, add the maftoul pearls, olive oil, chickpeas, allspice, cumin, and salt
Add 4 cups of the chicken tomato broth.
Cook on low heat, covered for 5-7 minutes.
Turn off the heat, Allow it to stand for 10 minutes then fluff with a fork
To serve, place the Maftoul pearls in your serving dish. Top with shredded chicken or whole chicken cutlets. Add some chickpeas and a ladleful of broth. Serve with more tomato broth on the side.