A Miracle of the Middle East:

Equal Exchange Palestinian Olive Oil from PARC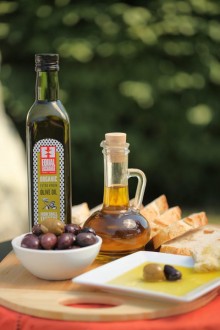 Discover the rich, peppery flavor of our organic, cold-pressed, artisan, fairly traded virgin olive oil from the West Bank. This oil is made from Nabali olives, which are full of antioxidants.
Our olive oil partner is the Palestinian Agricultural Relief Committee (PARC), a nonprofit organization that promotes sustainable economic development with 41 farmer cooperatives in the West Bank.
Small-scale farmers, through their cooperatives, have been able to lower the costs for pressing their olives and storing, bottling, and shipping the oil; they also share best practices for pruning, plowing, and olive collection. PARC assists farmers in all of these areas and helps to supply water infrastructure, so critical in the West Bank. PARC also helps to provide social services for women, children and families.
Purchases of this olive oil help small-scale farmers to stay on their land and make a living for their families.
Palestinians have very few ways to support themselves. Your support is a positive step in helping people in a part of the West Bank who are faced with a multitude of challenges.
This olive oil is delicious! it has a great, rich flavor raw for use in vinaigrettes or dipping, and works great for cooking. This is a phenomenal cause and I love the fact that I can support something I believe in and get a great product at the same time." —webstore customer
Learn from Mohammed Hmidat

Quality Control Engineer, PARC

Learn More
View our photo slideshow from the West Bank.
Read our olive oil FAQs.
Read about our visits to olive oil producers:

An Interfaith Palestinian Olive Oil Project: 10 Years of Solidarity
Watch this video about an ecumenical faith-based olive oil project that was started by Jim Harb, in Knoxville Tennessee, over 10 years ago. The "Olive Branch Olive Oil" project actively encourages congregations and community members in the Southeast to sell and distribute organic extra virgin Palestinian olive oil from the Palestinian Agricultural Relief Committee (PARC) sold by Equal Exchange. The tasty and flavorful oil has developed an enthusiastic following among congregants who offer their thoughts on the video. Sales help to economically sustain West Bank olive oil farmers and their families.
Recipes
For a truly Middle Eastern experience, try dipping bread into the oil mixed with za'atar, a delicious spice combination of thyme (or wild oregano), sumac, and sesame.