Name: Cafe Ecológico de la Sierra Madre de Chiapas S.C.
Location: Jaltenango, Chiapas, Mexico
Number of producers: 663
Founded: 1994
Certified: Organic, Fair Trade, SPP
Varietals: Bourbon, Typica, Catimor, Rancho Bonito, Mundo Novo, Geisha
Altitude: 1000-1800 meters above sea level
Website: http://www.cesmach.com.mx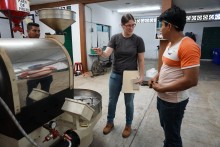 Interesting Fact:
CESMACH has a coffee shop in Tuxtla Gutierrez, the capital of the state of Chiapas. The coffee shop is part of a strategic effort at CESMACH to diversify the organization's income streams. CESMACH has started roasting and distributing quality organic coffee throughout Mexico to restaurants, cafes, and hotels. The café in Tuxtla Gutierrez serves to promote their farmers' high quality product locally and encourage fellow Chiapanecos to drink coffee produced sustainably by smallholder farmers. (Photo: EE lead roaster Sarah Hrisak running a training with members of the roasting team at CESMACH)
A little bit of history: CESMACH was founded in 1994 by smallholder coffee farmers worried about the critical situation in which they found themselves. There was a high number of commercial intermediaries dominating, profiteers loaning money at extremely high interest rates, an absence of pre-financing and technical assistance and in general a disadvantageous situation for farmers in the region. Year after year of selling coffee to intermediaries and coffee hoarders in the region, farmers decided to organize in order to try and find solutions to these problems.
You can find CESMACH's coffee beans in: