Name: Comunidades Indígenas de la region de Simojovel de Allende S.S.S. (CIRSA)
Location: Simojovel de Allende, Chiapas, Mexico
Number of Producers: 410
Founded: 1992
Certifications: Organic, Fair Trade, SPP
Varietals: Bourbon, Tipica, Mundo Novo, Catimor
Altitude: 1000-1800 meters above sea level
Website: n/a
Interesting Fact: The members of CIRSA come primarily from two main ethnic groups, Tzotzil and Tzeltal; if Spanish is spoken at all, it is spoken as a second language.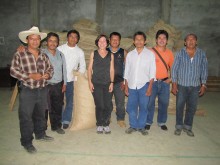 A little bit of history:
In 1989 a group of organizers affiliated with the Catholic Church began working with smallholder farmers in Chiapas to organize into formal producer associations. CIRSA was created as a result of this process in September 1992 with 359 members in 12 communities. During the next few years, CIRSA members obtained organic and fair trade certifications and sold their first container of organic certified coffee to Equal Exchange in 1995. Equal Exchange has continued to be a client of CIRSA's for the past 22 years. Recently, the farmer organization has purchased a plot of land to build their own dry mill in Chiapa de Corzo, Chiapas. Today, CIRSA has 410 total members in 31 communities in 6 municipalities in the state of Chiapas, Mexico.
You can find CIRSA's coffee beans in: