Name: Comon Yaj Noptic S.S.S.
Location: Nuevo Paraiso, La Concordia, Chiapas
Number of Producers: 160
Founded: 1995
Certifications: Organic, Fair Trade, SPP
Varietals: Bourbon, Pacas, Mundo Novo, Costa Rica 95
Altitude: 1100-1700 meters above sea level
Website: n/a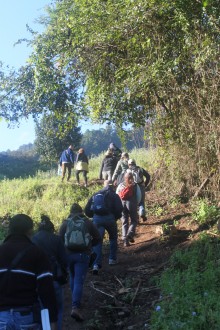 Interesting Fact:
After a series of hurricanes impacted Chiapas between 2008 and 2010, national and international nonprofits and scientific organizations wanted to gather data on the impact of these weather events on bird species in the region. Comon Yaj Noptic partnered with these science nonprofits and governmental organizations in order to provide field data on bird species present in and around El Triunfo Biosphere Reserve. Members of Comon Yaj Noptic live and work in the buffer zone of this incredible biosphere where migratory and non-migratory species make their home. Farmers participated in species monitoring training and for a period of five years provided monthly bird count data. Scientists wanted data in regions affected by tropical storms and hurricanes to monitor how significant climate events and climate change were impacting migratory and non-migratory bird species. The farmers of Comon Yaj Noptic answered the call and have developed the bird monitoring program into a completely community-run effort to focus on environmental awareness and conservation. They also now host national and international birders for tours in and around the biosphere!
A little bit of history: Comon Yaj Noptic was founded in 1995 by indigenous smallholder farmers from the highlands of Chiapas to sell organic products. In 2003 the cooperative achieved organic certification and in 2009 they achieved fair trade certification. Today, Comon Yaj Noptic sells its organic coffee to buyers in the United States.
You can find Comon Yaj Noptic's coffee beans in: