Co-op Name: Café Orgánico Marcala S.A. (COMSA)
Location: Marcala, La Paz, Honduras
Number of producers: 1200
Founded: 2001
Certified: Organic, Fair Trade, SPP, Denomination of Origin Marcala
Varietals: post-coffee leaf rust crisis, farmers have been planting mostly Icatu, Parainema, Lempira, IHCAFE 90; before the coffee leaf rust crisis hit, members of COMSA planted more Catuai, Pacas, Caturra
Altitude: average range of 1300-1500 meters above sea level
Website: http://www.comsa.hn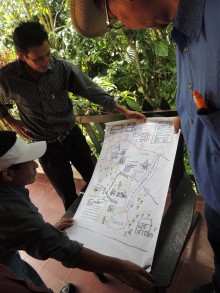 Interesting Fact:
COMSA has an incredible experimental farm called La Fortaleza where the technical assistance team hosts workshops focusing on sharing the COMSA philosophy. You can read more about the COMSA "5 Ms"philosophy in this
blog post
published on the Equal Exchange blog. La Fortaleza hosts members, students, and visitors from around the globe for week-long workshops that emphasize expanding your capacity to understand organic agriculture, the interconnectedness of our world, and the role that we can play in creating a future we believe in. Staffed by agronomists and social workers, La Fortaleza is a truly remarkable space for experimentation led by farmers for farmers.
A little bit of history: COMSA is a coffee producer society based in Marcala, La Paz, Honduras that proposes economic, social, and environmental objectives as a strategy to reduce poverty and to promote sustainable development. Founded in 2001 with 7000 lempiras (300 US$) of social capital, COMSA grew out of an initiative of the Rural Business Development Foundation (FUNDER). Sixty producers in Marcala (12 women, 48 men) came together as the founding members of COMSA with the goal of directly exporting their coffee production. In 2018, COMSA has grown to have more than 1200 farmer members.
COMSA members produce coffee using organic practices and the technical team shares a suite of best practices to improve on farm productivity to insure consistent generation of farm income. The organization promotes diversification of production and asks its members to consider their farms as an integrated productive unit where all family members have the opportunity to participate and benefit from the production process.
"Thanks to COMSA we began the process of diversification and now we have integrated farms and more income. We have our health because everything that we do is organic and we love this because every day we can innovate, observe, and analyze."
--Alba Rosa Claros, member of COMSA. Las Brisas Farm. La Victoria, Marcala, Honduras.