Co-op Name: Asociacion Cooperativa de Producción Agropecuaria Las Colinas de R.L.
Location: Tacuba, Ahuachapan, Las Colinas
Number of producers: 89 families
Founded: 1980
Certified: Organic, SPP
Varietals: Caturra, Cuscatleco, Catuai, Catimor
Altitude: 900-1400 meters above sea level
Website: n/a
Interesting Fact: Las Colinas Co-op is a collectively run farm. The 89 members and their families are responsible for all 200 hectares of land cultivated with coffee. Each member takes on a different specialty or responsibility, from field hand to commercial director. Throughout each harvest, profits are split among all 89 members. The families came together to cooperatively purchase the land during the 1980 land reform process in El Salvador. Previously, the farm had been owned and managed by a single Salvadoran-German family for many years.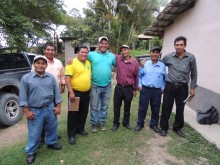 A little bit of history:
The Las Colinas cooperative in El Salvador is collectively farmed and managed on the site of an old coffee plantation. The agrarian reform of 1980 redistributed land throughout El Salvador from the hands of large-scale coffee growers into the hands of coffee pickers and laborers alike. But, exorbitant interest rates on the loans used to purchase the land came at a high cost and today the producers still struggle to finance their debt and stay on their land. Equal Exchange is supporting the co-op members' endeavors by purchasing the majority of their coffee crop. We're working with Las Colinas to readjust their debt and find alternative ways to improve their finances.
The war of the 1980s also had a devastating effect on the natural environment due to widespread deforestation. Las Colinas is located near the border of Guatemala and forms part of the buffer zone for El Imposible National Park, habitat to endangered pumas, emerald toucans, and fresh waterfalls. Las Colinas has taken steps to preserve their natural resources; they recently converted their coffee to organic and have invested in eco-depulpers to reduce the amount of water they use during processing.
Most recently, the uptick of violent crime related to narco trafficking and street gangs in El Salvador has added another extremely challenging layer to the lives of Salvadorans and our partners at Las Colinas. The town where Las Colinas is located has experienced an increase in violent crime and in the past couple of years, farmers have had to adapt how they work for their own safety.
You can find Las Colinas Cooperative's coffee beans in: