Co-op Name: Central de Cooperativas de Servicios Multiples PRODECOOP
Location: Estelí and Palacagüina, Nicaragua
Number of producers: 2438
Founded: 1993
Certified: Organic, Fair Trade, SPP
Varietals: Catimore, Catuai, Caturra
Altitude: 1000-1400 meters above sea level
Website: http://www.prodecoop.com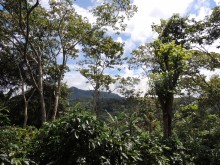 Interesting Fact:
PRODECOOP is a secondary level cooperative. The secondary level cooperative is responsible for milling the coffee, preparing it for export, and handling the export logistics of the coffee. It is made up of primary cooperatives of farmers who grow coffee and then supply it to PRODECOOP to be commercialized. The president of one of the primary cooperatives, Cooperativa José Alfredo Zeledón, described the importance of the cooperative supply chain in this way: "Only organized as we are with PRODECOOP can we face the challenges today. Knowing the price we will receive and having an assured market are great helps to us as farmers."
Read more about another primary level cooperative - Zacarias Padilla - at PRODECOOP on the Equal Exchange blog
.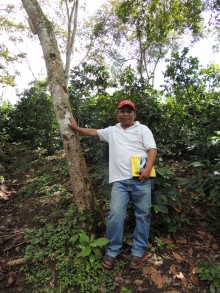 A little bit of history:
Some roasters boast about bouncing around the world buying the best beans they can find for a one-time purchase. At Equal Exchange, we can boast we have been trading fairly with the same democratically organized farmers for a quarter century. The relationship between Equal Exchange and the farmers in northern Nicaragua has survived war, embargo, revolution, counter-revolution, and epic hurricanes. We supported the farmer members of PRODECOOP from a time before there was USDA Organic, before Fair Trade certification, before cell phones existed.
PRODECOOP is a second-level cooperative organization that brings together 38 village-level cooperatives comprised of about 1,000 small farmers, 30 percent of whom are women. Growers and producers are located in different communities and coffee areas of the departments of Esteli, Madriz and Nueva Segovia in northern Nicaragua.
The cooperative provides services such as marketing, agricultural extension services, training, credit, capacity building of cooperatives, coffee quality programs, and social development projects. Continuous education of members to expand each member's ability to be a strong farmer and a leader in her or his co-op and community is a hallmark of PRODECOOP's wonderful history.
PRODECOOP is a leader in the international Fair Trade movement. All of their coffee is sold into the Fair Trade market. Equal Exchange purchased members' coffee through the state-owned export agency from 1986 through 1991. Since 1992, PRODECOOP has exported directly to the international market and currently has 18 clients in Europe, the United States, and Japan. In an average year they export 30,000 150-lb bags of green coffee, of which 50 percent of the total volume is organic.
You can find PRODECOOP's coffee beans in: