Name: Sidama Coffee Farmers Cooperative Union
Location: Shebedino Woreda, Sidama Zone, Ethiopia
Number of Producers: 85,000
Founded: 2001
Certifications: Organic, Fair Trade, FLO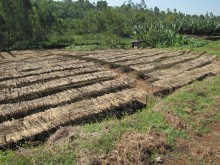 Interesting Facts:
The Sidama Coffee Farmers Cooperative Union (SCFCU) was formed in 2001 as a processing, marketing, and exporting union for 47 primary cooperatives located in Ethiopia's Sidama Zone, in Southern Ethiopia. The union represents some 85,000 small-scale farmers. Equal Exchange currently purchases from four of these cooperatives: Telamo, Abela Galuko, Fura, and Howolso, each of which is located in Shebedino Woreda. These farmers have very small holdings, averaging ½ to 1 hectare per producer, and they have traditionally farmed organically. Often, the coffees grown are an assortment of traditional, heirloom varietals native to Ethiopia which are often unclassified. In 2012, the cooperatives planted thousands of seedlings of a varietal known as 74,122, selected for its relatively high cherry production, and distributed by the Jimma Research Center, which takes on the responsibility of distributing coffee seeds throughout Ethiopia. All of the coffees we purchase from these cooperatives are naturally processed, also called dry processed, because no water is used to remove the cherries and parchment from the coffee seed. Naturally processed coffees tend to have very distinct, fruity flavors, and are heavy in mouthfeel.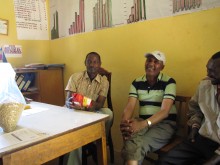 Last Visit:
Equal Exchange
Coffee Quality Coordinator Mike Mowry traveled to Sidama in December 2015. With Dame Regassa, the Quality Control Manager for the Sidama Union, they travelled to Shebedino Woreda, where they had meetings and farm visits with representatives from the Telamo, Abela Galuko, Fura, and Howolso cooperatives.