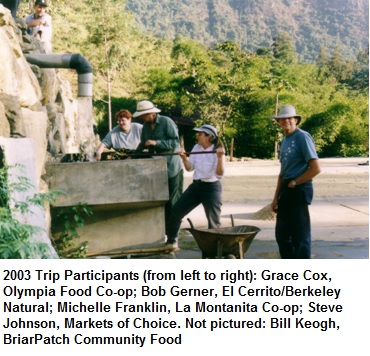 Irma Bobadilla brought me a bowl too hot to hold, so I had to set the bowl on a notebook balanced on my knees. Half of the group that had harvested coffee that morning were sitting at tables, with the other half propped against the low stone banister encircling the porch. To my right, Señora Maximila Morales C. and Señora Lucilia Sembrero were also balancing soup bowls on their knees, eating and discussing how much trouble the North American visitors had in maintaining their balance on the steep slope and in harvesting the mere 28 buckets after a full morning's work.
This vivid memory from July 2003 is from a trip Equal Exchange customers undertook to live and work with the coffee farmer members of
Cooperativa
José
Garbriél
Condorcanquí
, a cooperative of coffee farmers in the area of
Coyona
,
Huancabamba
,
Piura
, in northern Peru.
This July, exactly 10 years later, our same Equal Exchange customers will return to to see first-hand the impact of Fair Trade in the village of
Coyona
. That same community has invited our same customers to return to participate in organic coffee farming and learn about how life has changed in the last decade.
Ten years ago we undertook this 10-day trip to live and work with the farmers our customers are supporting through Fair Trade. We'll attempt to duplicate the agenda so we can see first-hand the changes that have occurred over the last decade.
With the anniversary trip just a few months away, I am looking forward to again seeing our friends in the
Coyona
community, and hopefully, enjoying a bowl of that tasty soup together.
Watch for live updates from the field!
COOPERATIVA
JOSÉ
GABRIÉL
CONDORCANQUÍ
Condorcanquí
(as its known) is one of the 90 grassroots farmer organizations that owns CO-OP NOR
ANDINO
. Equal Exchange and CO-OP NOR
ANDINO
share a very close relationship.
Equal Exchange was the second international customer of one of CO-OP NOR
ANDINO's
founding organization,
CEPICAFE
. We were the first to offer pre-shipment credit. In 2001, CO-OP NOR
ANDINO's
export manager, Santiago Paz, spent three months working from Equal Exchange's main office in Massachusetts, studying English and marketing CO-OP NOR
ANDINO's
coffee to other importers. One of the co-op's co-founders,
Arnaldo
Neira
, has visited over 20 west coast customers of Equal Exchange and has been featured in 10 media stories about those customers and the importance of Fair Trade for CO-OP NOR
ANDINO's
members.
CO-OP NOR
ANDINO
is an association of small-scale coffee producers, with 90 grassroots organizations totaling over 6,600 members that are located on the western slopes of the Andes mountains in
Piura
, which are blessed with a unique climate and ideal soils for growing coffee. The association's activities are to market coffee and represent its members.
"Together with our grassroots organizations we work permanently to promote sustainable and fair human development by broadening the capacities and ensuring respect for the rights of small-scale farmers and producers in the highlands of
Piura
," said
Arnaldo
Neira
Camizán
, president of
CEPICAFE
.
Many of our travelers already know Mr.
Neira
. In April 2000, he visited our customers in northern California. He returned in 2002 for a tour of the Pacific Northwest, which resulted in a front page photo (with Grace Cox) in The Olympian newspaper and a TV news spot featuring PC Markets of Choice.
All of CO-OP NOR
ANDINO's
coffee is grown by family units. The average area of the 6,600 members is 2.5 hectares (about 5 acres). The structure of small property allows them to dedicate all their efforts on the cultivation of coffee without damaging the forest and fruit species which serve as shade trees to the coffee and supply an important part of the family's diet.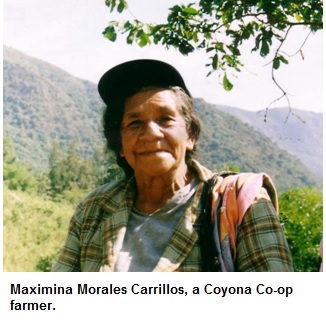 As farmers and co-op owners, the members utilize three main areas of training programs from CO-OP NOR ANDINO. Agricultural extension services, including organic farming techniques, are vital for growers to maintain or increase yields of their crops. For organic farms, this includes organic fertilization systems (using compost, guano de isla, and phosphorous rock), coffee tree nurseries and seedling transplantation techniques, and shade tree management development. CO-OP NOR ANDINO's original staff were University of Piura (UDEP) agronomy students who volunteered in the area and their programs have been strong. Currently, many municipal governments have taken on the provision of extension services to area farmers.
Financial management is another important area of training, particularly for members of the Board of Directors of the village-level farmers organizations. It is those farmer associations that provide the direct lending and payments to farmer-members, so having strong accounting systems and providing farmers with adequate training to optimize credit is vital.
Thirdly, democracy takes practice, and CO-OP NOR ANDINO provides members with training on organizational development, including election systems, board-member trainings, and member workshops.
Here's a closer look at ways in which the co-op benefits its members:
Credit
You can't harvest if you don't plant, and you can't plant if you don't borrow. To ensure that growers don't pre-sell their crop, CO-OP NOR ANDINO offers them an advance against their output. In this way members can work on their parcels free from the anxiety of having to wait to be paid so that they can buy the provisions they need to support their families. Advances are paid out in January and August. CO-OP NOR ANDINO provides rotating funds to farmer members to allow them to even out income through the year.
Certification
In 2001, the farms of 556 CEPICAFE members were certified organic by BIOLATINA, which was the first overseas certifying organization to be recognized by the USDA organic program. Today CO-OP NOR ANDINO organizes certification and inspection from organizations including Biolatina for USDA Organic, Fair Trade Labelling, Pareve, and HACCP analysis. CO-OP NOR ANDINO provides training and support for the village-level farmer associations. Those associations, in turn, organize peer-to-peer farm reviews. This makes record-keeping and certification less costly and promotes peer learning among the farmer members.
Processing
Everyone talks about quality. But the members of CO-OP NOR ANDINO used their first earnings from Fair Trade to invest heavily in quality control systems. Village level organizations invested in depulping equipment and washing tanks. Systems to avoid groundwater contamination were constructed. Those and subsequent investments have led to CO-OP NOR ANDINO's success in producing one of the cleanest cups available anywhere.
In 2007, CO-OP NOR ANDINO inaugurated a 10,000 square-meter coffee and cocoa processing facility to capture more of the value of their farmers crops. The operation has extensive quality control systems, including laboratories, and can process 10,000 pounds of coffee per hour.
Get the Recipe: Sopa de Alberca y Guineo
Carefully wash a pound of black-eyed peas or other medium-sized white bean, then soak them overnight. Sauté garlic in a large pot, then fill the pot with a volume of water four times greater than the volume of beans. Boil for one and a half hours. Remove from heat. Add 4 peeled and sliced green plantains, and stir vigorously to mash the beans and plantains. Add two tablespoons salt and a handful of fresh cilantro. Serve hot.