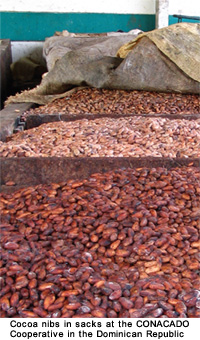 For many, Halloween is all about candy, and A LOT of that will be chocolate. In fact, in the U.S. alone adults will spend over a billion dollars on millions of pounds of candy to be handed out on Halloween.
And, unfortunately, that means many large corporations will sometimes profit - albeit indirectly - from forced child labor in West Africa.
West Africa grows 70% of the world's cocoa, but corporations of the global cocoa/chocolate trade - companies like Hershey's, Mars, Nestle, Russell Stover, Cargill, and ADM - have been slow to seriously tackle this problem.
In the period 1900-1907 the world's then leading cocoa and chocolate manufacturer, Cadbury's, was caught up in a scandal over their reliance on West African slave plantations for their cocoa. Therefore it was all the more unnecessary that the problem should re-emerge a century later. In 2000 and 2001, chocolate lovers around the world were jolted when British and American journalists documented the enslavement of adolescent and teenage boys on cocoa farms in Ivory Coast. Most of the children come from Mali or Burkina Faso, Ivory Coast's poorer neighbors. Traffickers rely on the economic desperation of Malian and Burkinabe families and entice naive adolescents and teenagers with the promise of good jobs in Ivory Coast. Even the prospect of buying a new bicycle or modest scooter can be enough to motivate a boy to sign up for a season of hard work.
Later, once over the border and separated from their community or others who speak their language, the children are trafficked to cocoa farmers. Some farmers will pay the children a small sum at the end of the cocoa season. Some will not. But more importantly, some farmers will exploit the children's vulnerability, forcing them to perform long, hard and dangerous work, while providing only minimal food and shelter. Some will beat and threaten those who try to escape, and at night lock the children in sheds or huts. It is these children, held captive and forced to work against their will, that are the focus of this ongoing crisis.
Since Ivory Coast alone produces 40% of the world's cocoa, and 50% of the cocoa consumed in the U.S., its beans are mixed into almost every brand of mass-produced chocolate. Further, a handful of western corporations control approximately 85% of Ivorian cocoa exports. Therefore, these corporations have both the responsibility and the opportunity to use their unmatched power in the cocoa industry to resolve this unacceptable situation.
In 2001, after six months of public and government pressure, representatives of the largest corporations in the cocoa and chocolate industry signed the Harkin-Engel Protocol, championed by Sen. Tom Harkin (IA), and Rep. Elliot Engel (NY), wherein the companies promised to work "wholeheartedly" to "eliminate the worst forms of child labor" and to create by June 2005 a certification system to verify that this was being accomplished.
The protocol gave the industry years of relief from pressure or scrutiny as they repeatedly assured the public that they were dedicated to solving the problem and that their work was proceeding on schedule. Unfortunately, very little was actually accomplished as the years ticked by. Even Sen. Harkin and Rep. Engel had to publicly admit this when it was apparent the industry would miss the Protocol's July 2005 deadline.
Subsequently, Sen. Harkin and Rep. Engel granted the cocoa/chocolate industry another three years - until July 2008 - to tackle the problem. However, as part of those negotiations with industry the legislators' demand for eliminating forced child labor was dropped. Instead there is only to be a monitoring operation. And even that was intended to cover only half the cocoa grown in the two key countries: Ivory Coast and Ghana. In 2006, the International Labor Rights Forum (ILRF) provided a comprehensive update and analysis of the profound lack of progress toward the goals of the protocol. In March, 2007 BBC TV documented that even some of the few projects held up by the industry as proof of their commitment to the children of the region, and of the progress made up to that time, in fact proved the opposite.
Fortunately one victory achieved by Sen. Harkin and Rep. Engel was to engage the U.S. Department of Labor, who commissioned Tulane University's Payson Center to give an annual, impartial assessment of efforts to implement the Protocol and provide scientific evidence of the phenomenon of the worst forms of child in the cocoa growing regions of the Ivory Coast and Ghana.
During the 2007-2008 Winter, the journalist Cristian Parenti, writing for Fortune magazine, also traveled to Ivory Coast and he, too, found little evidence of any serious effort to tackle the twin problems of forced child labor and chronic poverty among the regions cocoa growers.
In July 2008, the industry again failed to meet the protocol's deadlines, even though the bar had been significantly lowered. One more time the deadline was extended, to the end of 2010. However, when the Payson Center issued its fourth and final annual report on the problem in the Fall of 2010 there was still only minimal progress to be found. For example, despite billons in annual profits and repeated claims of their deep commitment, in eight years (2001-09) the large cocoa/chocolate companies had only spent a total of $5.5 million (less than $700,000 per year) on the problem in West Africa. The report also found the industry to have fallen short of key objectives across the board and was still far from establishing a substantive certification process to identify which cocoa was or was not produced with forced child labor. In fact, the mechanisms that had been established by industry seemed to have abandoned that goal and represented a distortion of the concept of product certification.
Meanwhile, groups like the ILRF, Global Exchange, and Equal Exchange continued to push the industry and to educate the public about this issue. For example, our three organizations have worked with others like Green America and the Organic Consumers Association, and thousands of families, school and faith-based groups for each of the past four Halloweens to distribute door-to-door over 600,000 "Reverse Trick-or-Treat" cards nationwide. These cards and accompanying activities help educate the public about this overlooked issue and to promote existing solutions like Fair Trade and creation of democratically organized small farmer co-operatives. We also jointly drafted and pledged ourselves to a Commitment to Ethical Cocoa Sourcing that other organizations and businesses are encouraged to endorse.
A key demand we've been making is that the large corporations begin buying certified Fair Trade cocoa in significant quantities - and to then gradually increase those purchases - as it offers critical protections for workers and directly addresses the underlying problem of chronic poverty amongst cocoa farmers. Under Fair Trade standards, the farmers and co-operatives must abide by key covenants of the International Labor Organization, including those forbidding inappropriate child labor, and forced labor. Also, unlike the proposals in the Harkin-Engel Protocol, the Fair Trade system is up and running today in most cocoa growing regions, and enjoys popular support in consuming countries.
Also, through the third-party certification label that appears on the product right on the grocery store shelf Fair Trade gives the consumers - at the time of purchase - the information needed to make an informed choice.
However, less than 5% of the world's cocoa is currently purchased according to Fair Trade standards. Overall, Equal Exchange and our allies like the ILRF are disappointed that the industry has refused to support Fair Trade through their cocoa sourcing, and that the Protocol process fell so short of its original 2001 goals.
At Equal Exchange we will continue to try to set an example for other companies and to speak out on this issue. All of our cocoa is sourced from Fair Trade, organic small farmer co-operatives in the Dominican Republic, Panama, Ecuador and Peru. Even our sugar is fairly traded, and sourced from a small-farmer co-op in Paraguay.
Read this related blog post from Dary Goodrich, Chocolate Products Manager, about a press release from Interpol on Aug. 3, 2009, that revealed how persistent is the problem of forced child labor is on cacao farms in West Africa. On June 18-19, 2009, Interpol ran the first operation of its kind to free children working illegally on cacao and palm farms in the Ivory Coast.
Have something to say about child labor in the cocoa industry? Click on these links to share your views with Sen. Harkin, Rep. Engel, and the Chocolate Manufacturers of America.