The Congo Coffee Project was created by Equal Exchange in partnership with the Panzi Foundation to support the medical programs of Panzi Hospital in the D.R. Congo. The Panzi Hospital provides life-saving treatment, counseling and aftercare programs to more than 2,000 survivors of sexual violence each year.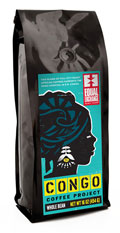 Thanks to you, Equal Exchange has donated over $50K to the Panzi Foundation to date!
Buy the Coffee - Your purchase will directly benefit the Panzi Hospital and Equal Exchange's producer partners in East Africa. Also available in the African Gift Box, with soap, jewelry and lip balm from BeadforLife®.

ABOUT THE PANZI FOUNDATION
Information courtesy of The Panzi Foundation

The mission of Panzi Foundation USA is to raise awareness about the challenges in eastern Democratic Republic of Congo and partner with Panzi Hospital to heal women and restore lives.

In 2008, Dr. Mukwege, Panzi Hospital Supporters and colleagues created the Panzi Foundation, with the specific aim to support the ongoing work of hospital and new outreach to rural clinics and communities. The Foundation builds on the work of the Panzi Hospital in order to promote basic quality health care for marginalized populations and in particular it aims to improve access to and the quality of maternal and reproductive health, promote and encourage the application of women's rights and gender equality, prevent violence against women and children and to support survivors of rape and sexual violence to rebuild their lives and those of their communities.

Treatment at Panzi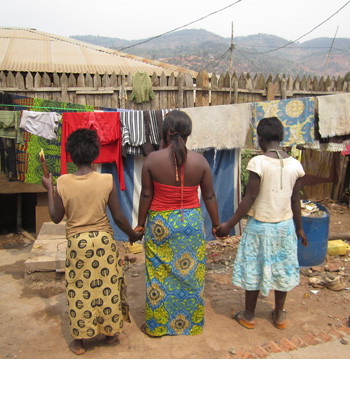 From 1999 to June 2010, the Panzi Hospital treated 25,441 women for gynecological conditions, many of them severe cases of reproductive trauma or trauma from sexual violence. 5,812 operations have been performed, including 2,551 cases of fistula repair.

In 2004, a specific program was developed to respond to the large number of survivors of sexual violence seeking help at Panzi Hospital. The SSV-project is funded by ECHO and Sida and implemented by PMU (the Swedish Pentecostal Mission's Relief and Development Agency). It aims to treat and heal survivors and women with severe gynecological disorders through medical and psycho-social assistance. The project works together with Engenderhealth (an American NGO supported by USAID) which funds fistula surgery and trains medical staff in fistula repair. The Stephen Lewis Foundation treats survivors who have been infected with hiv/aids, providing them with anti-retrovirals. The medical care at the Panzi Hospital extends to rural areas through mobile medical teams funded by UNICEF and training of rural health personnel. Every day women take back control of their bodies through surgery, psychological and socio-economic support.

Panzi Hospital also maintains and supports socio-economic reintegration, legal assistance and psycho-social care for survivors of sexual violence in three health zones in South Kivu through the Ushindi project (supported by USAID). The hospital is committed to ensure that the care that survivors receive in their home village and at the Panzi Hospital is of the best quality and is available to all who need it.
PRODUCER PARTNERS
Meet the people behind this special blend and see how they are creating change in their communities.

SOPACDI, Democratic Republic of the Congo
SOPACDI is located in Kivu, DRC, an area that has been wracked by ethnic- and gender-based violence that has destroyed the local economy and all but virtually extinguished the coffee sector. Coffee used to play an important role in the economy, however, years of warring factions and low prices gave the farmers little hope. Economic collapse has forced many Congolese to smuggle coffee into Rwanda by traveling across Lake Kivu and engage in 'Troc', a bartering system used to get animals, other food products and supplies. This was one of the only ways to get anything for coffee due to the low prices offered in the DRC.

Smuggling the coffee is very dangerous activity, and as a result, many people have lost their lives trying to get a better price and access to any market they can. The lack of businesses and income generating activity has pushed the DRC into deeper turmoil and this has had violent repercussions. Decades of insecurity, fallout from the Rwandan genocide and the Congo civil war has left the coffee sector neglected or abandoned. Due to these circumstances, most of the coffee produced is coming from small coffee farmers that with old or rudimentary equipment and little access to international markets.

Coffee is the answer. In 2002, Joachim Munganga founded SOPACDI as a means to bridge ethnic strife and to tap into the international specialty coffee market. He wanted to focus on connecting people and creating incomes through coffee. He started with his own farm, and with his uncle, Albert Ngaboyeka, worked to rehabilitate an old, run down estate with a central washing station for the co-op to process coffee. When SOPACDI connected with Twin Trading in the UK in 2008, SOPACDI began to access the international coffee market. Twin designed and obtained funding for a program to assist them with business skills and to begin rehabilitating the farms and improving the infrastructure, including building the first new central coffee washing station in the country in over forty years.

"We didn't really know what a co-op was or what it would look like. Twin Trading has been there, encouraging the farmers to grow coffee and getting things started again," said Joachim Munganga.

It is important to recognize the pivotal role that our friends at Twin Trading have played in helping SOPACDI to organize as a co-operative and to work tirelessly to improve production and infrastructure at the co-op. The DRC is a difficult place to work and our alliance with Twin has helped to connect Equal Exchange with this incredible work. Our friend and ally, Richard Hide from Twin, has been instrumental in the development of this co-op and as I listened to Richard reflect on this experience, which he called "the most extraordinary experience of my life in coffee," I could see the deep bonds of friendship and admiration between Joachim and Richard. So much has been accomplished, yet there is so much more that needs to be done.

From inception, SOPACDI's aim has been to bridge ethnic groups and to produce the highest quality coffee possible. Each year the membership of SOPACDI grows and today, SOPACDI has more than 3,200 farmers in the coop, speaking a variety of languages, including Kirundi, Kihavu, Kinyarwanda, Swahili and French. Over 20% of the members are women, many of these women are widows, some who lost their husbands as they tried to smuggle and barter coffee across the lake to Rwanda. However, the women are working to find their voices in the co-operative; many participate in co-operative meetings and have been very vocal about their situations as mothers, widows and farmers.

Photos courtesy of Richard Hide of Twin Trading UK
TAKE ACTION
Learn More:
Participate in the movement for change:
For Colleges and Universities:
Tell us what you are up to! Tell us what how your are working toward peace in the DR Congo: bacaspersen@equalexchange.coop