I was in a hot room, sitting in a circle with colorfully dressed Ugandan women representing the 10 primary societies of Gumutindo Coffee Co-op. Right away I knew that I was taking part in something special.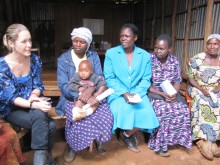 It was 2010, and while I travel to coffee regions frequently, this was my first visit to Uganda. We'd created this open space to get to know each other better. I wanted to learn about the daily lives of these women, many of whom struggle to cultivate coffee to sell to buyers like Equal Exchange, and grow their beloved matoke (banana) for consumption in the home, on a small piece of land. They also wanted to hear about my life in the United States, and about my son, Magnus. For me, this was the beginning of a journey that would teach me about the lives of some of these women in intimate detail: their trials and tribulations, joys and celebrations.
On this and subsequent travels to Uganda, I have met many inspirational women, like Oliva Kishero, a talented model farmer that showed me exactly what she does on her highly productive farm; or Jenifer Wattaka, a leader of her primary society and the women's group that always greets us with beautiful music, dancing, laughter and acting that focuses on real life problems - and how to solve them.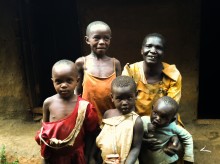 The women in these communities are all different, of course, but their challenges are largely the same; like many women from around the world, they experience the competing demands of farm life, having mouths to feed, wondering what more they can do for the overall welfare of their children, finding opportunities to be more educated, and providing support and consultation to other women in their respective communities.
I also noticed that as the primary caretakers in these villages, the women spend a lot time in the kitchen. As is the tradition in Uganda, the kitchen is an enclosed space that usually lacks light or ventilation. Picture a small fire in the corner of a room that is filled with smoke. It is a difficult place to prepare food for the family; the smoke burns your eyes, fills your lungs and makes it a very unattractive place to work, let alone spend time with your family. Each fire can accommodate only one pot, sometimes two, but to manage both and keep the meal moving is difficult and time consuming. This is the situation for many homes on Mount Elgon and throughout Uganda.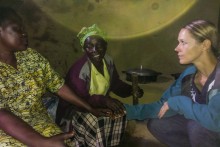 I started thinking about how Equal Exchange might be able to help, drawing upon their existing support systems. I saw these strong women that had organized themselves; they were smart, creative and entrepreneurial. Their women's groups had been a very positive influence in their lives - could we support the women's group, help alleviate a basic household need, and manage to build skills and knowledge?
It was worth trying, so in June 2011, I took action in the United States. I went on a fundraising rampage: we held a benefit at the Equal Exchange Café in Boston with delicious Ugandan food and a silent auction where artists like our very own Coffee Equipment Coordinator Joe Driscoll donated beautiful photography to raise money for the effort. Our friends at Bead for Life donated handmade bracelets that I sold out of my office for $6 each, and during a monthly promotion for coffee from Uganda, customers like Ithaca Bakery in Ithaca, NY, raised money to contribute to the effort. Overall we raised $4,000 and after a variety of proposals, we finally settled on a small, but focused, project that would immediately improve health and provide skills training for leaders of the women's groups, by building energy-efficient stoves in 50 homes in two different communities. We were on our way.
Still, it was a long, slow process to get all of the pieces in place. First we had to find the expertise, a person that could build these stoves and teach the women how to do it as well. I wondered if we were ever going to see the stove project move forward, but my concerns were put to rest during my recent trip to visit the women coffee farmers in the fall of 2013.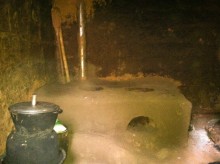 Upon walking into the first house, I almost started to cry I was so happy. There in the corner of the house was a solid rectangle box constructed of dirt and banana leaves! The top of the rectangle contained two circular holes to put the pots on top with a large metal pipe to filter out the smoke and a small hole in the bottom front of the stove in which to make the fire. I quickly learned that the energy-efficient stoves had done more than I had even imagined. A new stove:
Reduces the amount of firewood necessary to cook by 50 percent! A small bundle of wood normally costs around 7,000 Ugandan shillings ($2.80 USD). Using half a bundle of firewood a week reduces the labor necessary to get the wood and will save a home $1.40 per week, which is a substantial savings.
Accommodates multiple dishes cooking at the same time and reduces cook time. With the new stoves, the women said they could boil water faster for tea and prepare meals faster, which means less time in the kitchen.
Provides a warm, smoke-free environment that is safer for everyone. The most expensive part of the energy-efficient stove is a metal pipe that filters the smoke out of the house and it is worth every penny! Women told me that unlike a traditional fire used for cooking, family members wanted to go into the kitchen, there was much less smoke, and on chilly Mount Elgon, this meant that family could spend time together in the warm kitchen.
We walked from house to house and met many women that were extremely grateful for the new stoves. I would like to thank the whole Equal Exchange staff for supporting these efforts, the generous donations from Bead for Life, the artists featured in our silent auction, our deeply engaged customers, and the staff and women at Gumutindo Coffee Co-op who continue to inspire me.
Thank you.