Guest blog by Megan Straughen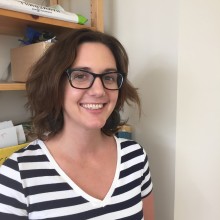 Hi there!
My name is Megan and I am a member of the Equal Exchange Action Forum, as well as the Events, Education and Sustainability Coordinator at the Monadnock Food Co-op in Keene, NH. Our co-op is passionate about food system reform and creating supply chains which serve and benefit all of those involved.
We've been Equal Exchange supporters since our co-op opened four years ago and are always striving to improve our product offerings and educate our customers and staff at any opportunity we get. I've been lucky to participate in various trainings and conferences for our co-op and I was beyond pleased to be able to represent our co-op at the first-ever Equal Exchange People's Food System Summit in early June.
As people from across the nation gathered at Stonehill College outside of Boston, I found myself wondering about all that we would learn from each other over the next several days as we attended workshops and asked hard questions about what we were doing individually and how we could do more collectively. I found the workshops wildly interesting; learning first-hand from farmers about how climate change is impacting their farms, learning about the United Farm Workers and Neighbor to Neighbor campaign strategies, and joining the three founders of Equal Exchange to learn about what they were thinking 30 years ago when they started this co-operative. Hearing that co-founder Rink Dickinson's initial reaction was, "This is a great idea, and it's definitely going to fail," warmed my soul and lifted my spirits.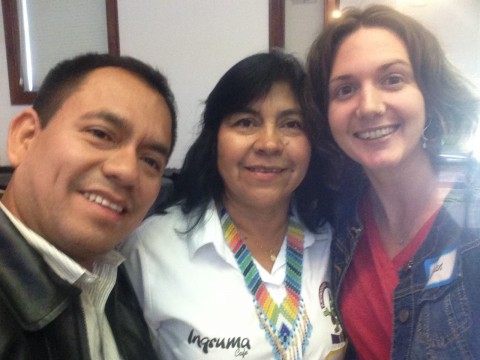 Megan, right, with summit presenters Rocio Motato Suarez of ASPROCAFE Ingruma in Colombia, center, and Javier Dominguez of Sol y Cafe in Peru, left.
Worthy causes are worthy, however difficult they may be to achieve. Fear of failure should not preclude thoughtful and calculated action and even risk. It's equally empowering to realize, 30 years later, how successful Equal Exchange has been in shifting a small, but nevertheless important, amount of market share to a more ethical and sustainable model and how it once felt like a distant dream for the founders. What distant dreams do we have percolating now that seem sure to fail, that might just go on to be the next Equal Exchange (or even bigger!)?
I found myself intrigued and my thoughts constantly evolving as I grappled with the questions of "What is the Equal Exchange Action Forum? How do we explain what we are doing? What do we do next?" with others at the conference. I heard many answers to these questions; and all were right and resonated with me in one way or another.
I was so inspired to see folks from across the nation working to reform the food system in so many different ways. While we are united by the common idea that there is a more ethical and sustainable way to create supply chains, there's a diversity of ideas about how to achieve this and so much work to be done across sectors; there's room for everyone and all their ideas. It will take all of us, united by this common idea but working in our communities and our own niches to create this systems-level change that we all desperately crave. One organization or person just can't tackle every issue, but knowing there are engaged citizens, thinking strategically, all across the nation and the world contemplating how to move these ideas forward left me feeling incredibly hopeful.
If we're to achieve real food system reform and fair and equitable trade relations for all involved along the supply chain, Equal Exchange no doubt has a part to play. A huge thanks to them for all the work they've done thus far and for taking these first steps in creating a nation of engaged and active citizen-consumers. I thoroughly enjoyed meeting many of you at the conference and I look forward to seeing you at next year's gathering!