As rain drizzled down from slate grey skies, thousands of visitors took refuge inside Smith Cove at Pier 91 to attend the Northwest Chocolate Festival in Seattle. The festival has been a staple of the city's events scene since 2008. This year, the chocolate team at Equal Exchange participated in the festival workshops and unconference from Nov. 9-12.
Similar to craft beer or specialty coffee, craft chocolates are growing in popularity across the United States. The momentum of these small-scale, quirky, bean-to-bar makers, as well as the larger specialty and premium part of the market, is gradually changing the traditional chocolate industry.
In an industry that has long been dominated by extreme secrecy, this event is one that aims at opening up all parts of the chocolate world and creating a space for sharing and learning. Given Equal Exchange's mission to change the trade system for the benefit of small-scale farmers, this is a part of the industry where we feel some of these larger conversations are taking place.
For cacao co-ops and farmers, this trend is hopeful, as many craft chocolatiers pay special attention to both the quality and the equity of sourcing cacao beans. This extra attention can shift slightly more power to the small-scale cacao farmer.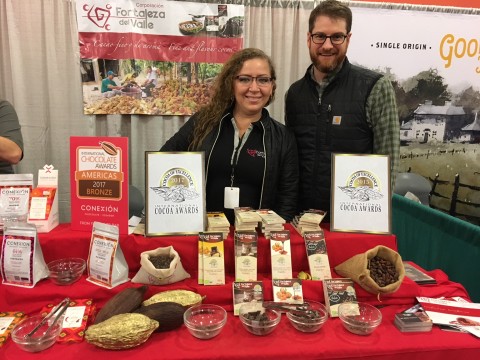 Lidia Zambrano Cano of Fortaleza del Valle and Dary Goodrich of Equal Exchange at the Northwest Chocolate Festival
This year, several of Equal Exchange's farmer co-op partners were present at the festival. Our Ecuadorian partners at Fortaleza del Valle co-op had their own booth and were giving out samples and selling chocolate bars from the co-op. Pamela Esquivel and Gonzalo Rios of ACOPAGRO co-op in Peru lead a workshop about the positive state of their co-op. Both of these feats are innovative, as many workshops and booths are lead by cacao sourcers or chocolatiers and not by the cooperatives and farmers themselves.
At this year's event, there was a lot of energy around the need for industry-wide cacao quality standards with presentations from various organizations doing work to advance this conversation. Equal Exchange has been collaborating with our cooperative partners in Peru and the Dominican Republic through our USAID Cooperative Development Program grant to create new quality tools such as our Cacao Tasting Form, which you can learn more about in this post.
We were excited to present our work at the festival along with TCHO Chocolate, our partner in this USAID Cooperative Development Program work. There is still more to be done to create something that is adopted industry-wide, but things are happening. If the chocolate industry can adopt a standardized tool through an inclusive process, engaging everyone from producers to chocolate makers, this could create a far more even playing field for small-scale cacao farmers.
Even still, more work can be done to open up this potential shared space for chocolatiers and farmers. From booth to booth, much of the rhetoric was about the quality of the chocolate, the unique flavor inclusions, bean varietals, and genetic origins. Only a very few bean-to-bar makers highlighted their farmer partnerships. And yet, behind every chocolate maker, at the very genesis of a chocolate bar, is a cacao pod harvested by a person.
The Northwest Chocolate Festival exemplified that the bean-to-bar, craft and specialty chocolate industry is growing, though it is still only a tiny fraction of the chocolate market. Following in the footsteps of coffee, there is a real opportunity for a defined specialty chocolate market to develop with increased support of U.S. consumers changing their chocolate eating habits.
The rise in popularity of this part of the market can be a positive trend for cacao farmers. It can open more cacao markets and, more importantly, humanize the chocolate experience. This shared chocolate experience is directly in line with Equal Exchange's mission to "foster mutually beneficial relationships between farmers and consumers." We hope to see even more farmers present at next year's festival.