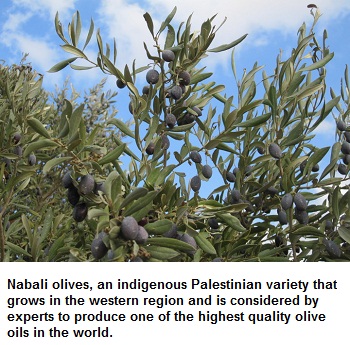 Equal Exchange launched its organic, fairly traded olive oil in 2012 in partnership with the Palestinian Agricultural Relief Committee (PARC) in the West Bank. PARC was founded in 1983 by agronomists and veterinarians in order to serve farmers in the agricultural sector. Israel had prioritized other industries in the Palestinian Territories and not invested heavily in agriculture. The Palestinian Authority (PA), later established by the Oslo Accords, established a Ministry of Agriculture in the West Bank, but was similarly disinterested in prioritizing agriculture. PARC lobbied to influence early farm policies and continues to this day to encourage farmers to push the PA for rights. Consequently, many see PARC as the proxy Ministry of Agriculture, which has sometimes led to some friction with the PA.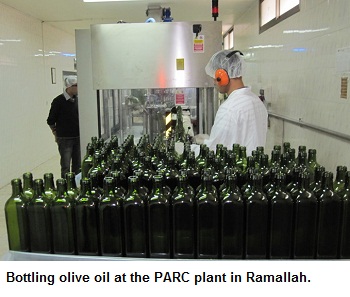 Equal Exchanged envisioned selling the PARC oil to U.S. customers as a way to show solidarity to Palestinian farmers in the West Bank in order to help provide them with additional income. The project was pioneered by Tania Maxwell, who marketed PARC's oil under her Olive Branch label for U.S. solidarity groups and sold the oil from her home in Cambridge, Massachusetts. When Tania retired, she requested that Equal Exchange continue on with this important work. Tania' experience and relationships were invaluable in helping us to launch the project under our own label. She served as our guide on a tour to the West Bank in 2011 to meet PARC leaders as well as olive oil farmers.
PARC works with 40 cooperatives, each made up of anywhere from 20-80 members. These groups grow olives, couscous, almonds, dates and other products. They co-manage the plows, as well as the fertilization and harvesting of crops, and the maintenance of storage facilities. PARC's stated target constituencies are farmers, women, and youth. In addition to promoting viable and sustainable economic development, PARC has also built community-based organizations and tries to instill transparency, accountability, and democracy in these organizations.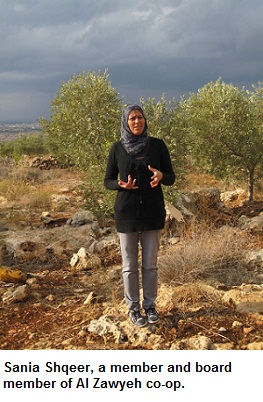 In December of each year, which is mid-to-late harvest, PARC negotiates with all the cooperatives to determine the exact price of that year's olive oil. As with most co-operatives, PARC and the co-ops establish one price for all of its members. PARC also determines prices for the domestic market, the export market, for virgin and extra virgin, and for certified organic. These always exceed the cost of production and meet or exceed the established Fair Trade price. As orders come in, PARC collects the oil at the co-op stations and bottles it at the facility of Al Reef, PARC's nonprofit exporting organization, owned by all of the co-ops. Over the last 10 years, there have been enormous gains in capacity, quality control and bottling equipment. On our 2011 trip we were extremely inspired by what we saw and confident that there were skilled agronomists handling every stage of processing the oil.
A number of hardships are ever present for Palestinian farmers. First among them is water. Climate change-induced drought has increasingly affected the production of trees in recent years. But Israeli policies limiting access to water for collection and irrigation have likewise posed a serious obstacle to a thriving agricultural sector. In fact, most water in the West Bank is diverted either to settlements or back to Israel. On top of this is the problem of access. Numerous checkpoints and the barrier wall pose serious challenges to optimal cultivation practices. In places, the wall separates a farmer from his or her grove and it is not possible to carry out the pruning and composting necessary to maximize productivity.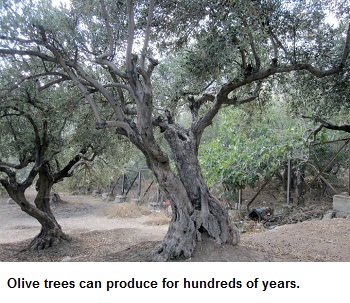 Both organizations: Equal Exchange and PARC are grounded in the most fundamental industry on earth: agriculture. Both groups are committed to assisting small farmers to remain on their land, to grow quality products, and to build sustainable markets.
It's impossible to separate the struggles of Palestinian olive farmers and our trade relationship from political struggles in the region: access to water, the barrier wall, checkpoints, settlements, and frustration with the Palestinian Authority. For Equal Exchange, this olive oil project allows us to contribute to just economic development in the West Bank. We ask you to join us in supporting the livelihoods of Palestinian farmers, who have limited opportunities for supporting their families.