In April 2016, a 7.8 magnitude earthquake struck Ecuador's coastal region, killing over 650 people and wounding another 16,000. The epicenter of this destructive phenomenon was located within one of our cacao partner co-operatives, UOPROCAE. Last year, Equal Exchange, the Cooperative Development Foundation, Pronatec (our Swiss partner for chocolate making), food co-operatives, and caring individuals came together to donate over $35,000 to support recovery efforts to two of our partner co-operatives in the region.
Small-scale farmers who use organic farming methods live in close harmony to the earth and rely on its natural cycles. As a result, small farmers are usually the first to feel the dramatic impacts of natural disasters and climate change. In recent years, many of our producer partners report of wetter wet seasons and drier dry seasons, making farming less predictable and throwing one more major bump in the road to building a viable livelihood. Yet these small farmers are also the most resilient and continue to have hope and keep moving forward after great loss.
In June, I traveled with Equal Exchange Grants Project Coordinator Cristina Liberati to Ecuador to follow up with the co-ops affected by the earthquake. Before traveling to Ecuador, I had calculated the impacts in my head with numbers: death tolls, structural collapses, cacao productivity declines, harvest delays. To assess the recovery efforts, we took photographs of reconstructed offices, walls, and cacao bean facilities. But even more importantly, we spoke directly with farmers who experienced damage from the earthquake. During our visit, it became clear that the earthquake's impact extended far beyond just numbers.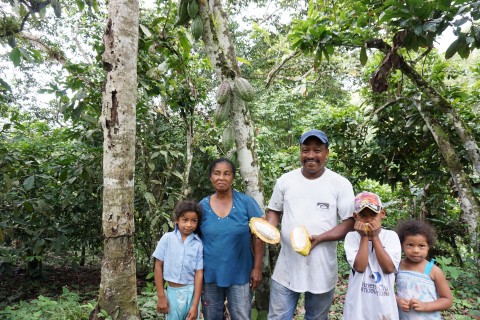 Maria Teresa Carvajal Raad, Gabel Gaspar Wilson, and their three grandchildren.
UOPROCAE members Doña Maria Teresa Carvajal Raad and Don Gabel Gaspar Wilson remembered with sharp clarity when the rains began to fall. The weeks leading up to the earthquake, their family farm experienced torrential rains and flooding. Doña Maria Teresa said that they had started to believe that the rains were never going to end. Their grandchildren stayed home from school and the family sought refuge in their wooden home raised on stilts, watching the soil wash away beneath them. Then, on April 16 at approximately 7:00 pm, the earthquake struck. Their home was damaged, and several hillsides of their farm sloughed off into the ravine below.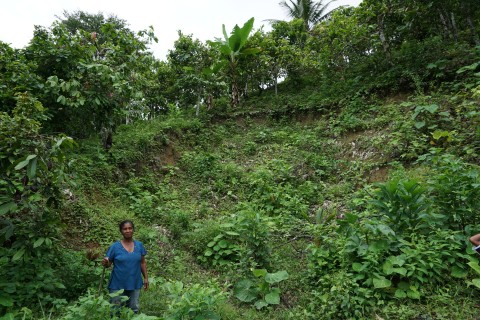 Maria Teresa Carvajal Raad shows a landslide from the 2016 earthquake on her farm.
Landslides and erosion were present on other farm visits and across much of the coastal hillsides. Some farmers lost their irrigation systems. Still others lost access to wells due to shifts in the groundwater table. Even the cacao trees themselves felt the impacts. The lead agronomist for Fortaleza del Valle co-op reported that the cacao trees became stressed and aborted their developing cacao pods, which influenced the harvest and farmer incomes.
One year after the earthquake there is hope. With support from the Latin American and Caribbean Network of Fair Trade (CLAC), Doña Maria Teresa and Don Gabel have rebuilt their home. Working with their co-operative's lead agronomist, the family is improving cacao pod development using a homemade liquid organic fertilizer.
Small farmers like Doña Maria Teresa and Don Gabel are incredibly resilient. They have the support of their fellow farmers, their co-operative and outside NGOs and Fair Trade organizations. Unlike large-scale farmers that often rely on one crop, small farmers control a diverse landscape of plants and animals. In addition to cacao, most co-operative members also sell other forest crops, like citrus fruits and plantains, to the local market. For their own consumption, they grow field crops like corn and yucca, grow family gardens filled with herbs and vegetables, and raise animals like hogs and chickens.
Cacao farmer Don Rafael Zamora's farm also suffered from minor landslides due to the earthquake, but one year later, those ravines have grown over with the first understory plants. He bought the land several years ago after saving up enough money from working in the city. It was not until some cousins walked the property and texted him photos that he realized the land's true potential. His six-acre property held a hidden gem: a waterfall.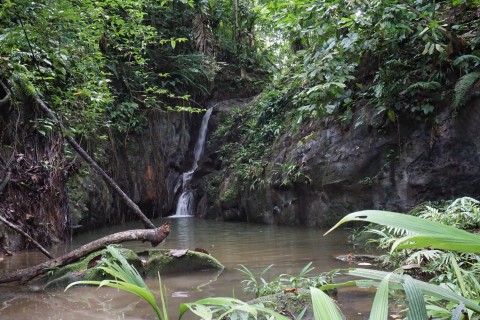 The waterfall on Rafael Zamora's land.
The waterfall sparked entrepreneurial ideas in Don Rafael. Living in the city, he missed the open spaces of the countryside and he was sure that others would want to experience a farm get-away. He moved onto the property and began cultivating agroforestry species: oranges, bananas, and cacao. He built trails leading to the cascade and constructed a volleyball court and soccer field in the patio of his new home. He has long-term plans to develop his forest farm into an agrotourism attraction.
It's critical that we continue to support small-scale agriculture and cooperative development in our efforts to address and mitigate the impacts of natural disasters and climate change on communities around the world.
For more information about the earthquake: