Do you remember hearing about coffee leaf rust, or la roya, over the last few years? Coffee leaf rust is a fungus that has greatly impacted coffee production across the producer world in Central and South America during the last few harvest cycles. While it is not a new fungus, this most recent flare up has wreaked havoc on the household level across not only the Equal Exchange supply chain but throughout Latin America. Get a refresher on coffee leaf rust here and here.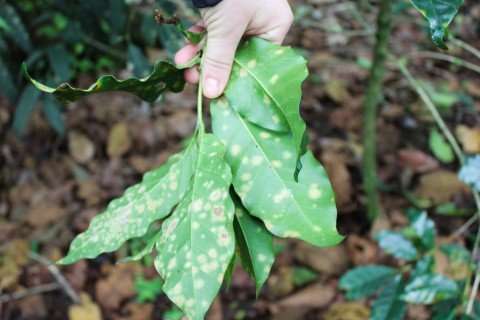 Coffee leaf rust on a farm in Guatemala.
The coffee leaf rust crisis is ongoing. Besides being a top-level crisis in and of itself, it also has helped to more fully reveal long-term challenges and problems in coffee supply chains. Two of the biggest issues that the coffee leaf rust crisis has shed light on are the historic underinvestment in technical assistance and extension systems, as well as a lack of regular farm renovation. The combined impact of the devastating coffee leaf rust crisis and this historic underinvestment has massively disrupted rural livelihoods. While none of these threats to farmer livelihoods are new, the rust crisis has brought sustained attention to the coffee supply chain. Of course, all of this is happening in the context of climate change which further disrupts crop cycles, weather patterns, and farmers' ability to project harvest volumes.
Our partners in Chiapas, Mexico, at the La Union co-operatives began to see this devastation as an urgent opportunity for addressing systemic challenges faced by their farmer members. The technical teams and boards of directors of CESMACH, Triunfo Verde, and Comon Yaj Noptic co-ops organized and created strategic plans to address climate change and coffee leaf rust by developing a training program and providing coffee seedlings for replanting. All of this work requires short-term relief for farmers, medium-term planning for farm renovation, and long-term strategy development to build resilience. Each stage of this work requires financing, so these co-operatives sought support from commercial partners, social lenders like Root Capital, non-profit foundations in Mexico, and others. There is a tremendous need for investment as these organizations are trying to react to this urgent crisis and also counteract forces of historic underinvestment.
In the ongoing recovery efforts there is a lot of work happening around building resilience - both trying to rebuild technical assistance as well as trying to prepare and react to climate change.
In Chiapas, we have deployed resources through a pilot program with RSF Social Finance called the Fair Trade Capital Collaborative (see more on the program in the 2016 RSF annual report). We are now six months into our Equal Exchange-RSF pilot loan and grant project, and I recently returned from my first official field visit to get a status update on the loan and grant funds. Each of the three beneficiaries in Chiapas, Mexico is making definitive progress on its renovation projects, and these funds have complemented existing efforts and a diverse number of funding sources meant to improve productivity and stimulate renovation after the coffee leaf rust crisis.
Due to coffee's life and production cycles, six months is a short amount of time to see vast advancement. However, as these efforts are all coordinated and the co-operatives have worked on renovations since 2014-2015, there are clear improvements and intense ongoing work. The work funded by the RSF Fair Trade Capital Collaborative primarily focuses on two things: training and planned renovation. Between the three co-operatives, there are more than 1,200 coffee-farming families in the Equal Exchange supply chain participating in this program. We will continue to work with these co-operatives both commercially thru trade, as well as support training and renovation projects, as there is still much to be done.
Future Potential
It is hard to overstate the impact that coffee leaf rust has had on the coffee-growing communities in Chiapas. In two harvests, production dropped 40-60 percent from farm to farm for the members of Comon Yaj Noptic, CESMACH, and Finca Triunfo Verde. Coffee leaf rust wreaked such havoc on these communities in part due to historic underinvestment in regular farm renovation, technical assistance programs, and the lack of advancement on organic farm management practices. The rust crisis is a pivotal moment in which these three co-operatives decided to begin to counter not only the impact of coffee leaf rust but also to try to overcome some of the legacy of underinvestment.
FTV and CESMACH had annual sales during the 2015-2016 harvest of over USD $2 million and $4 million, respectively. CYN is significantly smaller at closer to USD $500,000 in annual sales. I want to emphasize the commercial scale of these organizations and their need for capital to channel to technical assistance, farm renovation, and better organic inputs throughout the year.
There is a need for even more of this supply chain funding. We are currently grappling with questions of how to responsibly and sustainably invest in our supply chain partners in a collaborative way. All of this work with RSF has been co-designed with staff and farmers at producer organizations and myself and the team here at Equal Exchange. We are working hard to capture additional resources to fuel these efforts, because our current investment isn't enough.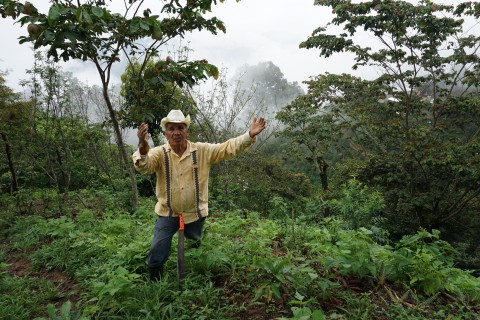 Sebastian Guzman, a member of Comon Yaj Noptic in Chiapas, Mexico, on his newly renovated farm in the buffer zone of the El Triunfo Biosphere Reserve.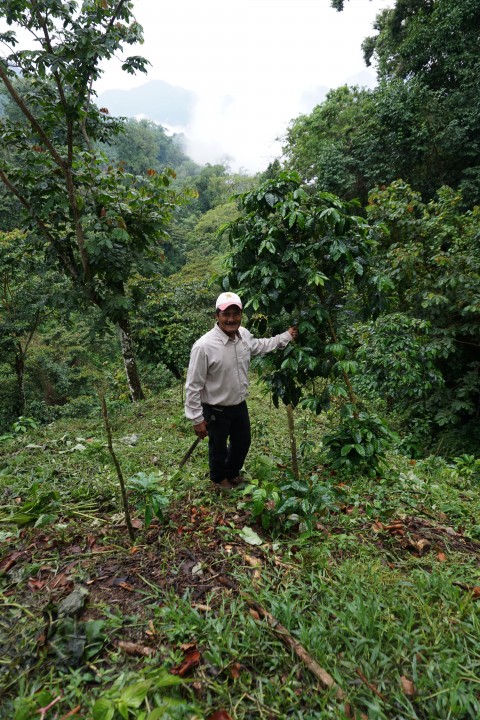 Margarito Gurgua on his farm with an older Maragogype varietal that demonstrated coffee leaf rust resistance among his newly planted baby coffee trees. Margarito is leader at Comon Yaj Noptic in Chiapas, Mexico, and three of his siblings are also members of CYN. Their farms are located in San Francisco, a small village founded by their father and located in the El Triunfo Biosphere Reserve.