By Jessica Jones-Hughes & Phyllis Robinson
What happens when you bring members of an entire banana supply chain together for seven days?
At Equal Exchange, our goal is to build supply chains that empower small-scale farmers, inform and educate consumers, and create long-term partnerships between the various actors at each stage of the food import-export process. In a conventional supply chain, these different players all operate in their own spheres, each doing what they do best: growing bananas, exporting bananas, ripening bananas, running businesses, distributing and selling produce. Even for those of us in the Alternative Trade world, bringing hard-working, busy people together across continents, to listen and learn from each other can be a challenge. And that was exactly what made our weeklong encuentro (or meeting) in El Guabo, Ecuador so unique - and so richly valuable.
In early June, representatives from our entire banana supply chain gathered on banana farms, packing stations, co-operative offices, and farmers' homes in southern Ecuador. Representatives included individuals from Equal Exchange, Four Seasons Produce, a family-owned produce distributor in Pennsylvania, MOM's Organic Market, a progressive independent chain in the Northeast, and AsoGuabo, a Fair Trade co-operative of 150 banana farmers in Ecuador. For over 10 years, these organizations have fought hard to offer an alternative banana in a very conventional grocery landscape. In Ecuador, we came together as equal partners, sitting together at the same table, to discuss some of the most important issues facing banana growers, exporters, importers, ripeners, distributors, and suppliers. How do we think about pricing, given the needs of farmers and the reality of the "cheap banana" in the U.S.? How do we share and appreciate the complexity involved in each step of the supply chain? Are we succeeding at being good partners to one another?
The week was both simple and complex. Simple in that we ate our meals together, shared stories, and played soccer together. Complex in that late into the evening, we were still looking at Powerpoints, discussing business practices, costs of production, cultural differences and trying to understand the challenges we individually and collectively face.
The experience was one that will remain with each of us well into the future as we continue to grapple with the question of how to truly build an alternative model in the banana industry. There are no road maps or easy answers to the questions we asked ourselves and each other that week in El Guabo. And yet, while we may not have answers to many of the questions, we have something that transcends all of that: relationships. We spent the week growing our partnerships which only become stronger by facing the good and the ugly together. As partners, we will continue to fight the daily battle of getting a perfect yellow banana with a different story behind it into the hands of the consumer. This undertaking will never be easy, but it is a much lighter struggle when you know the people who stand alongside you. For us at Equal Exchange, that is what makes the battle worth every step.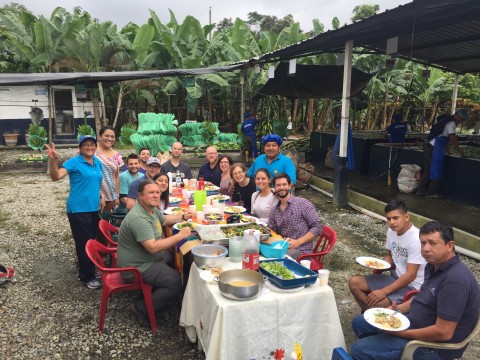 The entire Equal Exchange banana supply chain together enjoying a delicious home-cooked meal with our gracious host, Mariana, on her husband's farm in La Libertad. Mariana has been a banana farmer since 2000. From left to right: Jon Croft (MOM's Organic Market), Ravdeep (Equal Exchange), Mariana (AsoGuabo banana farmer and member), Jason (Four Seasons General Manager), Monica (Mariana's niece and chef of the delicious lunch), Kendall (MOM's Organic Market), Abimael (Four Seasons banana ripener), Justin (MOM's Organic Market), Dean (Four Seasons Banana buyer), Phyllis (Equal Exchange), Jessica (Equal Exchange), Walter (Mariana's husband and AsoGuabo banana farmer), Stephanie Pellny (photographer), Aurelio Loret de Mola (photographer), Javier (our faithful bus driver all week), and Marcelo (AsoGuabo Quality and Logistics Manager).
On Margarita's farm in Ecuador, freshly packed boxes of bananas are loaded onto pallets before they are consolidated with fruit from nearby farms to fill a container. A full container is 40,000 pounds of bananas.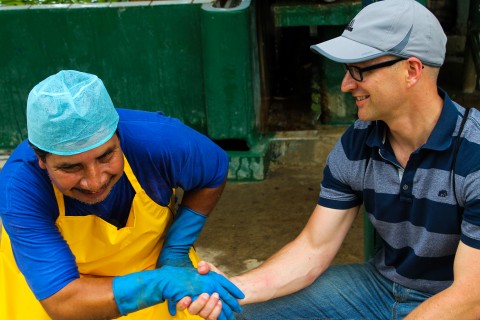 Jason Hollinger, General Manager of Four Seasons Produce, gets to know Luis Angel Pesansez León, who washes and packs bananas into boxes on Margarita's farm in southern Ecuador.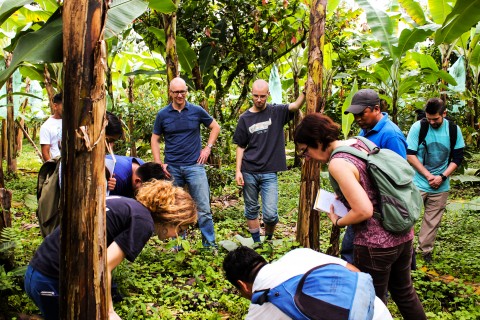 While visiting a beautiful agroforestry farm interspersed with banana and cacao, the delegation learned about new biodiversity projects. AsoGuabo is focusing on rejuvenating the soil bacteria through many innovative techniques. After only one year, they have seen huge success and increases in productivity and soil health on the farm.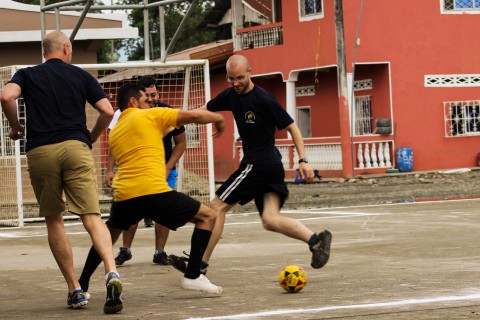 And of course, a soccer match. Final Score: USA: 1 Ecuador: 5.
Photos by Aurelio Loret de Mola and Stephanie Pellny