The Congo Coffee Project: Supporting Survivors of Sexual Violence
From the time of colonization on, the Democratic Republic of Congo has been shaken by conflict. In recent decades, combatants fighting for land and resources have used sexual violence as a tactic, affecting thousands. For women, men and children who are rape survivors in need of medical attention, there are not many treatment options; they are sometimes ostracized, abandoned or ignored with nowhere to go. In 2011, Equal Exchange founded the Congo Coffee Project with the Panzi Foundation as a means to bring Congolese coffee to market in the United States while offering healing for survivors and raising awareness about the alarming rate of violence.
Every purchase of this coffee supports coffee farmers and makes a difference in the lives of survivors of sexual violence. Since 2011, we have raised over $100,000 from sales of Congo Coffee Project coffee! 2019 was our biggest fundraising year yet, bringing in $17,792. This work has had an amazing impact, and your help makes it possible.
Each year, we work with the Panzi Foundation staff and, more recently, with Dr. Bwema of the Bulenga clinic, located near our coffee partners at SOPACDI, to learn about community needs so we can work together to put the money to good use. Equal Exchange has supported vocational training for survivors at the Maison Dorcas aftercare center and more recently, the construction of water tanks and a laboratory at the Bulenga Clinic.
The Panzi Hospital/Maison Dorcas Aftercare Center
Panzi Hospital was founded by Dr. Denis Mukwege, a world-renowned gynecologist and outspoken activist on behalf of the people he treats. Dr. Mukwege was honored by Women for Women International in 2015 with the Champion of Peace award and won the Nobel Peace Prize in 2018. He is supported by an amazing staff and his sister, fondly known as Mama Zawadi, who is the Director for the Maison Dorcas aftercare center.
Maison Dorcas provides survivors of sexual violence with safe housing and a place to heal. During recovery, survivors have the opportunity to learn vocational skills like sewing and weaving. This is part of the healing process, keeping them busy, building community and helping them to develop important entrepreneurial skills that they can take with them when they leave the aftercare center.
The products that they make are sold through a small store at Maison Dorcas and in 2015, Equal Exchange started a program to import hand woven plastic bags and sell them on our website. For each bag created, women would receive $10; $5 of those dollars would be given the woman immediately and the other $5 would be put into a savings that women would receive when they left Maison Dorcas. In the process, trainers learned to follow specific requirements for bag size and quality, along with how to fulfill orders. They produced more than 500 bags for sale in the US over a 4-year period and while the program came to an end at the beginning of 2019 due to outrageous shipping costs, we are proud to have pushed these entrepreneurial ideas to a new level.
Bulenga Clinic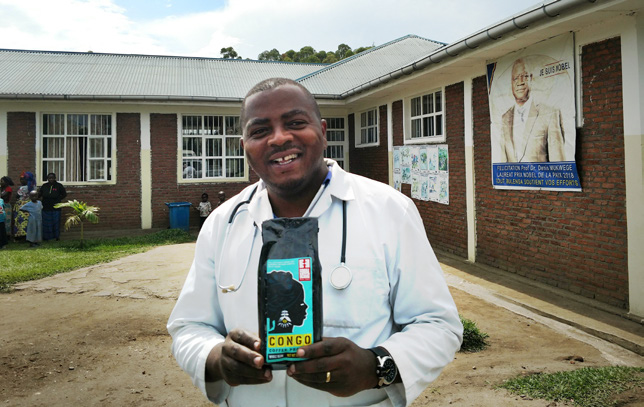 Dr. Bwema with Congo Coffee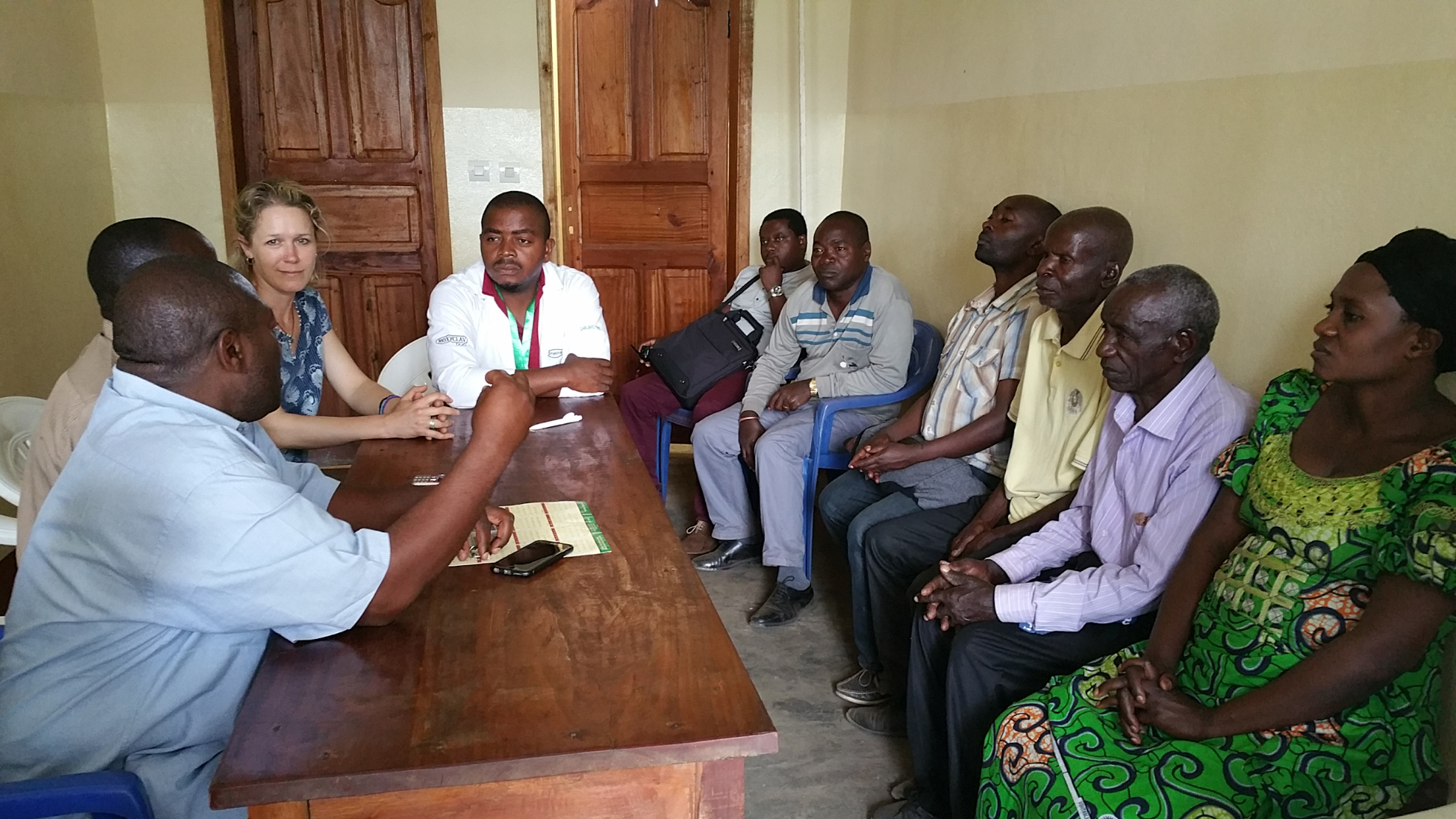 Bulenga Clinic staff meet with Beth Ann and representatives of SOPACDI to talk about the clinic and needs of the community.
Panzi Hospital worked with the World Bank to start an initiative called "One Stop Centers" in order to address sexual violence and bring basic health care needs to small communities in need of these services. The Bulenga Clinic, built in 2016, is situated next to the communities where coffee farmers who are members of the SOPACDI cooperative live. These farmers provide Equal Exchange with delicious coffee that is used for the Congo Coffee Project. Farmers at SOPACDI were happy to have access to medical services, and the leadership at the co-op was especially thrilled to see the funding from the Congo Coffee Project directly impact their own communities. Since the clinic was built, we've directed funds from the Congo Coffee Project to support local needs. In 2016, we helped to construct a water tank and to contribute to a larger water project through Panzi to build the systems and infrastructure needed to bring clean water to the clinic.

The Bulenga clinic offers general medical services, and a special section of the building is dedicated to treating survivors of sexual violence. The building itself is small and at first, the clinic was unable to perform basic laboratory tasks due to the lack of space and equipment. The lead doctor of the clinic, Dr. Bwema, worked with the Panzi team to propose a project to construct a full-scale laboratory adjacent to the central clinic. This project was funded by Equal Exchange in 2019.
Impact

How We Use Project Resources

Here is how your support of the project has made a difference: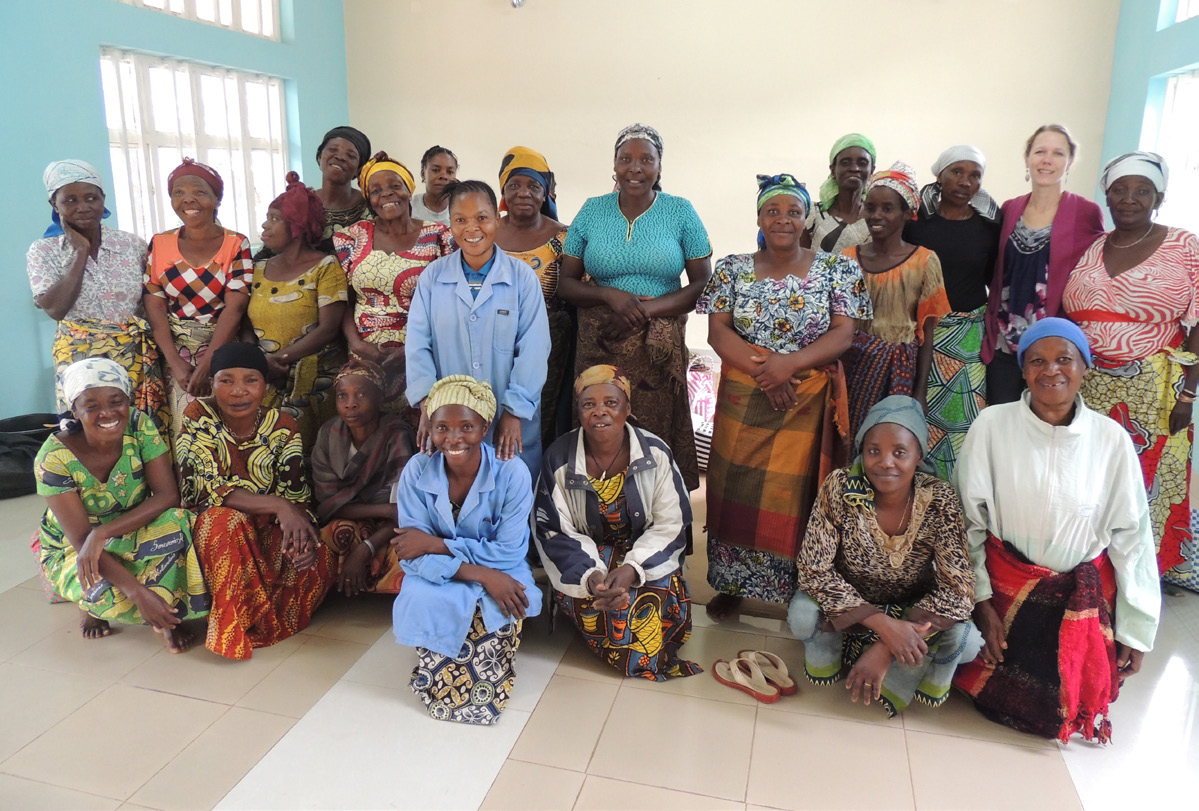 Aftercare participants in Panzi bag program with Beth Ann Caspersen and trainers.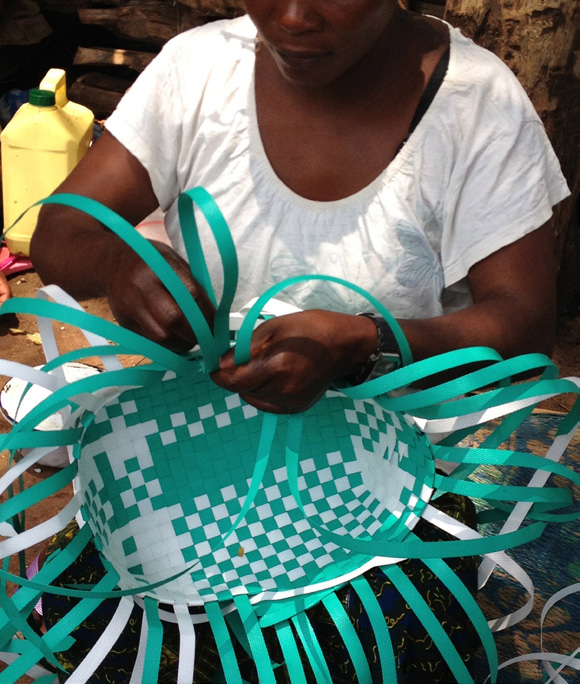 Weaving a bag.
Dr. Bwema and water tanks constructed at the Bulenga Clinic. Funds raised from the Congo Coffee Project contributed more than 25% of the funds for the project.
2011-2015


Vocational Training for survivors of sexual violence at the Panzi Hospital in Bukavu, South Kivu, DRC
2016


Bulenga clinic opens, funding is dedicated to the construction of a water tank and contributes to a pump house to bring the water to the clinic
2017 & 2018


Bulenga clinic is fully operational and funding is directed to the construction of a laboratory for testing and treatment of patients
2019


Funding will be used to buy laboratory equipment and hiring a technician to train and maintain the equipment. However, due to Covid-19 it has been difficult to source the equipment.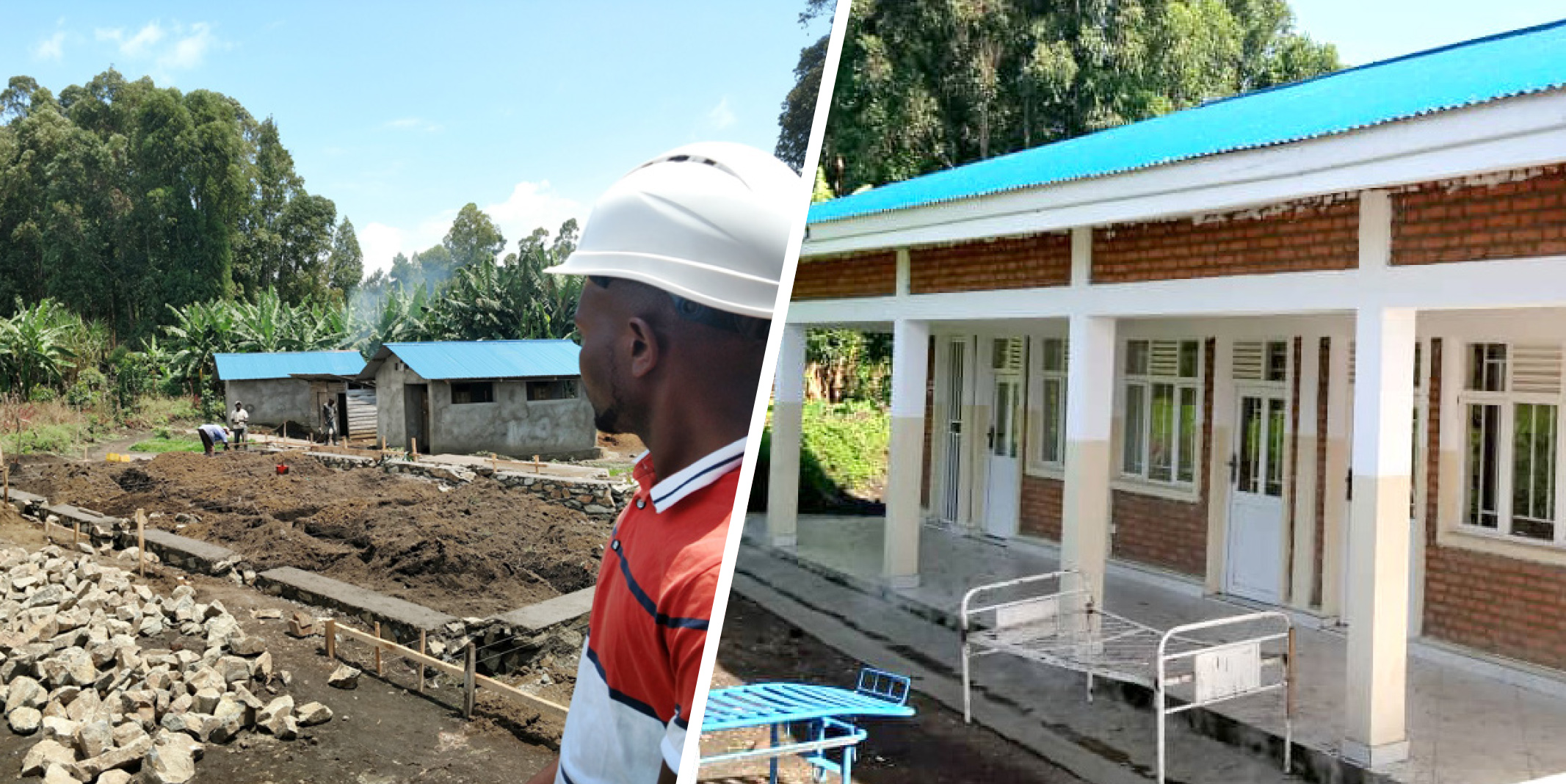 Before and after: Lab construction and completion.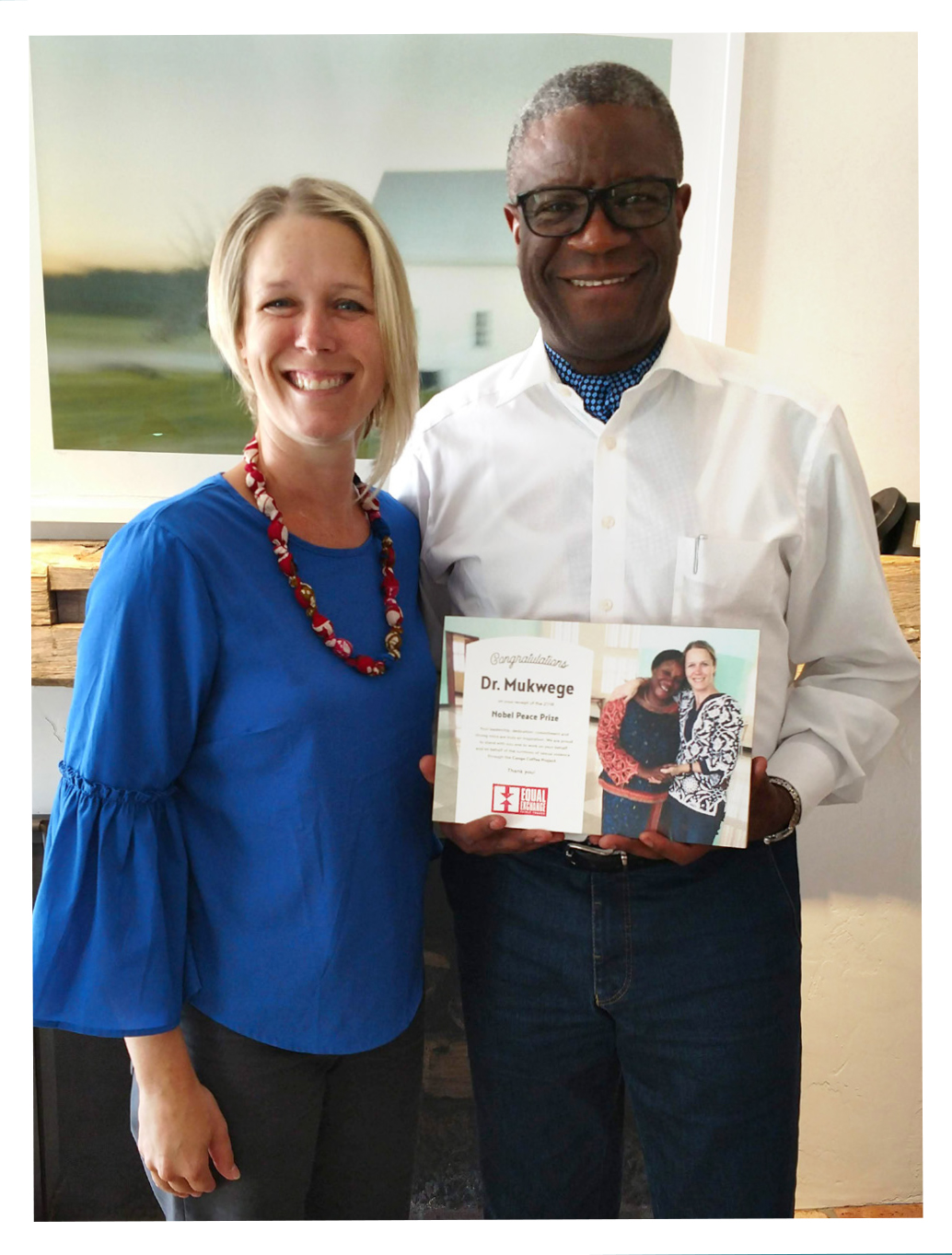 Beth Ann Caspersen and Dr. Mukwege.
Want to Do More?
Equal Exchange is proud to partner with Panzi Foundation USA, purchase coffee from our partners at SOPACDI cooperative and work with like-minded organizations and activists to bring the conversation to life. We believe that through action and financial support we can help to contribute to the Congolese economy and assist the women, men and children who have been impacted by sexual violence by telling their story and supporting the power to heal.
Here are a few easy but important steps that you can take on behalf of the survivors of sexual violence in DRC and to support the Congo Coffee Project: