Co-op Name: Coordinadora Estatal de Productores de Café de Oaxaca (CEPCO)
Location: Oaxaca, Mexico
Number of producers: 4,300 (38 base organizations/co-operatives)
Founded: 1989
Certified: Organic, Fair Trade, SPP
Varietals: Bourbon, Typica, Catimor, Marsellesa
Altitude: 1200-1800 meters above sea level
Website: http://www.cepco.org.mx
Interesting Fact: The majority of producers and farmers that make up CEPCO come from indigenous communities in Mexico. Mixteco, Zapoteco, and Mixe indigenous groups make up a majority of the 4,300 farmers. More than 10 indigenous languages are spoken by farmer members in addition to Spanish. General assembly meetings are often simultaneously translated between Spanish as well as the indigenous languages.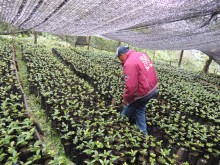 A little bit of history:
La Coordinadora Estatal de Productores de Café de Oaxaca (CEPCO, or the Oaxacan State Coffee Producers Network) was founded in 1989 in the midst of a severe crisis in Mexico's coffee industry. Originally formed through the efforts of more than 7,000 small coffee producers, today CEPCO is the largest association of small coffee producers in Oaxaca. They coordinate 38 regional organizations of small, community-based coffee producers in seven indigenous regions and are also very involved in regional and national social movements that address poverty and marginalization in indigenous communities.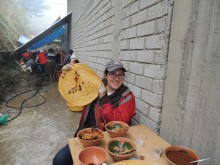 CEPCO's primary objective is to build a permanent organization of small producers with the ability to resolve the needs of its members. In order to help the farmers develop economic security, CEPCO works with them to improve their coffee production and processing techniques, as well as developing marketing strategies for coffee sales. While CEPCO is focused on the production and marketing of coffee, the multi-ethnic organization also works with its members to strengthen and empower their communities, address issues of social justice, cultural autonomy and grassroots democracy.
You can find CEPCO's coffee beans in: