Name: Finca Triunfo Verde (FTV)
Location: Jaltenango, Chiapas, Mexico
Number of Producers: 500
Founded: 2004
Certifications: Organic, Fair Trade, SPP
Varietals: Paca, Bourbon, Anacafe 14, Pache, Catimor
Altitude: 1000-1700 meters above sea level
Website: http://www.triunfoverde.org
Interesting Fact: In an effort to diversify farm income, FTV members and staff have begun working with 40 members on beekeeping activities in and around organic certified farms. Farmers work in teams of two to take care of 10 beehives each. Together, the 40 members participating in this income diversification project will aggregate their honey through FTV and sell it into the local and regional market.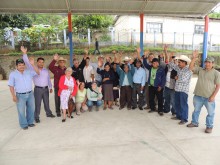 A little bit of history:
Finca Triunfo Verde is a fairly young farmer organization and the founding members began their organizing work in 1999 with the goal of building an organization that focused on finding solutions to common problems faced by smallholder farmers. Some of these common challenges that smallholders face and FTV aims to resolve are the lack of market opportunities and a lack of access to affordable credit. FTV has given farmers access to projects and investment in productivity related activities as well as conservation projects with a focus on preserving natural resources. Since its official founding in 2004, FTV has continued to grow and become an attractive organizations to farmers in the region. Their current focus is on renovation, rehabilitation, income diversification, and making coffee an attractive choice for the next generation of farmers.
You can find Finca Triunfo Verde's coffee beans in: