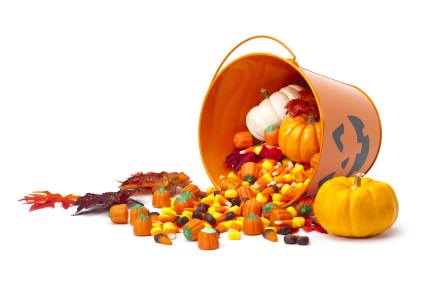 Costumes, candy, haunted houses, apple cider and the crisp fall air! There's much to love about Halloween. But then, there are other aspects that can come along with it""children on candy-induced sugar highs, cavities, and obesity. The bad news: candy and sweets eaten in excess can lead to all of these realities. The good news: you and your family can still enjoy Halloween and not wake up the next day with cavities, hundreds of calories, and a sugar hangover.
How? With a little moderation and preparation!
Let's review some moderation basics. For health and personal reasons, I always recommend eating a balanced, plant-based diet with mostly whole food. Alongside this, you can include the tempting foods you love, when you limit how much you eat. Understanding serving size is essential to limiting how much you eat.
What is the right amount? One serving equals:
1 piece of chocolate or other candy = the size of a dental floss package. One ounce of Equal Exchange chocolate = about 8 squares.
1 brownie = the size of a dental floss package.
1 slice of cake = deck of cards.
1 cookie = about 2 poker chips.
1/4 cup Equal Exchange = the size of a golf ball.
More Tips for the Halloween season:
Dark chocolate is always the best choice. Cocoa contains antioxidants (flavanols) that may improve heart health and blood flow, and lower blood pressure and cholesterol. The way chocolate is processed greatly influences how beneficial it is. Equal Exchange takes care to make sure our chocolate is made so that it has as much bang for the buck as possible when it comes to nutrients - and taste.
Bite size is better. Think Equal Exchange Organic Dark Chocolate Minis.
Go organic. It's better for your health and the environment's health. Luckily, our chocolate products are certified organic.
Moderate the number of servings eaten per day. After your child collects the pounds of candy, freeze it, and eat it slowly over the next year, one serving a day.
Get creative.

Hand out Equal Exchange Organic Dark Chocolate Minis and/or individually wrapped organic tea bags.
Halloween party coming up? Create something delicious, with a healthier twist! Make a trail mix with Equal Exchange Organic Tamari Roasted Almonds, a broken up Equal Exchange dark chocolate bar, and toss in cranberries, raisins or popcorn.
By choosing to include Equal Exchange products in your Halloween celebration, you are not only doing better for your body and the environment, but you are also supporting small-scale farmer cooperatives around the world. Now that is a true cause for celebration!